Kareem Hunt Will Make Millions With the Browns Next Season Despite His Checkered Past in the NFL
Kareem Hunt was electric for the Kansas City Chiefs. He, however, got released by the Chiefs after he made a massive mistake that almost permanently ended his NFL career. He has since played for the Cleveland Browns, and is signed on to play for them in 2020. In fact, Hunt will make millions with the Browns in 2020.
Kareem Hunt had a great rookie season with the Chiefs
RELATED: Kareem Hunt Reveals One Major Flaw of Browns Coach Freddie Kitchens
Hunt played at Toledo in college and had an excellent career. He ran for 866 yards and six touchdowns in 2013 before running for 1,631 yards and 16 touchdowns in 2014. In 2015, Hunt ran for 973 yards and 12 touchdowns before running for 1,475 yards and 10 touchdowns in 2016. He also caught 41 passes for 403 yards and a touchdown in 2016.
He ultimately ran for 4,945 yards and 44 touchdowns during his college career.
The Kansas City Chiefs then drafted Hunt in the third round of the 2017 NFL draft. He had an excellent season in his rookie year with the Chiefs too. Hunt led the NFL with 1,327 rushing yards in 2017 to go with eight touchdowns. He also caught 53 passes for 455 yards and three touchdowns. The Chiefs then ultimately went 10-6.
In 2018, Hunt was off to a hot start as he ran for 824 yards and seven touchdowns in 11 games for the Chiefs. The Chiefs, however, released him in November 2018, and he did not play in the league the rest of the 2018 season.
He then signed with the Cleveland Browns in February 2019 and served an eight-game suspension in 2019 for violating the NFL's personal conduct policy. Hunt ran for only 179 yards and two touchdowns in eight games for the Browns in 2019, and only caught 37 passes for 285 yards and a touchdown.
Hunt has had a checkered past during his NFL career
RELATED: Baker Mayfield and Dak Prescott: Mayfield's Career Earnings Total With the Browns Is Already 4 Times Higher Than Prescott's With the Cowboys
Hunt was released by the Chiefs and was suspended by the NFL after a February 2018 video of him kicking a woman in downtown Cleveland surfaced.
He later apologized in an interview with ESPN's Lisa Salters.
"Honestly, I just want to let the world know how sorry I am for my actions," Hunt said, according to Sports Illustrated. "It's been a tough time for me. I'm extremely embarrassed because of that video."
As mentioned above, Hunt then signed with the Browns in February 2019.
However, on Jan. 21, 2020, Hunt was pulled over on suspicion of speeding in a suburb of Cleveland, according to ESPN. The officer then took Hunt to the police cruiser after detecting the smell of marijuana coming out of the car, the police report says, according to ESPN. The officer reportedly found marijuana in a backpack with Hunt's name on it, and an open container of vodka, but only cited him for speeding, according to ESPN.
Hunt initially told the officer that the marijuana was his brother's, according to ESPN, but later admitted that he would fail a drug test. 
"I would say that was out of character," Hunt recently said, according to ESPN. "I've been working to become a better person each and every day. Definitely not looking for anything like that to happen again. … I've got to do better. Shouldn't have done it. Ready to move on from that."
He will make millions with the Browns next season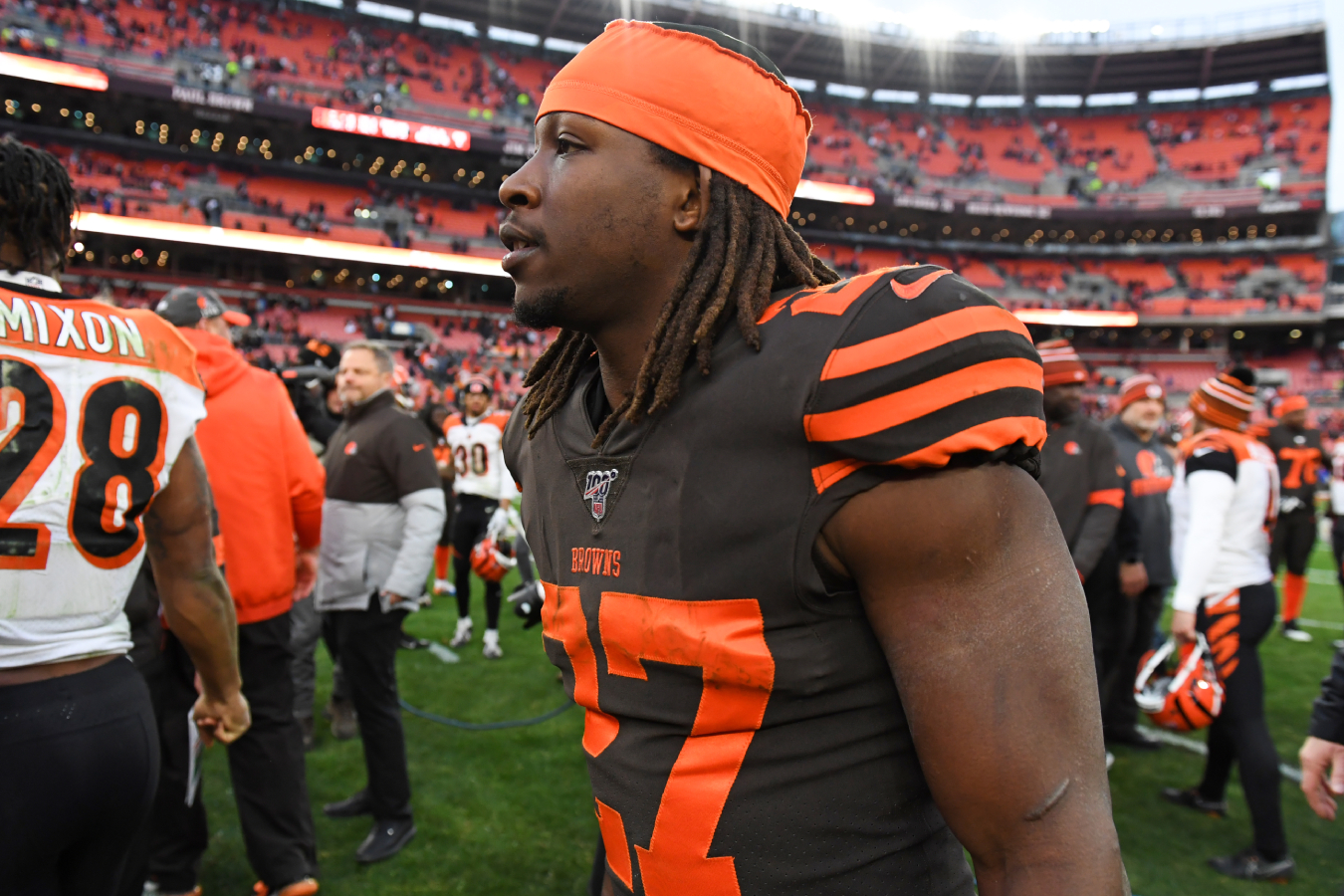 RELATED: Cleveland Browns QB Baker Mayfield Hasn't Become an NFL Star, but He's Already Built Up an Impressive Net Worth
Despite the mistakes Hunt has made in the past, he will ultimately make millions on the Browns in 2020.
So far in his career, Hunt has made an estimated $2.36 million with the Chiefs and the Browns, according to Spotrac. He made an estimated $674,163 with the Browns in 2019. However, Hunt will earn more money in 2020 than he has made his entire career.
In April, Hunt signed a second-round tender with the Browns, according to Cleveland.com. Signing the tender means he will make $3.259 million in Cleveland in 2020.
If Hunt can produce similar to the way he did in 2017 with the Chiefs, then the Browns will have one of the best backfields in the NFL with Hunt and Nick Chubb. Hopefully, he has learned from all of his mistakes, though.
Stats courtesy of Sports Reference and Pro Football Reference