Karl-Anthony Towns' All-Star Adventure Proves He Deserves More Respect
Minnesota Timberwolves center Karl-Anthony Towns showed why he is one of the most gifted centers in basketball during NBA All-Star Weekend. Yet despite his remarkable level of skill and versatility, he's rarely mentioned with MVP candidates Nikola Jokic and Joel Embiid as an elite big man of this generation. Even his excellence in Cleveland could not prevent a certain sense of snubbery.
Why doesn't Towns receive the respect he deserves?
After previously claiming he is the greatest big man shooter in league history, Towns won the Three-Point Shootout. His brilliant season and commitment to Minnesota's defensive improvements have the T-wolves in the hunt for their first playoff berth since 2018.
Still, Towns sometimes feels like an afterthought in discussions about the best players in the NBA. It occasionally feels as though teammate Anthony Edwards receives more attention than him. That needs to change immediately.
Karl-Anthony Towns sometimes looked out of place during NBA All-Star Weekend
Towns went viral over the weekend, but not for his shooting exploits.
The Timberwolves center became the butt of Twittersphere jokes for his interaction with Michael Jordan. A clip from the weekend depicted MJ orchestrating a goofy sneak attack as he greeted Dallas Mavericks star Luka Doncic. Towns came over to say hello, but Mike's reaction made it seem like he hardly knew Towns.
That wasn't the only time Towns looked out of place. A different backstage clip (one actually tweeted by the Timberwolves) showed KAT in discussion with former T-wolves legend Kevin Garnett, only for Paul Pierce and Kevin McHale to interrupt to take a picture of Boston Celtics players who made the NBA's 75th Anniversary Team. Towns hung around for a bit of an awkward photoshoot.
Now, these incidents should be taken with a grain of salt. Nobody outright disrespected Towns. Still, they seemed to serve as a reminder that Towns so rarely gets the acclaim he deserves.
One of the best big men of his era
Nikola Jokic and Joel Embiid are deserving MVP front-runners. Karl-Anthony Towns might not generate a ton of MVP buzz, but he belongs in a tier with those guys as one of the best big men of this generation.
Towns is one of the most dynamic and versatile offensive bigs in the sport. He boasts career averages of 23.1 points, 11.4 rebounds, and 3.1 assists on 52.7% shooting, including 39.6% from beyond the arc on a whopping 4.1 attempts per game.
This season, Towns is averaging 24.4 points, 9.7 rebounds, and 4.0 assists while shooting 40.9% from deep. Additionally, he's one of just six players (min. 30 games played) averaging at least one steal and one block, per StatMuse.
Towns can play on the perimeter, knocking down threes and attacking closeouts off the dribble. That ability to get downhill often attracts the help defense, and Towns is skilled and aware enough to look for the extra pass. The former Kentucky star can score in various fashions on the block, facing up and dribble-driving past defenders or bullying his way into the restricted area.
Additionally, Towns' ball-handling and elite quickness for a big make him a threat in transition. He can pull down rebounds and start breaks himself, forcing defenses into scramble mode before they can even get set.
The pick-and-roll defense and instincts around the rim could still see some improvement. That's the separator between Towns, Jokic, and Embiid. Still, the 26-year-old belongs in the conversation, and he only appears to be getting better.
Towns' level of respect should improve as the Timberwolves ascend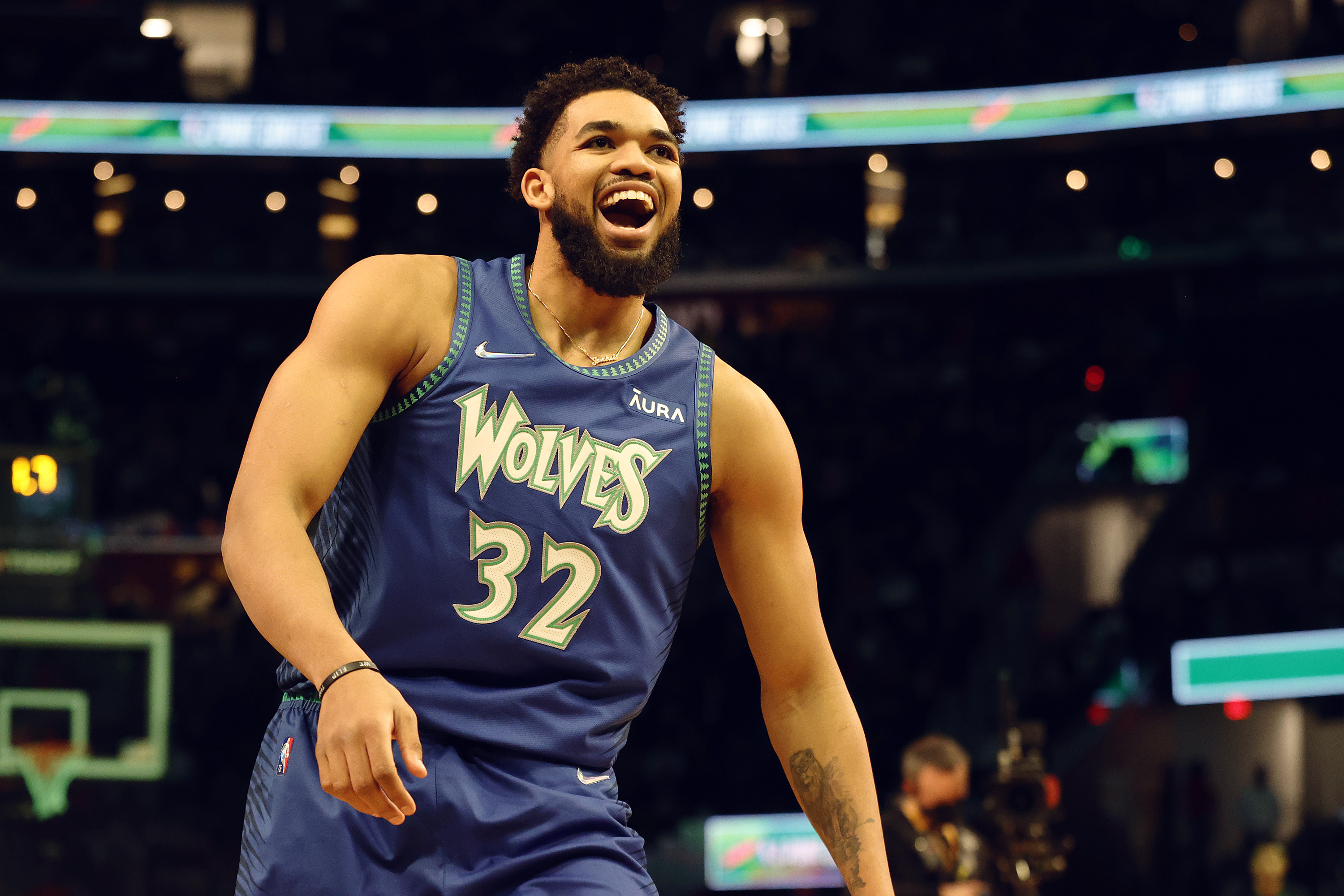 The Timberwolves look like a team on the rise. Their upward-trending arrow should also bring more respect to Karl-Anthony Towns' name.
According to NBA.com, the Timberwolves rank fifth in the NBA in offensive rating since the start of February, resulting in a 6-3 start to the month. Towns deserves a lot of credit for that success.
The New Jersey native has a 65.4% true shooting clip for the month. He's averaging 4.6 assists in the last nine games, his highest split of the season. Minnesota has begun running more short-roll actions with Towns as the screener, and it's paid off. He scored 1.18 points per 100 possessions as a roll man, per NBA.com. Those short-roll looks sometimes yield elbow touches, where Towns has displayed terrific playmaking chops.
While the early-season defensive improvements the T-wolves showed at the start of the season have since succumbed to slippage, Minnesota still competes on that end and has shown tremendous offensive growth. That should buoy the Timberwolves as they jostle for playoff positioning.
Towns anchors Minnesota's rise. He deserves more recognition, which should come if the small-market T-wolves keep improving.
Stats courtesy of Basketball Reference unless otherwise noted.
RELATED: Anthony Edwards Does His Best Michael Jordan Impression for a Playoff-Starved Timberwolves Team