Karl-Anthony Towns Sent NBA a Subtle Warning After Historic 60-Point Performance
Minnesota Timberwolves center Karl-Anthony Towns is one of the best shooting big men in NBA history. Already.
KAT has taken his game to another level this season, though, now that he's surrounded by a competent supporting cast, better head coach, and actual playoff promise.
The T-Wolves are all but guaranteed a spot in the Western Conference Play-In Tournament, but they're still not out of the race for one of the top six seeds.
After Towns scored 60 points against the San Antonio Spurs in a historic NBA performance, he sent a subtle message to the league: When I decide to dominate, no one can stop me.
Karl-Anthony Towns dropped 60 points in a historic NBA performance
KAT scored 60 points and added 17 rebounds in a 149-139 win over the Spurs on March 14.
The 6-foot-11 Towns was 19-of-31 shooting and 7-of-11 from three. He bested his career-high of 56, which he scored against the Atlanta Hawks in 2018.
Minnesota's superstar big man set both franchise and NBA records with his performance, per ESPN:
The highest scoring output of the 2021-22 season
Set the Timberwolves franchise record for points in a game (beating his own previous mark of 56)
Became the first center in the league to score 60 since Shaq had 61 for the Los Angeles Lakers in 2000
Became the fifth center in NBA history to score 60 points in a game (Shaq, David Robinson, Wilt Chamberlain, and George Mikan)
Became the first No. 1 overall pick with a 60-point game since LeBron James in 2014
Towns scored 32 points in the third quarter, the fourth-most in a single quarter over the last quarter century
But it was the former Kentucky star's postgame comments — which some may have missed — that will be the lasting story from Towns' record-shattering game.
KAT quietly sent a warning to the rest of the league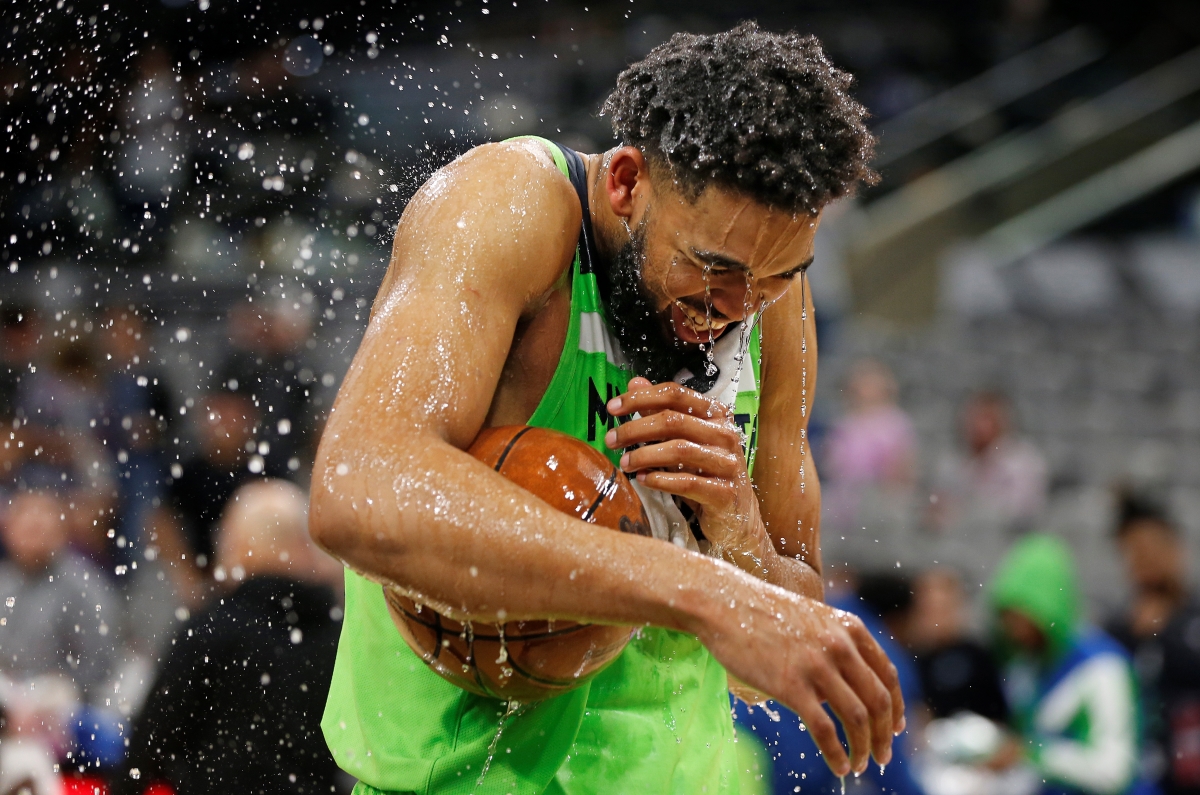 Towns isn't usually an outspoken guy. He's relatively quiet as far as NBA superstars go.
The most powerful statement KAT ever threw out there is when he said winning this year's three-point contest proved he's the best shooting big man of all time.
However, the 2015-16 Rookie of the Year dropped a subtle warning to the rest of the NBA after his 60-point game, via ESPN.
I told Coach [Chris Finch] before the game, 'Hey listen, we need this win. I'll do whatever it takes. If I need to play 44, 48 minutes, I'll get it done.'

That was kind of the mindset I came in [with]. I had to dominate. I had to be my best.

Karl-Anthony Towns on his 60-point performance on March 14
There's nothing eye-popping about what KAT said. But look closer, and you can see the 26-year-old's confidence heading into the playoffs:
"I had to dominate. I had to be my best," he said. With an all-time performance reminiscent of Giannis Antetokounmpo's Game 6 in last year's NBA Finals, Towns proved that when he needs to dominate, he can.
To the tune of 60 points and 17 boards.
Towns is proving to be a dominant scorer, not just shooter
KAT is 15th in the league in scoring at 24.8 points per night. Among centers, he's third behind only Nikola Jokic and Joel Embiid. (Fourth, if you count Giannis as a center, which for some reason some outlets don't).
His 40.8% shooting from three is tops among all listed centers who take at least four per game. But Towns has developed into more than just a tall deep threat.
Only 30% of his shots are coming from beyond the arc, down dramatically from the past two seasons, while more than 54% of his shots are coming inside it.
Nearly half of his points are coming in the paint, and 57.9% of his shots are within 10 feet of the basket (his highest since 2018-19).
Towns has drifted further and further away from the basket in the last few years. In 2021-22, however, he's proving to be a much more versatile scorer.
The win over the Spurs put Minnesota just 1.5 games back of the sixth-place Denver Nuggets in the West, and the Wolves have won 8 of their last 10 games.
If Towns can roll off a string of performances similar to the one against San Antonio, his team has a shot at solidifying a playoff berth without having to fight through the play-in.
If that's the case, KAT has some more franchise history left to make this season.
All statistics courtesy of NBA.com.
RELATED: Karl-Anthony Towns' All-Star Adventure Proves He Deserves More Respect