Karl-Anthony Towns Stakes a Bold Claim to GOAT Big Man Shooter Title
For generations, big men in the NBA had one job offensively. Get to the low block, establish a strong position, bully your way to the basket, and score. There were some exceptions, but without a 3-point line, the NBA game was survival of the biggest. But big men weren't seen as shooters. That's a relatively recent development of the pace-and-space era. And one modern big man, Minnesota Timberwolves center Karl-Anthony Towns declares he's the best of the bunch.
There were exceptions, of course. Willis Reed was an undersized center and offset the disadvantage with a soft touch from mid-range. Bob McAdoo won three scoring titles in the 1970s as a center primarily because of his jump shot. But as a rule, NBA centers were scorers, not shooters. And if they weren't scorers, they rebounded, blocked shots, and set rugged screens for the guys who could score.
NBA offenses weren't designed for shooting big men
Using 3-point attempts as a standard, big men roaming out to the perimeter and firing deep balls is a relatively new phenomenon in the NBA. Of the 60 highest-volume 3-point shooting seasons by centers, only two happened in the 20th century.
Both of those were by the same player. Hall of Famer Jack Sikma dramatically changed his game in the late 1980s. In the first nine seasons Sikma played with the 3-point line in effect, he attempted 68. In the final three years of his career, Sikma launched 550 and hit them at a respectable 35.6% clip. That included 216 attempts and 38.0% shooting in 1988–89 and 199 triple tries at a 34.2% rate the following season.
Another Milwaukee Bucks big man, Brook Lopez, holds the record for more 3-point attempts by a center. Splash Mountain unleashed 512 bombs in 2018–19 and hit 36.5%. His 187 makes that season also top the list.
Karl-Anthony Towns is ninth on the list with his 355 attempts in 2018–19. Channing Frye appears four times in the top 10, with Lopez's 2016–17 campaign and seasons from Nikola Vučević, Kelly Olynyk, and DeMarcus Cousins rounding out the list.
Does Towns have a claim to the title of greatest shooting big man of all time? He thinks he does.
Karl-Anthony Towns has combined volume and accuracy
Karl-Anthony Towns has two All-Star berths in his first six seasons, an All-NBA season in 2017–18, and was Rookie of the Year in 2015–16. He averages 23.0 points, 11.4 rebounds, 3.0 assists, and 1.4 blocks for his career.
But he's done something as a shooter that no other center can match.
According to a tweet from StatMuse, Towns has three seasons where he's averaged at least 20 points per game while shooting 50% overall and 40% from 3-point range. No other center in NBA history has more than one such campaign.
He's on pace to make it four. Towns averages 24.4 points on 50.6% shooting overall this season while knocking down 41.8% on 5.7 deep tries a night.
Towns told Jon Krawczynski of The Athletic that he's in a class by himself as a shooting big man:
"I'm the greatest big man shooter of all time. That's a fact. You can see the stats. I ain't got to play like no one else. Everyone trying to find themselves to be the second version of me when I'm the first version. I don't got to be the second version of someone else. I'm already an original. I don't have to be a duplicate of someone else."

Karl-Anthony Towns
The No. 1 pick in the 2015 NBA Draft, Towns is already third among centers in career 3-pointers with 698. The only players ahead of him are Frye (1,049 in 13 seasons) and Olynyk (708 in his ninth year). And while Towns is a 39.7% career shooter from the land of three, Frye had a career mark of 38.8%. Olynyk is at 36.6%.
Towns makes a strong case.
Great shooting hasn't led to a lot of wins for Karl-Anthony Towns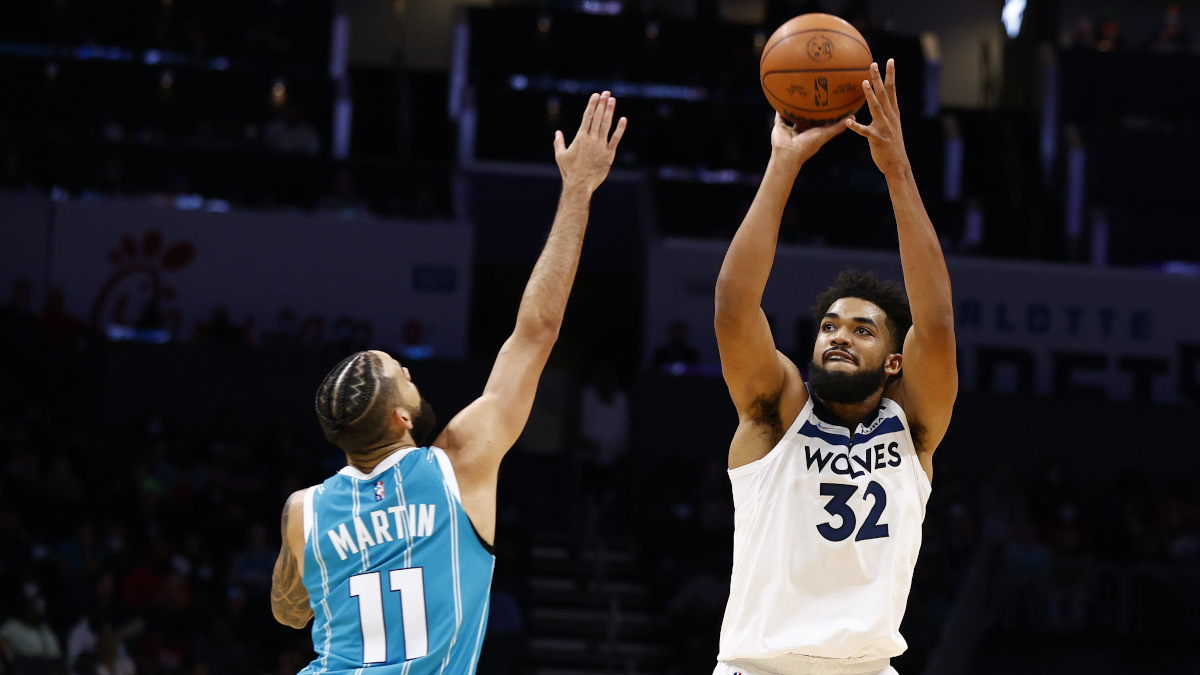 Despite Karl-Anthony Towns' great offensive numbers, they haven't translated into many victories for the Minnesota Timberwolves. Since Towns joined the team in 2015, Minnesota has the fourth-worst winning percentage in the NBA at .405. Only the Phoenix Suns (.390), Orlando Magic (.379), and New York Knicks (.371) are worse.
Towns has played in the postseason only once, a five-game loss to the Houston Rockets in 2018. In the series, he averaged 15.2 points while shooting 46.7% overall and hitting just 3-of-11 from deep.
The Timberwolves have won four straight games to get back to the .500 mark. But they've been incredibly inconsistent this season. After a 3–1 start, Minnesota has losing streaks of six and five games while also running off five consecutive victories.
The Wolves are eighth in the Western Conference at 15–15, 2.5 games ahead of the 11th-place Portland Trail Blazers for a spot in the play-in tournament. They trail the sixth-place Denver Nuggets by three games.
The only consistent part of Minnesota's season has been its inconsistency. The Timberwolves are 9–9 at Target Center and 6–6 on the road.
They've combined road wins at defending champion Milwaukee with losses at home to the lowly Pelicans and Magic. Minnesota is 2–0 against the Lakers, winning by an average of 26 points in a pair of blowouts. Orlando ran them out of their arena by 18 points, and the Clippers hammered them by 20 points at Target Center.
Karl-Anthony Towns must be included when discussing the greatest shooting big men to play in the NBA. The next hurdle is turning that elite production into victories and playoff success. For the Minnesota Timberwolves, this has been the challenge throughout the less-than-storied history of the franchise.
Statistics courtesy of Basketball Reference and Stathead.
Like Sportscasting on Facebook. Follow us on Twitter @sportscasting19.