Karl-Anthony Towns Went With the 'WTF' Twitter Post, but Minnesota's Latest Head-Scratching Move Might Actually Give Him a Reason to Be Hopeful
The Minnesota Timberwolves have never been a model NBA franchise. More often than not, there's been drama, turnover, high lottery picks, and no winning. Kevin Garnett left more than 15 years ago, and things never got better. Karl-Anthony Towns is the latest superstar to try and win in Minnesota, but it hasn't gone great.
The organization has now fired president of basketball operations Gersson Rosas. To that news, Kat responded, "wtf…" on Twitter. Maybe he's shocked or a little confused, but this latest dramatic move by the franchise might be the best thing that's happened to Towns' career.
The Timberwolves dismissed Rosas after two seasons
According to The Athletic, several factors went into Minnesota's decision. There was friction in the front office as Rosas reportedly blocked the Wolves' executive vice president, Sachin Gupta, from leaving for the same position but more money Houston. (Now it appears Gupta is taking Rosas' job).
According to The Athletic report, there was also speculation about an affair between Rosas and someone in the organization.
And it's not like Rosas was having success rebuilding the franchise on the floor, either. The team won 42 games combined during his two seasons in charge. Minnesota has one playoff appearance in the last 16 years.
Rosas' best move appears to be selecting guard Anthony Edwards with the No. 1 pick in the 2020 draft. Trading for D'Angelo Russell has been a disaster, and the fit of those two alongside Towns didn't look ideal. The T-Wolves' boss also fired head coach Ryan Saunders in the middle of the season last year and immediately brought in Chris Finch from Toronto without conducting a search.
A change is exactly what Towns needs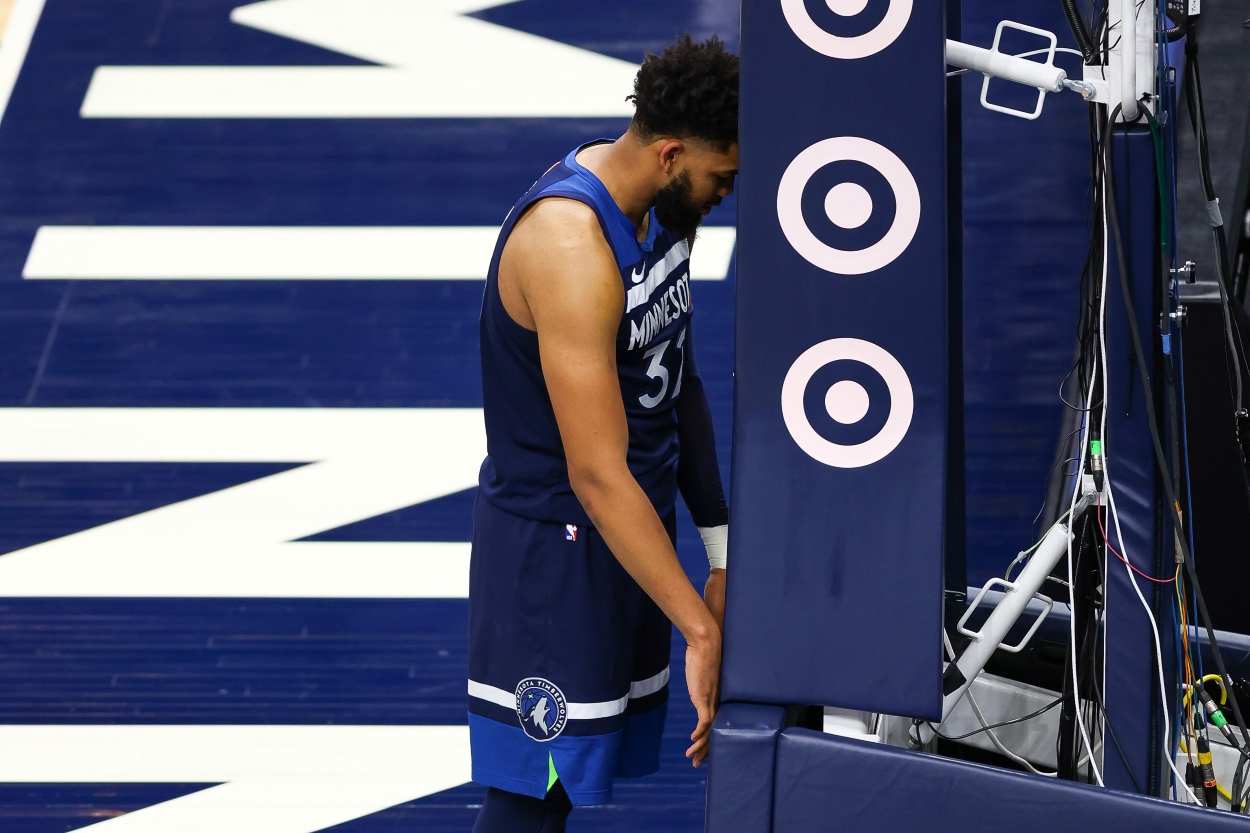 The former Kentucky star was the No. 1 overall pick in the 2015 draft. He's started every single game in his NBA career. He was the 2015-16 Rookie of the Year, was a member of the 2017-18 All-NBA team, and was twice named an all-star.
To be fair, Towns has shown himself to be nothing more than an empty stats guy so far in his career. The-6-foot-11 stretch five has averages of 22.9 points, 8.5 rebounds, 3.0 assists, and 1.4 blocks. He's a career 39.4% 3-point shooter on almost four attempts per game.
As a supposed franchise player and one of the best bigs in the league in terms of pure talent and skill, Towns' stat line has yet to produce any wins. But he also hasn't gotten much help.
Maybe Gupta comes in and puts together a trade proposal for Ben Simmons. Maybe he finds a way to offload Russell. Maybe the team's new boss looks to deal Towns and begin another rebuild. Maybe the former Wildcat makes his own power play and demands out of Minnesota on his own.
Whether he stays and finds more stability and more talented teammates or ends up somewhere else, Towns needs change for change's sake.
Minnesota might not be the right answer anymore for Towns
KAT has played five career playoff games in six seasons, and his team has only finished with a winning record once.
There's been dysfunction in both the team's ownership and front office, which has led to Towns' best teammates being a young Zach LaVine, a disgruntled Jimmy Butler, Russell, and Edwards.
Whatever form it takes, a major shakeup is the best thing for Towns' career.
All statistics courtesy of Basketball-Reference.
RELATED: LeBron James Is Reviving a Tradition That Helped Lead His Lakers to a Championship