Karl Malone Is Worth a Large Amount of Money Despite Never Winning an NBA Championship
Karl Malone is one of the greatest players in NBA history. However, despite all of his success with the Utah Jazz, Malone failed to win a championship throughout his career. Not winning a championship was probably tough for him, but it did not affect him too much financially. Malone has a huge net worth because of his success in the NBA.
Karl Malone is one of the greatest players to ever live
The Utah Jazz selected Karl Malone with the 13th overall pick in the 1985 NBA draft. He was immediately one of the best players in the entire NBA too, earning All-Rookie honors during the 1985-86 season. He ultimately averaged 14.9 points per game and 8.9 rebounds that year. After that season, though, he averaged over 20 points per game or more in every season he played in but his last. He even scored as much as 31 points per game during the 1989-90 season to go with 11.1 rebounds.
He ultimately had a fantastic career and accomplished a lot. Here is a look at all of his career accomplishments.
14-time NBA All-Star
Two-time NBA MVP
14-time All-NBA honoree
Four-time All-Defense team honoree
Averaged a career 25 points per game and 10.1 rebounds 
Pulled down 14,968 career rebounds (seventh all-time in NBA history)
Scored 36,928 career points (second all-time) 
Malone is easily one of the best players and best scorers to ever play in the NBA. He did, however, have trouble winning an NBA championship.
Never winning a ring
Karl Malone played on the Utah Jazz for 18 seasons. They ultimately went to the playoffs every single season he was there and 20 seasons in a row overall. After struggling to go deep in the playoffs during his first few seasons, the Jazz got to the Western Conference finals five out of seven seasons from 1991-92 through 1997-98.
The Jazz then made it to back-to-back NBA Finals during the 1996-97 and 1997-98 seasons. However, those were the years Michael Jordan and the Chicago Bulls were dominating. They lost to the Bulls in six games in both of those Finals as the Bulls completed a three-peat in 1997-98. Malone and the Jazz then did not make it past the Western Conference Semifinals the next five seasons.
Malone spent his last season in the NBA with the Los Angeles Lakers in 2003-04. The Lakers ultimately reached the NBA Finals that season too, but they lost in five games to the Detroit Pistons.
Despite spending 19 seasons in the NBA and being one of the greatest scorers in NBA history, Malone just could not win the big one.
Malone still has a very healthy net worth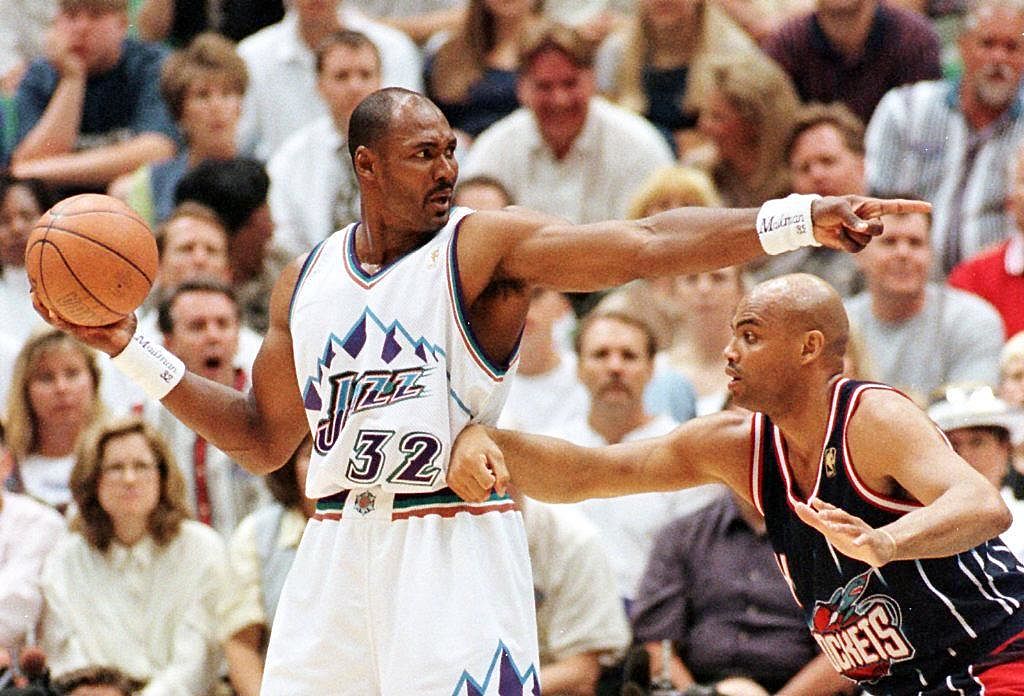 Even though he never won a ring and played in the NBA while Michael Jordan was dominating, Karl Malone is still very well off financially. This is probably because he has stayed busy in retirement. He has become a businessman. His list of businesses and properties is extremely long, according to the Deseret News, and it includes a 230-acre cattle ranch, three Jiffy Lube franchises, two Burger King franchises, and a Teriyaki Grill franchise.
Because of his success in the NBA, and because of success as a businessman, Celebrity Net Worth estimates that his net worth is $75 million. That is a ton of money for someone who has not played since 2003-04. 
Karl Malone was an automatic bucket during his time in the NBA. The Utah Jazz could almost always count on him to score 25 points per game or more. His dominance on the hardwood, in addition to his business intelligence, has led to Malone being a very wealthy man.