Does Katie Ledecky Have a Boyfriend? The Olympic Swimmer's Relationship Status Revealed
Olympic swimmer Katie Ledecky was one of the most talked-about names heading into the strange, low-key Tokyo games. Since storming into international waters in 2012, Ledecky has shown that she still has what it takes at her third Olympics. Of course, any time someone makes it into the spotlight, many wonder about their personal lives. Ledecky is no exception. 
Katie Ledecky's swimming career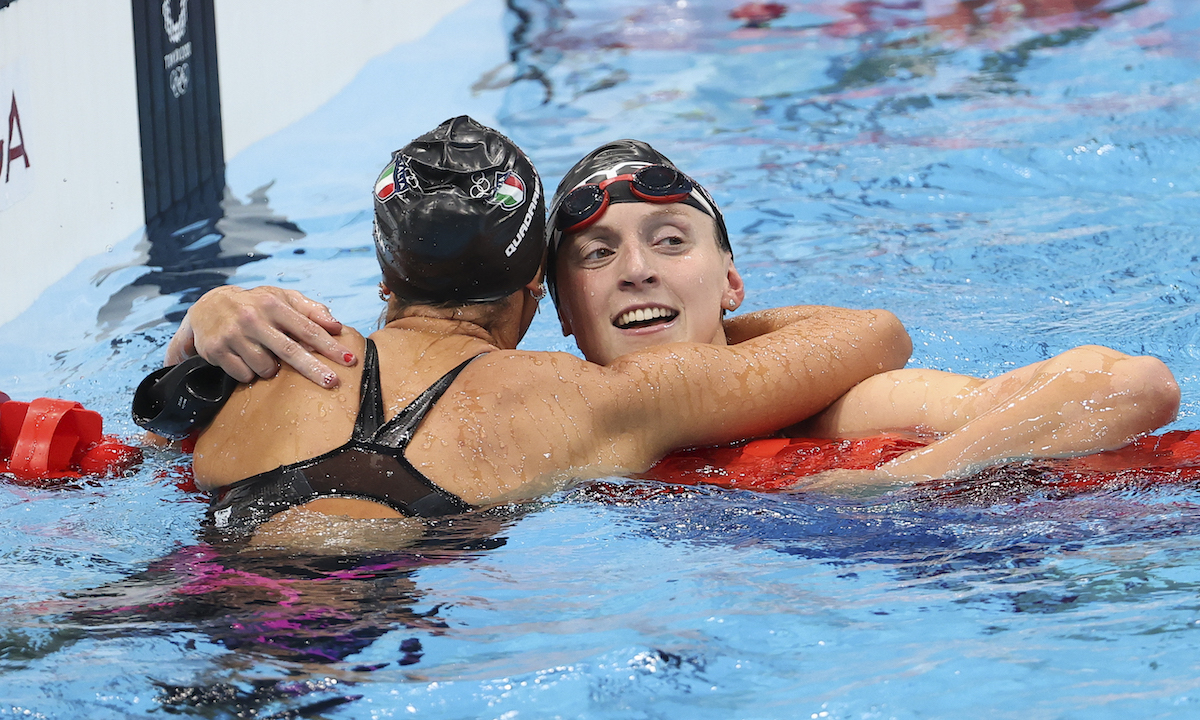 Ledecky was just 15 years old when she kicked off her Olympic career at the London games. A relative unknown at the time for all but the sport's biggest fans, she quickly changed that with a surprise gold medal run in that year's 800-meter freestyle event. However, by 2016, the swimmer showed she only gets better with age. 
Ledecky's 2016 run was even more impressive. Ledecky wasn't just the greatest 800-meter freestyle swimmer in the world but the greatest at several other events, too. She took home five more medals as she went from a young phenom with a Michael Phelps upside to one of the most dominant swimmers in the pool. 
Despite a one-year delay and much distraction leading up, this year's Olympics was not a failure either. Ledecky took home two silvers and two golds in her events. Perhaps it was a testament to the measures she took during the coronavirus pandemic to stay safe, focus on her swimming, and ensure her mind remained prepared for the Olympics whenever it occurred.
Does Katie Ledecky have a significant other?
Ledecky is one of the most motivated athletes in the world. It's no surprise that she likes to keep to herself. If Ledecky has any romantic partners at this time, she's keeping mum about their existence. The likelier story, as Heavy notes, is that Ledecky, still just 24 years old, focusing on herself while she enters the adult stage of her career. 
Ledecky graduated from Stanford University, where she also swam, during the pandemic. She took an infectious diseases course in the early months to educate herself. A humanitarian at heart, the year off was the perfect time to ground herself while doing work for social causes around the world. 
She lived a monk-like existence, isolating from everyone besides the necessary coaches and trainers, broadened her horizons, and figured out how to focus on the next stage in her life both in the pool and out of it. 
"It's just constantly chasing another goal," she told Sports Illustrated. "It's definitely harder to go best times now and I don't expect that of myself every time I race — but I kind of do, in a way. I kind of approach every race like it's an important race, and I expect a lot of myself every time. I think that has allowed me to sustain the success I've had over the last nine years, never being satisfied and approaching each race with high expectations."
What's next for Ledecky? 
Ledecky isn't thinking about retirement for at least another seven years. When asked about her future in the sport, she already committed to 2024.
"That's always just been in my plan, and there are tons of meets between now and then. There's a world championship leading into the Olympics. So, I'll probably have my eyes set on that as well. I just have to take it one step at a time, but I do know that 2024 is a goal of mine," she said per WJLA. 
Ledecky also teased a potential 2028 run too. However, she has plenty of time to think about that in the meantime. After graduating from Sanford in 2021 with a degree in psychology, she has more options away from the pool for whatever stage is next. Whether or not this brings her back to the Olympics in 2024, 2028, and beyond remains to be seen.