Kawhi Leonard and the Clippers Have 1 Strength That is 'Impressive' to Damian Lillard
The Los Angeles Clippers made huge waves this offseason by signing Kawhi Leonard and trading for Paul George. Those were big moves that tipped the balance of power in the NBA's Western Conference. While Leonard and George represent obvious strengths for the team, Portland Trail Blazers star Damian Lillard pointed out yet another strength for the team he called "impressive" after a recent matchup between the Clips and Blazers. What exactly did Lillard find so impressive about them?

One Clippers' strength that impresses Damian Lillard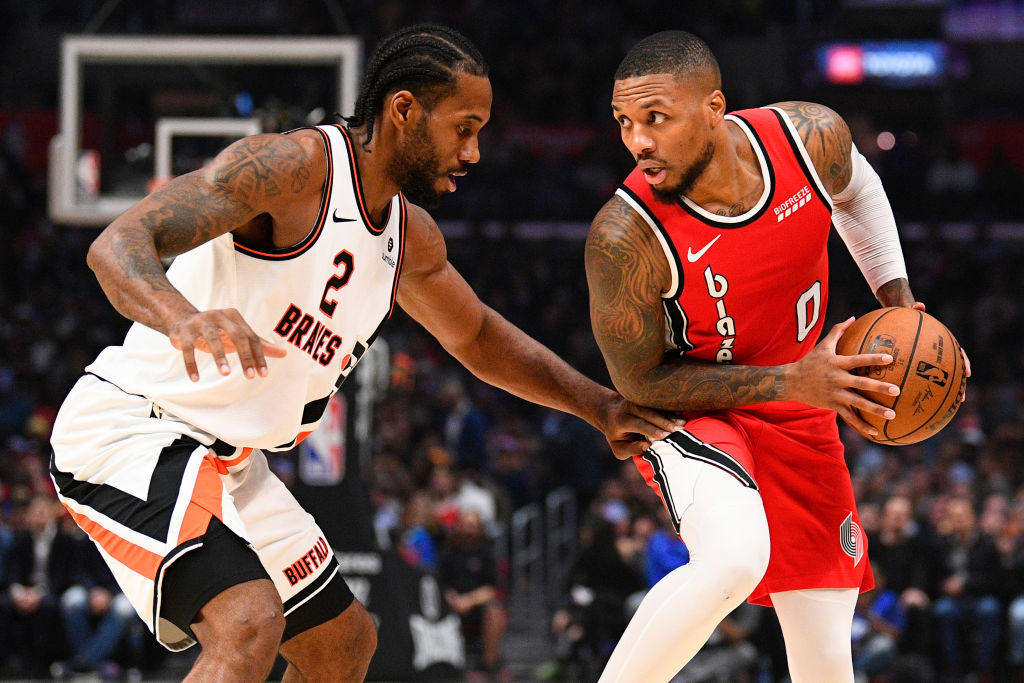 It goes without saying that the Clippers' star players demand respect. But Lillard found another way to respect his Western Conference rivals: marveling at their depth:

"In our scouting report, we were talking about Kawhi Leonard, Paul George, and Lou Williams. We talked about making sure we slow those guys down," Portland guard Damian Lillard said, adding that the Trail Blazers minimized the damage from Leonard and from Williams, who had nine points.
"It just shows you how deep they are, how many guys they can turn to, and how much production they get across the board," Lillard said.

Most of the league has focused on slowing down Leonard and George, but is Lillard onto something? Is the rest of the league underestimating the strength of the team's entire roster? Let's take a closer look at their results against the Blazers.

Kawhi Leonard quiet in Blazers vs. Clippers showdown
The Clippers won the game in dominating fashion, 117-97. Their leading scorer was Montrezl Harrell off the bench with 26. Also in double figures were George (25), Patrick Patterson (19) along with Kawhi Leonard and Patrick Beverley, who both added 11. Williams also added nine. 

The most telling stat? Leonard scoring only 11 points. Most teams getting so few points out of a superstar would be concerned. Not the Clippers. Multiple players stepped up as Leonard had an off night scoring-wise. He still filled up the stat sheet in other ways, adding nine rebounds, five assists, two steals, and a block. But seeing the Clippers win so convincingly while the No. 1 offensive option barely cracks double digits has to raise the alarm for the rest of the NBA.

How the Clippers' depth factored into their win over Portland
In the L.A. Times coverage of the Blazers vs. Clippers game, writer Helene Elliott talked about the various people on the Clippers who have stepped up this season in the scoring department. It's an impressive array.

As of the Blazers' game, Kawhi Leonard led them in scoring nine times, Lou Williams seven times, Montrezl Harrell six times (including two times Harrell and Williams shared high-scoring honors), and Paul George twice. Their bench led the NBA in scoring with an average of 53.9 points per game.

That depth was crucial against Portland. Power forward Patrick Patterson — who had been relegated to the bench after starting the first 11 games — scored 19 points, and Harrell scored a game-high 26 as the Clippers pulled away from the Trail Blazers for a 117-97 victory at Staples Center.

While George and Leonard will no doubt be fantastic this season for the Clippers, they're still getting used to playing with one another. Due to injuries and load management concerns, the two haven't had much of an opportunity to play together or even practice so far this season.

Right now, George and Leonard are playing their part. But the biggest reason the Clippers are winning right now is their tremendous depth. They're able to throw multiple lineups onto the floor that offer teams different looks, all capable of being productive on both ends of the floor.

The Clippers are still feeling each other out, buoyed by talent at multiple spots in the starting lineup and bench. Imagine how well they'll play when they actually start to gel.