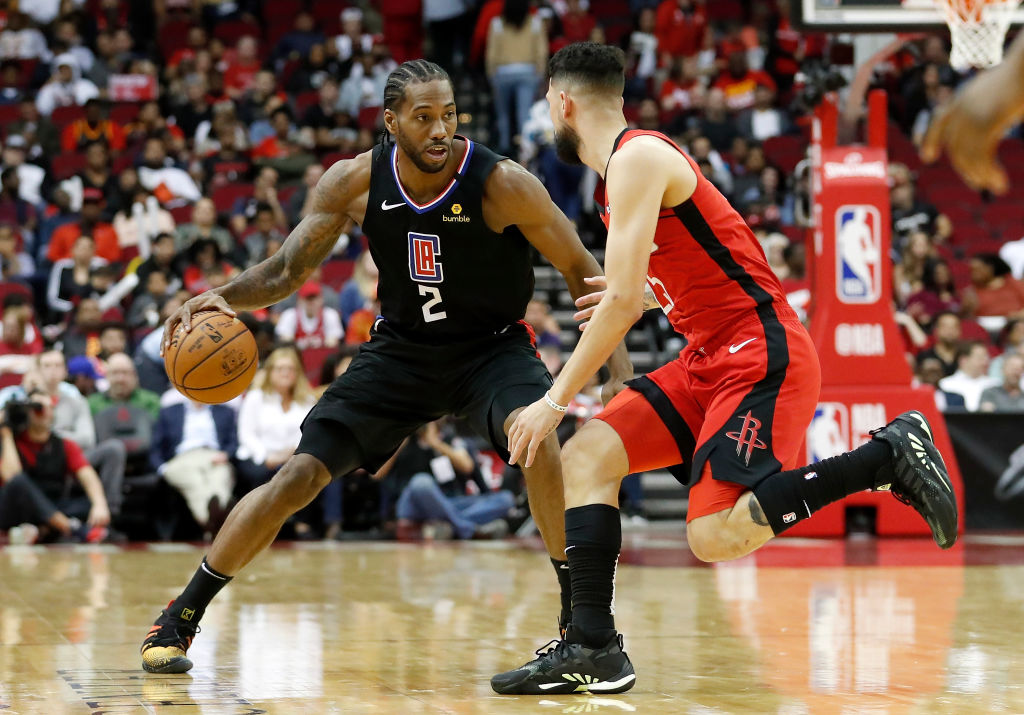 Kawhi Leonard Could Owe Nike Big Money Over a Move That Backfired
Los Angeles Clippers forward Kawhi Leonard started a lawsuit that has been turned upside down by court rulings in Nike's favor.
The shoe is on the other foot for Kawhi Leonard in the fight he started with Nike. The footwear and apparel behemoth has now scored two victories in federal court in response to the NBA star's lawsuit over a trademark issue, and the Los Angeles Clippers forward suddenly finds himself in a position akin to defending a 2-on-1 break.
Nike gets the green light to go after Kawhi Leonard
Kawhi Leonard lost a lawsuit last month in which he sought ownership of the "klaw" logo Nike used to market his line of shoes. The parties split up in 2018, and Leonard wanted to use the logo at New Balance, where he is now endorsing shoes, and in other business ventures.
Nike countersued, alleging copyright infringement and several instances of breach of contract. Most of Nike's claims will go to trial, but the judge in the case followed his initial decision against Leonard by granting one of the breach of contract counterclaims by Nike on May 18. That claim alleged Leonard breached his contract by starting the legal proceedings in the Southern District of California instead of Oregon, where Nike is headquartered.
The judge's ruling that Leonard disregarded contract language with that decision sets the stage for Nike to seek reimbursement of attorney's fees and other costs incurred in getting the case moved to Oregon. Researching and arguing that aspect of the case couldn't have required substantial billable hours, but it would still be money that will come out from Leonard's pocket if Nike follows through.
This has gone badly for Kawhi Leonard
Kawhi Leonard endorsed Nike products from 2011-18 before switching to New Balance in November 2018. He sued Nike last spring over the company's decision in 2014 to file for a copyright on the "klaw" logo that Leonard says he sketched while in college and Nike refined. The logo is the outline of a handprint drawn with lines drawn to spell out "KL" and "2," which are his initials and uniform number, respectively.
Nike countersued, saying it holds exclusive rights because the logo was produced by its designers based on Leonard's rough draft. The company argued in court filings that Leonard approved the Nike design as part of his endorsement contract. In ruling against Kawhi Leonard last month, U.S. District Judge Michael W. Mosman determined that Nike's version of the design was substantially different, so the company is entitled to the copyright.
That effectively gutted Leonard's case, and now Nike is playing with the proverbial house money because it gets to argue its counterclaims against the four-time NBA All-Star currently averaging career highs in scoring and assists.
New Balance has not incorporated the klaw into its line of Kawhi Leonard shoes, but Nike wants compensation for Leonard's use of the logo in other ventures. Leonard has said Nike repeatedly assured him that he owned the logo, but now he'll have to prove that the company granted him the right to use the klaw.
The problem with that is that Nike almost certainly would not have raised the issue in its counterclaim if what Leonard claims exists anywhere in writing.
The moral of the story
Court proceedings thus far have not shed light on what drove the breakup between Kawhi Leonard and Nike in 2018. Rights to the logo may have been at the center of it or it could have been plain-and-simple dissatisfaction with how much he was being paid. He's reportedly getting $5.5 million a year from New Balance.
Whatever the reason, Leonard created a headache for himself by being unable to resist pursuing his day in court. He's making $32.7 million this season from the Los Angeles Clippers but finds himself under siege now by a company with a market cap of more than $140 billion.
Not everyone believes in karma, but San Antonio executives and some of his former teammates must be deriving a level of satisfaction from this fight. They watched Leonard drag out an injury rehabilitation through most of the 2017-18 season – including after being cleared to play by the team's medical staff — while LaMarcus Aldridge, Pau Gasol, and the rest of the Spurs were working feverishly to make the playoffs.