Kawhi Leonard Hilariously Spurned Russell Westbrook and Called Paul George About Teaming up on the Clippers Immediately Thereafter
Russell Westbrook had visions of playing with Kawhi Leonard in the summer of 2019, but The Claw preferred the idea of teaming up with Paul George.
Leonard's impending NBA free agency is unlikely to be as dramatic as it was two summers ago. Early suggestions in 2019 were that he was not interested in re-signing with the Toronto Raptors, though the fact he and the Raptors won the NBA title nearly changed matters. He had a long and drawn-out courtship, one with a shocking conclusion.
The Los Angeles Clippers (at Leonard's behest) traded for George practically in the middle of the night. They signed Kawhi shortly thereafter, forming a power duo to combat the Lakers' tandem of LeBron James and Anthony Davis.
Russell Westbrook reportedly called Kawhi Leonard about playing together in Los Angeles
While Kawhi Leonard was preparing to hit the open market in 2019, Russell Westbrook was thinking about his future with the Oklahoma City Thunder.
Westbrook and the Thunder had been bounced in the first round of the playoffs in three consecutive seasons following the departure of Kevin Durant. The arrival of Paul George ahead of the 2017-18 season teamed Westbrook with another superstar but did very little to contribute to more winning.
Alas, The Brodie wondered whether the grass would be greener elsewhere, like his hometown of LA. He also had eyes for a new star teammate.
Ramona Shelburne of ESPN reported that Westbrook called Leonard to gauge his interest in playing together in LA. The move backfired.
Leonard chose George over Westbrook, but that choice has produced mixed results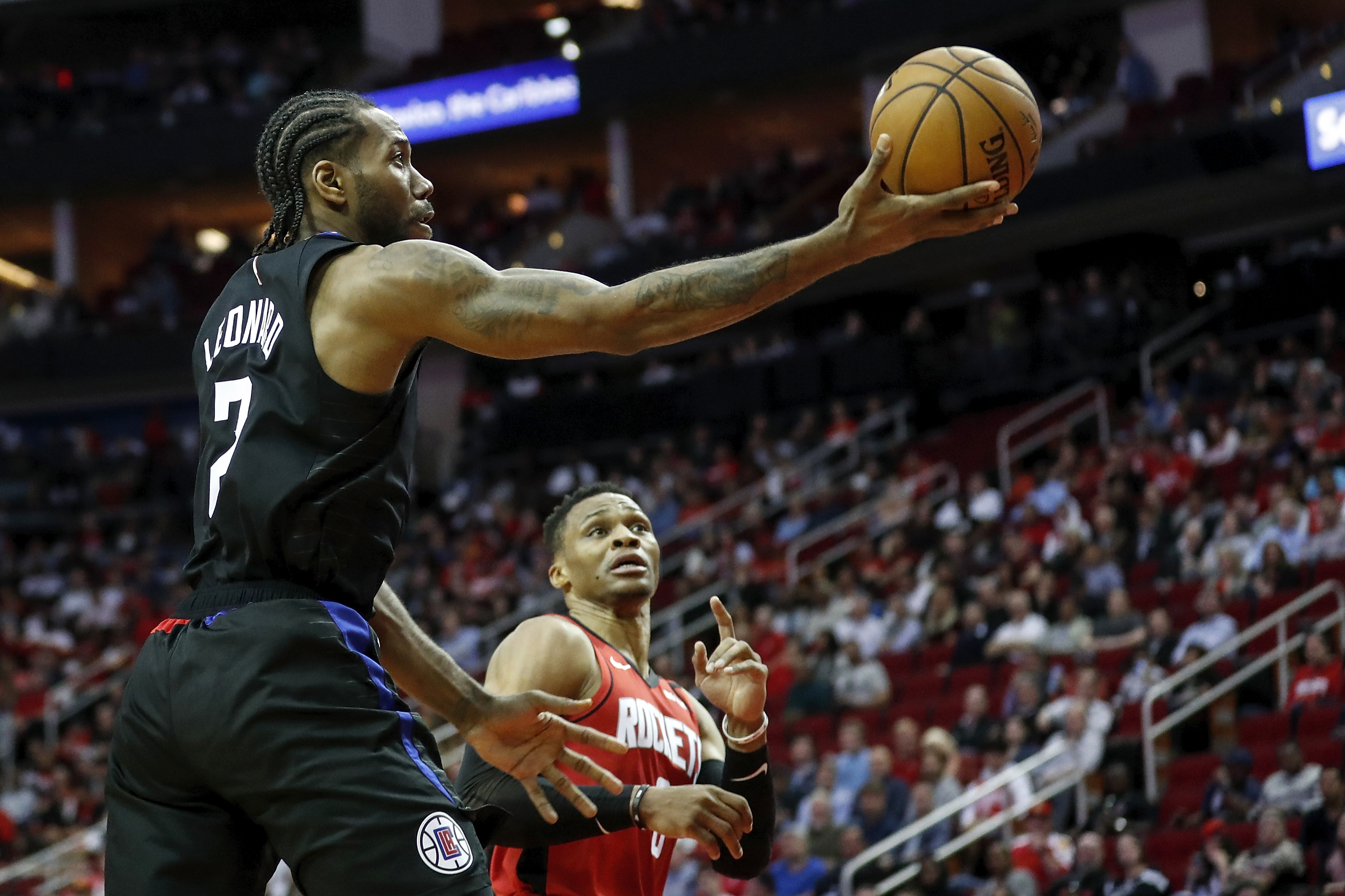 According to Shelburne, Leonard fielded that call from Westbrook just before calling his teammate, Paul George. Leonard ultimately decided he preferred to play with George, though that decision hasn't really paid dividends.
It should be said Leonard and George have been brilliant in LA, at least from an individual standpoint. Leonard was named All-NBA First Team this past season after making All-NBA Second Team during the 2019-20 campaign. George also made All-League, as he was named All-NBA Third Team.
Yet, individual success has not translated to team success. The Clippers blew a 3-1 lead to the Denver Nuggets in the 2020 Western Conference semifinals, with both Leonard and George falling apart in the second half of Game 7. Those playoffs prompted some questions about George's superstar status in particular.
The 2021 playoffs marked another opportunity for the Clippers to make a run at an NBA title. However, Leonard suffered a partially torn ACL in the team's first-round series win over the Utah Jazz, rendering him absent for a conference semifinals loss to the Phoenix Suns.
The losses on the court are hard enough to swallow. Leonard's injury is another source of frustration. But the behind-the-scenes question marks about work ethic and superstar favoritism hounded the Clippers that much more in recent seasons.
Lots of drama. Not as much winning as expected. The Clippers of Leonard and George are as much a soap opera as annual title contenders.
Leonard and Westbrook are new rivals in LA
Westbrook and Leonard could have been teammates. Now, they are rivals.
The Lakers acquired Westbrook in a blockbuster trade with the Washington Wizards. Leonard can become an unrestricted free agent once he declines his player option for the 2021-22 season, but Sam Amick of The Athletic was among those to report Leonard is expected to sign a new contract with the team at some point after the beginning of free agency.
Perhaps Westbrook and Leonard share the floor in some alternate universe, but they are now on a collision course in LA's battle for NBA supremacy.
RELATED: Stephen A. Smith Voices a Surprising Take About Kawhi Leonard's Future With the Clippers