Kawhi Leonard is Just Unfair Now Thanks to 1 new Part of his Game
Kawhi Leonard is a two-time Finals MVP, three-time NBA All-Star, two-time Defensive Player of the Year, and a three-time member of the All NBA Team. That might be enough for the average NBA player to put it in cruise control and be perfectly fine with what his career has become, but for the current Clippers star, it was just the beginning, and he added a new weapon to his game to make him even better than he was before.

Kawhi Leonard's game keeps evolving
Kawhi Leonard's game has always been evolving. While he started as a defensive prospect with some offensive skills to show off, his Finals MVP performance in 2014 served not as a culmination of his game growing, but as a jumping-off point. Although Kawhi had some offensive skills as a young player, he wasn't yet the superstar player that NBA fans know him as today.

Part of this was because Leonard was still a piece of the San Antonio Spurs. While the Spurs were never averse to letting one player take on the scoring load, Leonard was playing alongside Tim Duncan, Manu Ginobili, and Tony Parker on a team that liked to spread the ball around give players a chance based on how open they were. It worked, and the team won its championship.

Leonard becomes an elite NBA player
By 2017, however, Leonard was playing at another level. He was already a Defensive Player of the Year-type player. Then he transformed to be one of the league's top scorers who put up 25 points per game, hit consistently from downtown, and greatly improved his free-throw shooting in the process.

As far as defense went, Leonard was as good as ever. The man who locked down LeBron James in the NBA Finals in just his third season continued to grow his game, and by the time he got to Toronto following his ugly exit from San Antonio, he had a legitimate claim to stake as one of the best players in the NBA.

A new weapon for Kawhi Leonard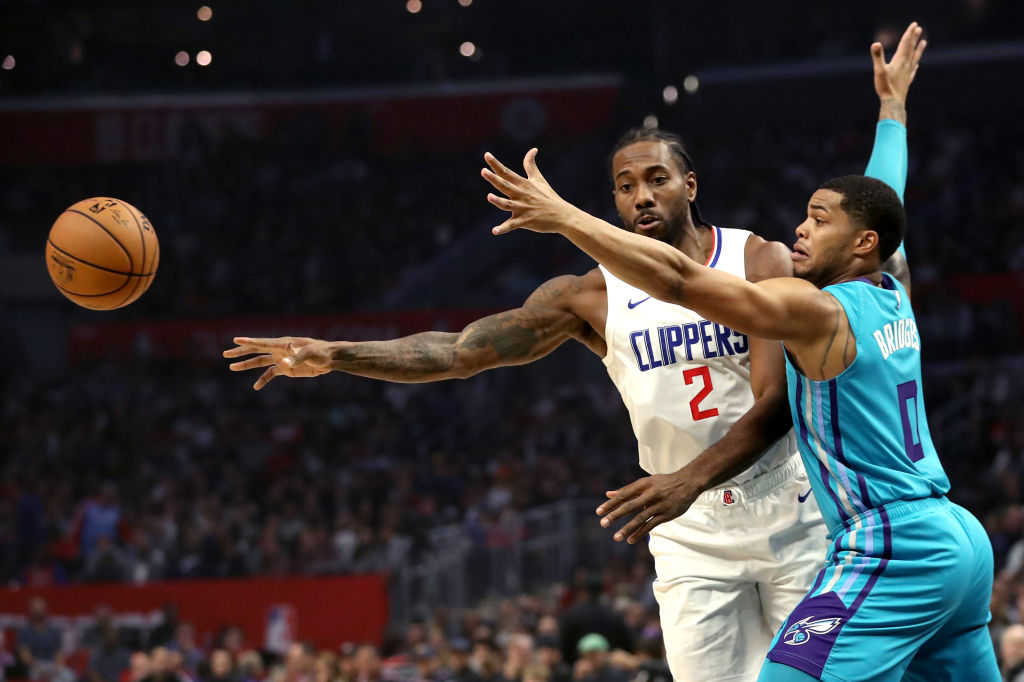 Leonard is coming off of a championship season where he locked up players like Giannis Antetokounmpo and hit daggers in the face of the entire Philadelphia 76ers roster. However, he is still expanding on his game. Many believe that he is the best basketball player on earth as LeBron James ages out and Giannis Antetokounmpo still has things to learn. Instead of being content, however, Leonard is adding playmaking to his arsenal.

As Leonard begins his career with the Los Angeles Clippers, his new head coach Doc Rivers is calling on him to be a facilitator on the team's offense. If Leonard can do that, he may officially become the best player in the NBA, if he wasn't already so. The Ringer highlighted this trend in Leonard's game, noting that Rivers had high-praise for Leonard's ability to succeed at any level.
"What he is doing with us is on another level," coach Doc Rivers told The OC Register. "You can tell that is something he was focusing on over the summer, to be a better playmaker. His passing ability is unbelievable."

Early on in his Clippers career, Leonard is averaging nearly six assists a game, a career-high. He is facilitating like a point guard, scoring like an elite small forward, and locking down big men and little men alike. In a career already filled with great achievements, he may have unlocked another one this year.

The Terminator
Kawhi Leonard has already been nicknamed The Terminator due to his ability to put away whoever is put into his path and his even-keeled persona that can border on the robotic. He might be one of the best players in the NBA, but you would never know it by looking at his face. It should come as no surprise, however, that he is still be looking to grow at 28 years old.

Leonard will likely be a competitor until his career ends. Everything he does, from growing his game to preserving himself for playoffs, is done with basketball in mind, and as this new chapter begins in his NBA career, the NBA should be afraid that Leonard could find another level before it is all said and done.