Kawhi Leonard's Obsession With Michael Jordan Led to $325 Million Career
Kawhi Leonard is a bit of a lightning rod for fans. He's unquestionably great, as one of only three players to win Finals MVP honors with multiple teams. But his departure from the San Antonio Spurs was awkward, he's dragged out some free agency decisions, and he's the poster child for load management. But as a collegian at San Diego State, the road to an almost-certain Hall of Fame career was paved with an obsession over one player, Michael Jordan.
Leonard was not a typical recruit. Coaches couldn't get him on the phone; they couldn't get him to text. Recruiting him was a different sort of chore. His personality quirks were a big part of why he was an Aztec instead of playing at one of the West Coast's more prestigious programs.
Kawhi Leonard just wanted to hoop
Kawhi Leonard was named Mr. Basketball in California as a high-school senior in 2009. Previous winners include Lonzo Ball, Aaron Gordon, Jrue Holiday, and Trevor Ariza. All four of them played in the Pac-12 (or its predecessor, the Pac-10). Leonard ended up at San Diego State, playing in the Mountain West Conference.
Former college teammate Tim Shelton told The Athletic in 2019 had a theory why the Pac-12 programs didn't pursue Leonard.
"They were like, 'He's kind of a 4-man, and, shoot, we can't call him and talk to him. He must not want to talk to us."
Guard DJ Gay hosted Leonard on his official visit to San Diego State. It was not a typical look at the glamourous side of campus life.
"Honestly, the only thing he wanted to do was get in the gym. We were like, 'Kawhi, what do you want to do?' And he was like, 'Let's go work out. Let's go get some shots up. Let's play.'"
Leonard had a one-track mind, and Michael Jordan played a part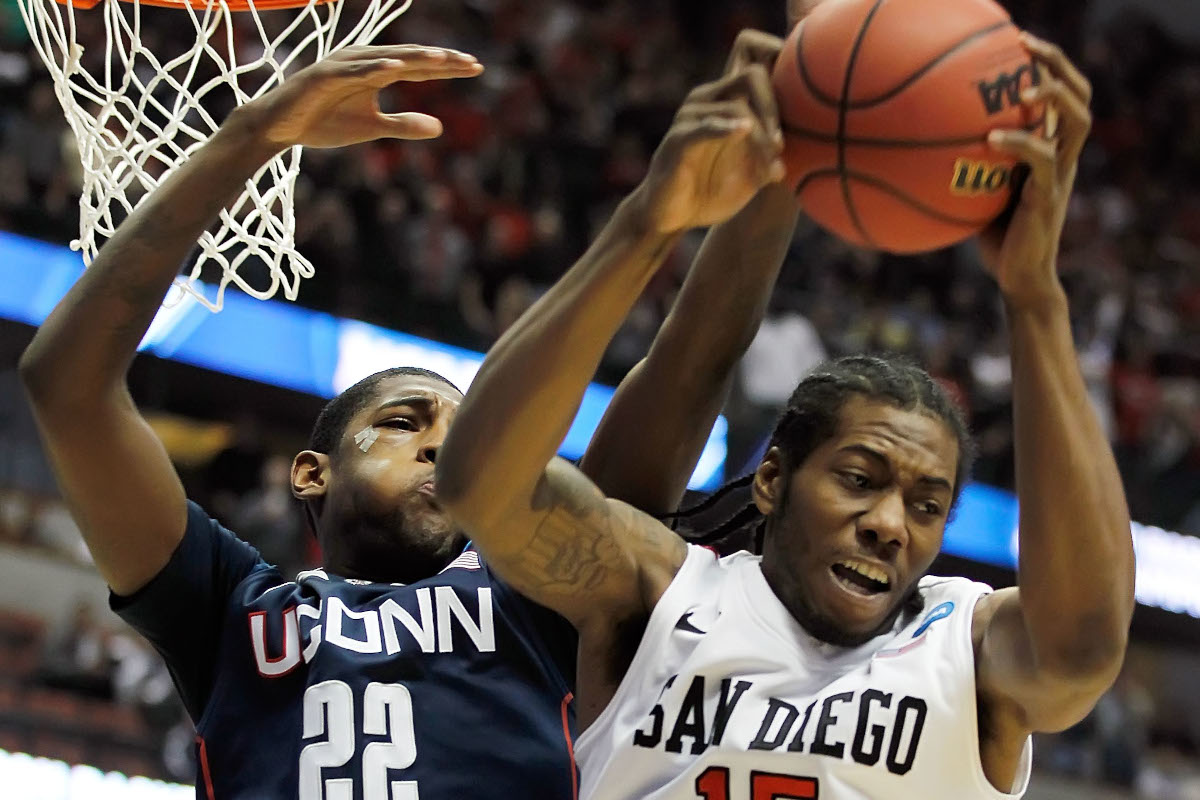 Team manager John Van Houten recalled a particular obsession of Kawhi Leonard's.
"He'd come over to my house, and he'd watch Michael Jordan highlights. We called them 'Mike highs' … I mean, like four or five hours at a time."
Guard LaBradford Franklin remembered that Leonard was setting a high bar for himself.
"He would always say, 'I'm Mike. You like LeBron; you like Kobe? Yeah, they're cool, but I'm Mike. I want to be the best, the greatest.' And from how he carried himself, we knew he was serious. We knew that's what he really wanted."
Much like Jordan, Leonard could take things personally. Assistant coach Dave Velasquez talked about a trip to play California. Leonard had a point to prove, and he proved it.
"I'll never forget when we played at Cal. He remembered that Cal didn't think he was good enough, he heard that the head coach at the time, Mike Montgomery, didn't think he was good enough. He made it his personal mission to go out there and want to destroy Cal.
"They had a really good team. Allen Crabbe was there. They had a squad. But Kawhi went up there at Cal, and you knew when he walked on the floor that game, they had no chance. It was ridiculous."
Leonard took on all defensive challenges, as well. He wanted to guard Paul George when the Aztecs played Fresno State. Against BYU, he wanted national player of the year Jimmer Fredette, a point guard.
He not only had the Jordan work ethic down. He also had mastered motivation and wanting the toughest challenges.
Kawhi Leonard turned into a star in San Antonio
The San Antonio Spurs reached the NBA Finals in two of Kawhi Leonard's first three seasons. In a seven-game loss to the Miami Heat in 2013, Leonard averaged 14.6 points and 11.1 rebounds per game. He stepped up his game the following year. Earning Finals MVP honors, he put up 17.8 points and 6.4 boards while shooting a sizzling 61.2% overall and hitting 11-of-19 from 3-point range.
Five years later, Leonard was off the charts for the Raptors against the two-time defending champion Golden State Warriors. He hung 28.5 points, 9.8 rebounds, and 4.2 assists in 40.5 minutes per game while carrying Toronto to its first NBA title.
The question isn't ability for Leonard; it's durability. In 10 NBA seasons, Leonard has missed less than 10 games in a season just twice.
Since joining the Los Angeles Clippers in 2019, Leonard has missed 35 games in the regular season. He also sat the final eight playoff games last season and will miss much, if not all, of next season recovering from knee surgery.
Kawhi Leonard just signed a four-year, $176.3 million deal to stay in LA. But while he has the Jordan work ethic, he doesn't seem to have Jordan's talent for staying in the lineup.
Statistics courtesy of Basketball Reference.
RELATED: Kawhi Leonard Received Harsh Truth Bomb From Former Superstar NFL WR Regarding His Title Chances in LA: 'The Clippers Are Going to Be the Clippers, It's Just the Clippers'