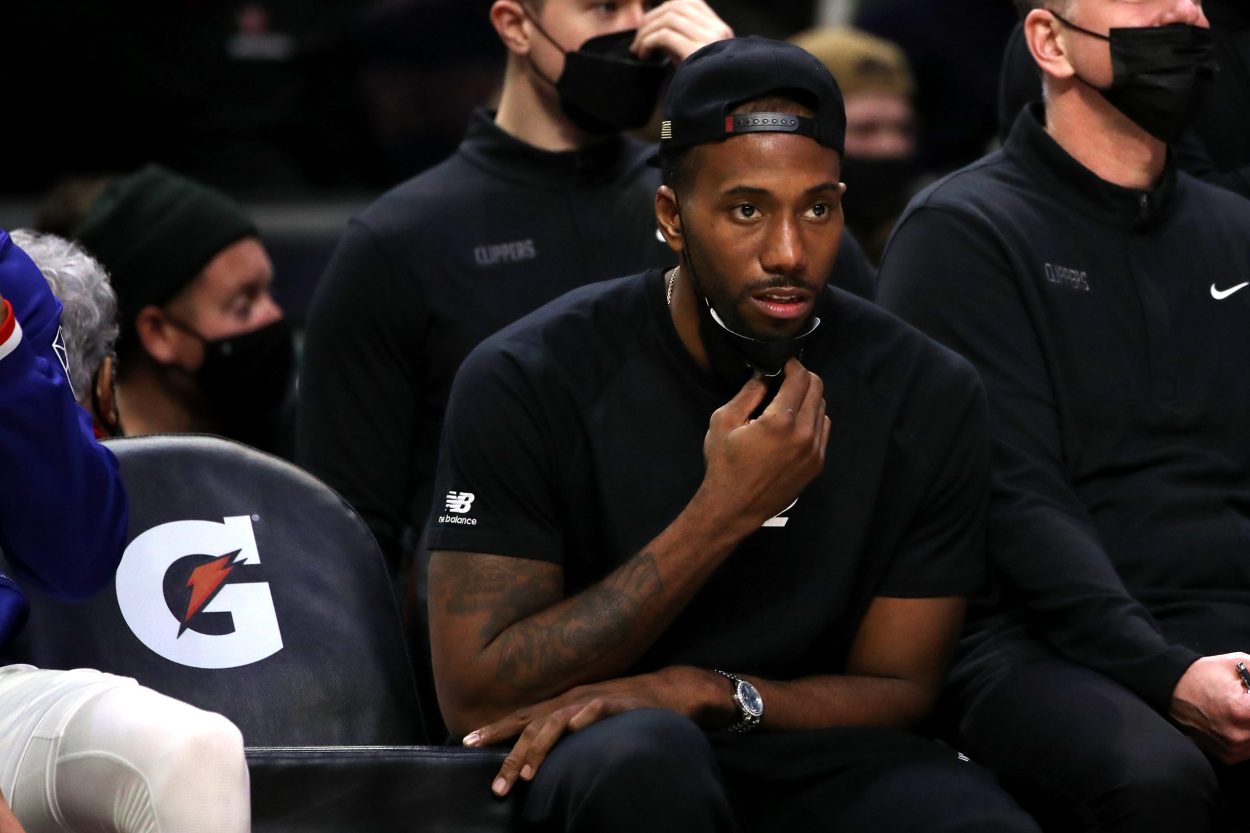 The Kawhi Leonard Return Hype Hits a Snag
Kawhi Leonard's recent pregame workout created a lot of buzz. However, there's no guarantee he returns to the LA Clippers this season.
Will he or won't he? That's the question that has typically surrounded Los Angeles Clippers star Kawhi Leonard regarding his playing status for the 2021-22 NBA season as he continues to rehabilitate a partially torn ACL suffered in last season's playoffs.
On the surface, Tuesday seemed to provide encouraging signs for The Claw. However, his potential return to the Clippers remains in question.
The Clippers have managed to play .500 basketball despite missing Leonard for the entire season and Paul George for over half of the campaign. Head coach Tyronn Lue's team could be a scary squad to face with a healthy Kawhi and PG13 in the mix.
But while LA fans surely dream of their superstar duo dominating come playoff time, there's no telling whether Leonard receives clearance, or whether Lue feels comfortable playing him.
Kawhi Leonard induces excitement about possible return with pregame workout
The Clippers have long held that Leonard was making good progress in his recovery. However, very little has been made about The Claw's level of basketball activity.
The latter point explains why the former Defensive Player of the Year generated so much buzz on Tuesday.
Leonard worked out before LA's game against the Golden State Warriors in San Francisco. He showed off his patented shooting stroke and worked in some ball-handling activity, though there wasn't a whole lot of lateral movement involved.
The fact that Leonard is already getting shooting drills in and going through pregame routines appears to suggest he is indeed ramping things up. However, it's been less than eight months since he underwent surgery, and ACLs can take up to 12 months for a full recovery.
With only one month remaining before the end of the regular season, it's unknown whether Kawhi can feasibly return to the Clippers. It seems a little less likely considering some of Tyronn Lue's recent comments.
Tyronn Lue wants Leonard to have a ramp-up period
Tyronn Lue's steady hand has helped guide the Clippers into the playoff hunt even without their two stars. Given the success he has had, he might feel tempted to rush Kawhi Leonard's return.
In fact, the opposite is true.
Chris Haynes of TNT reported (h/t Andrew Greif of the LA Times) during Tuesday's game between the Clippers and Warriors that Lue "wouldn't feel all that comfortable" playing either Leonard or Paul George without the duo getting some run leading up to the playoffs. That makes for a lot of uncertainty, though it's also smart.
The Clippers cannot throw Leonard into the fire and give him heavy minutes. They need to see how his knee responds. Thus, a ramp-up makes for a good plan of action.
Leonard's possible comeback could partially depend on George. The seven-time All-Star has not played since Dec. 22 because of an elbow injury. He's resumed shooting, but the fact that LA keeps pushing his timeline doesn't necessarily bode well.
If The Claw and PG13 can get healthy and resemble even 80% of their normal selves, they could make a deep playoff run, regardless of seed. But it might not be worth the risk.
Weighing options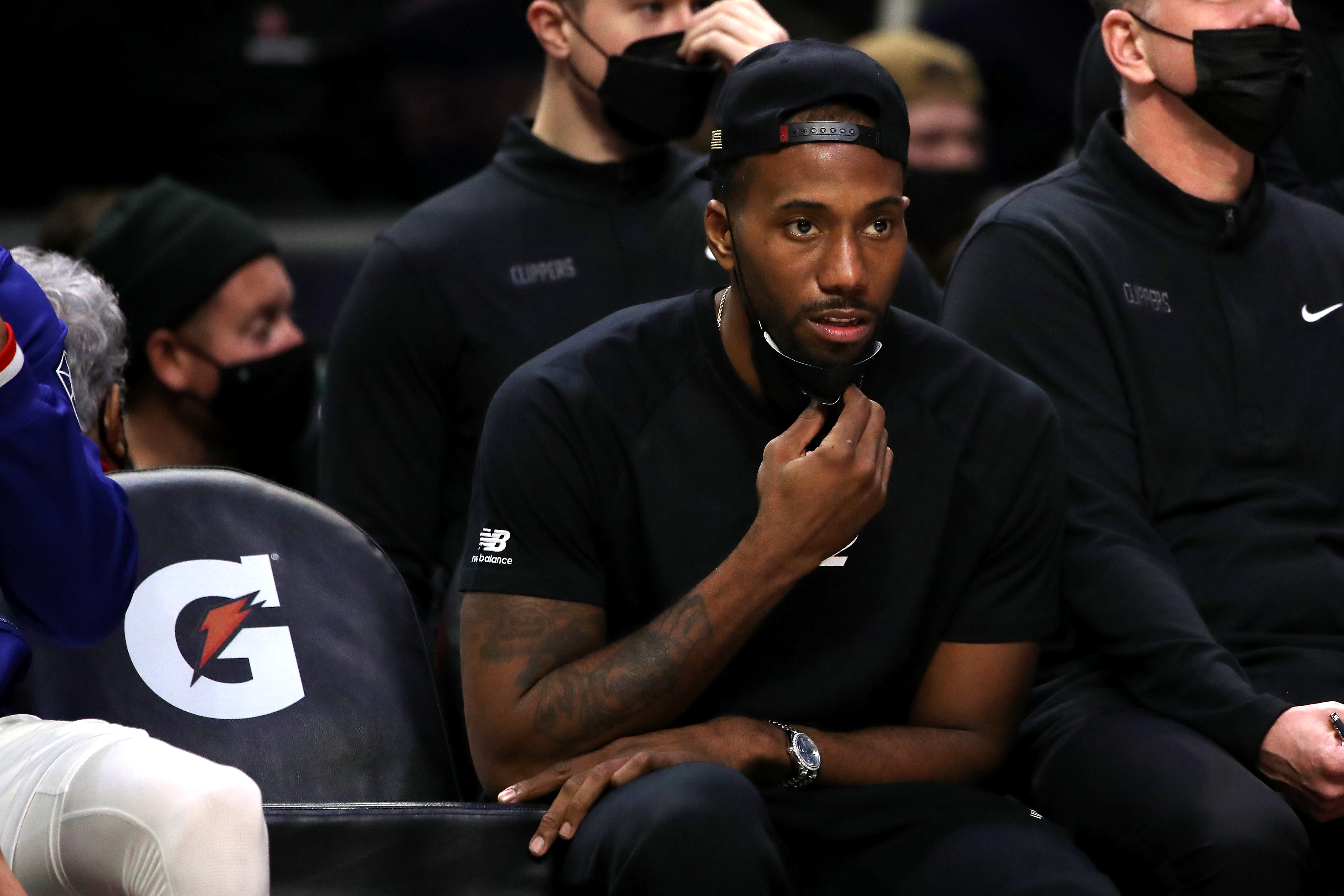 When the Clippers made a big move for Norman Powell and Robert Covington, they put themselves in a position to succeed in the event Kawhi Leonard and Paul George returned. However, LA also set itself up for the future, which might be more important.
The Clippers haven't "punted" on this season. They still have a sizable lead (4.5 games) over the crosstown rival Lakers for the No. 8 seed in the Western Conference and figure to at least have a shot in the play-in tournament. Lue's group could feasibly challenge a top seed like the Phoenix Suns, Memphis Grizzlies, or Warriors with a fully healthy roster.
But it's hard to suggest LA should hope for Leonard and George to come back.
Powell suffered a season-ending toe injury three games into his Clippers tenure. The team lost some frontcourt depth by dealing Serge Ibaka to the Milwaukee Bucks. Although Reggie Jackson has had some massive games, he's a wildly inefficient, score-first point guard. Not to mention, it's a tough ask for LA's stars to make their returns against a hard-nosed team like the Suns or Grizzlies.
Perhaps Leonard himself picks up the pace with the hopes of coming back. He seems to be trending in the right direction. But, given the circumstances and Lue's mindset, the Clippers are every bit as likely to hold Kawhi out.
RELATED: Lakers Doing Everything in Their Power to Make LA a Clippers Town
Related post url: