Kawhi Leonard Reveals an Unexpected Reason Why He Couldn't Stay With the Raptors
Kawhi Leonard is one of the best players in the NBA. So, when he left the Toronto Raptors after helping them win the 2018-19 NBA championship, it was, of course, a huge blow to the Raptors' organization. Why did he leave Toronto, though? Many people look at the fact that he is a California guy. He went to high school and college in California. So, it just made sense for him to go to the LA Clippers. However, he recently revealed an unexpected — and funny — reason why he just couldn't stay with the Raptors.
Kawhi Leonard led the Toronto Raptors to an NBA championship
RELATED: Jerry West Allegedly Owes a Man $2.5 Million For Bringing Kawhi Leonard to the Clippers
Kawhi Leonard started his career with the San Antonio Spurs and proved to be one of the NBA's best players. He was mainly just a defensive role player for the Spurs during his first few seasons, though, but could score when they needed him to. Leonard only averaged 10.9 points per game combined in his first three seasons.
However, he became a star during the 2014 NBA Finals. He averaged 17.8 points per game, 6.4 rebounds, 1.6 steals, and 1.2 blocks in the series, which helped the Spurs win a championship and earned him Finals MVP.
Leonard then became the best player on the Spurs over the next few years. In 2015-16, he earned his first All-Star selection, averaging 21.2 points per game, 6.8 rebounds, and 1.8 steals. Leonard also won his second consecutive Defensive Player of the Year award that season. In 2016-17, though, he became one of the league's top scorers, averaging 25.5 points per game, 5.8 rebounds, and 1.8 steals.
However, after only playing in nine games in 2017-18, the Spurs traded him to the Toronto Raptors. During the 2018-19 season with the Raptors, Leonard averaged 26.6 points per game, 7.3 rebounds, and 1.8 steals. That isn't it, though, as Leonard ultimately led the Raptors to an NBA championship, winning the Finals in six games over the Golden State Warriors. He averaged 28.5 points per game, 9.8 rebounds, and two steals in the series to win his second Finals MVP.
After that lone season in Toronto, though, Leonard moved to the LA Clippers, as he now looks to help the Clippers win their first-ever NBA title.
He revealed why he couldn't stay with the Toronto Raptors
RELATED: How Does Kawhi Leonard's Net Worth Compare to Paul George's?
Leonard recently appeared on Jimmy Kimmel Live, and while talking to Kimmel, he revealed an unexpected — yet funny — reason why he couldn't stay in Toronto. His huge hands.
Leonard is known for having huge hands that have ultimately helped him become the dominant player he is today. Kimmel, of course, had to ask him about them, saying, "Are there disadvantages to having huge hands like that?"
Leonard's response was pretty funny, but also revealing.
"Definitely," Leonard said. "I don't notice it until I see either my friends or someone else doing an activity, and I'm like, 'I can't do that.' Like putting my hands in my own pockets. Sometimes it's just way too small."
Kimmel then brought up the Raptors, asking if cold hands were the reason why Leonard left Toronto.
"I couldn't find gloves to fit me," Leonard said.
Obviously, this isn't a primary reason why Leonard left Toronto. Living in a cold-weather city had to be challenging for him, though. According to The Weather Channel, Toronto is between 12 degrees Fahrenheit and 32.7 degrees Fahrenheit from December to February, three months of the NBA season. So, he couldn't even wear gloves during days where it wasn't even 15 degrees outside.
In comparison, it's between 47 and 69 degrees in LA in those months, and San Antonio (where he started his career) is between 41 and 67 degrees. It's pretty understandable why he would want to live in a warm-weather city.
How big are Kawhi Leonard's hands?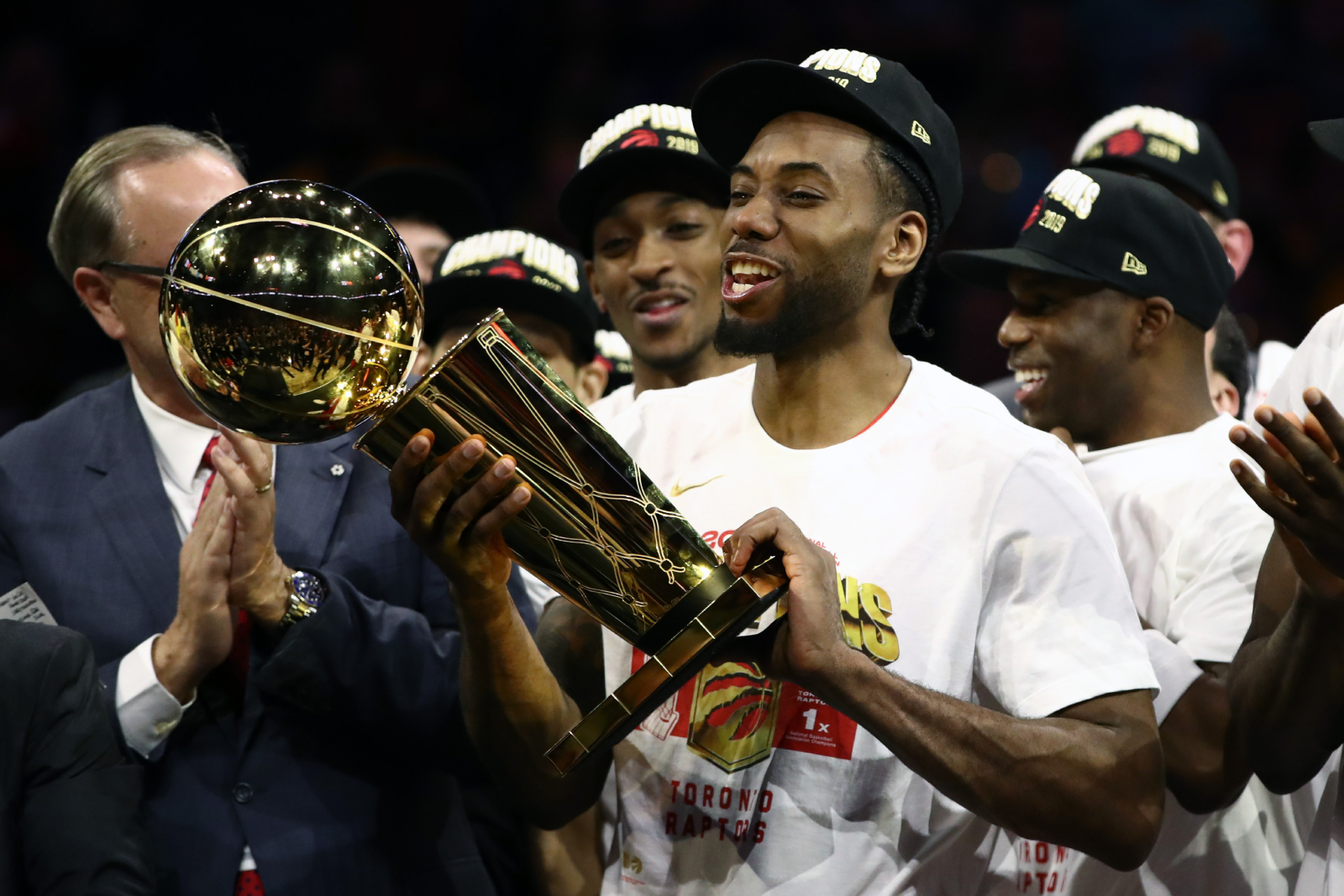 RELATED: The Person Who Shot and Killed Kawhi Leonard's Father Has Yet to Be Found
So, since Leonard's hands are too big for gloves, and even pockets, how big are they? According to a New York Times article from 2014, Leonard's hands measure 11.25 inches "from thumb to pinkie when fully stretched." That measurement is 52% wider than the hands of an average man, the Times reported.
"My hands make me a little longer, and that's always a good thing," Leonard said in 2014, according to The New York Times.
Kawhi Leonard is one of the best basketball players in the NBA. But life isn't always easy when you have enormous hands.
Stats courtesy of Basketball Reference