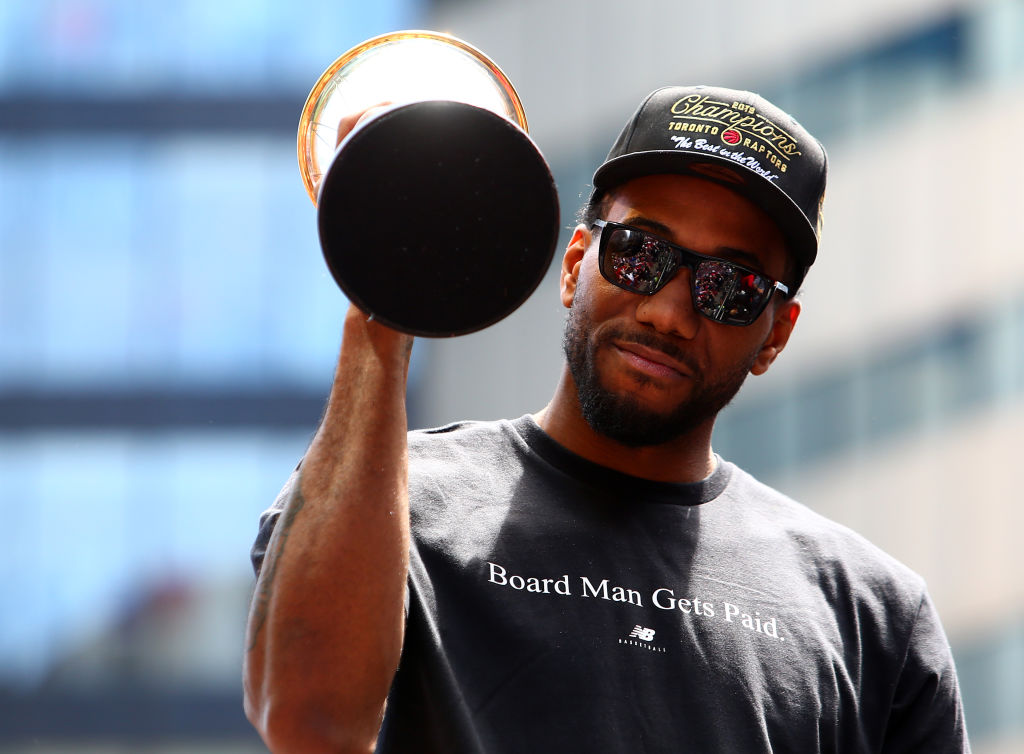 Kawhi Leonard Was Just Sued by Nike, Here's Why
Kawhi Leonard recently sued Nike over a logo copyright dispute. Nike didn't take it laying down and decided to counter sue. Here's why.
When Kawhi Leonard left Nike to join New Balance on a new sneaker deal, it left fans perplexed. New Balance was never a major player in the sneaker endorsement game. Not to mention, Leonard was a superstar leaving the biggest sneaker brand of all time.
Leaving Nike wasn't easy, and there was a major dispute over Kawhi Leonard's trademark logo. It now has him in a legal battle with Nike.
Today we will discuss the battle between Nike and Leonard and predict who will come out on top.
Kawhi Leonard's original suit against Nike
Leonard filed a suit against Nike earlier this year, saying they used a logo he designed himself. In the suit, Leonard states that he created the logo after being drafted in 2011. According to the lawsuit "Leonard traced his notably large hand..and, inside the hand, drew stylized versions of his initials 'KL' and the number that he had worn for much of his career, '2.'"
He later claims he allowed Nike to use the logo for future products while he used the logo on goods not affiliated with Nike. Unknown to him Nike filed a copyright registration for the logo and proceeded to claim the logo was their sole creation.
Nike's countersuit
Since Nike applied for copyright registration, the company is counter-suing Kawhi Leonard, asking for the claim to be dismissed in court. In the counter-claim Nike explains that Leonard's deal with them expired in September 2018, but he used the logo during the 2019 NBA Finals on merchandise not affiliated with the sneaker company.
Nike doesn't deny that they had a creative meeting with Leonard where designs were presented and discussed. They also informed the judge that one of Leonard's logo ideas was used for Nike products. Outside of the one design they admit Leonard created, they state that all of the other designs were created by their marketing team and therefore are exclusive rights to the Nike brand.
After learning about Leonard's use of the logo, Nike informed him he could not use it since it was a breach of their former contract. Leonard refused and the case has now been taken to court.
On top of the case being dismissed, Nike is also hoping that the judge permanently bars Leonard from using the logo design going forward.
The Clippers get involved
Kawhi Leonard's new team, the Los Angeles Clippers, tried purchasing a portion of the rights to the logo from Nike but were denied. Some think this was to try to use the logo to their advantage and sell more merchandise. Some thought Nike should take the bait and get a quick settlement by giving up partial rights to the logo. But the company denied the offer.
Do you think Kawhi Leonard has a chance to win?
Kawhi Leonard had a phenomenal year on the basketball court after leading the Toronto Raptors to their first NBA championship. But we think he has a tough hill to climb in this battle. Do you think he can pull off the upset in court?
Check out our NBA section if you want more news regarding the league's top players.