Kawhi Leonard's Lawsuit Against Nike Over His Logo Could Be Delayed
Kawhi Leonard is one of the greatest basketball players on the planet. Leonard wants what is his, though. During the NBA Finals in June 2019, Leonard filed a lawsuit against Nike over ownership of his "Klaw" logo. Even though he filed the suit nine months ago, Nike wants it to be delayed due to the coronavirus pandemic. 
Kawhi Leonard endorsed Nike for seven years
Kawhi Leonard signed with Jordan Brand, a division of Nike after he was drafted in 2011. The deal paid him less than $500,000 a year, according to SBNation. Leonard's contract with Jordan Brand was set to expire on Oct. 1, 2018, and the two sides were in talks for an extension. They were reportedly "very close" to agreeing on a four-year extension that would have been worth more than $20 million, according to ESPN. However, the discussions broke down when Leonard's representatives felt the deal didn't reflect his accomplishments. 
In comparison, Blake Griffin earns a similar amount from Jordan Brand to what was offered to Leonard, according to ESPN. Kyrie Irving, Damian Lillard, and Paul George each earn more than what was offered to him. Leonard, at the time, was two-time NBA all-star and had already won one NBA Finals MVP award. He has since been to two more All-Star games and has won one more finals MVP.
Leonard ultimately found a new brand to endorse. In November 2018, Leonard agreed to a multiyear deal with New Balance, according to Yahoo Sports. New Balance has since tried to make a name for itself in the basketball market and Leonard is the face of the brand.
Why did Leonard sue Nike? 
During the 2019 NBA Finals, Leonard sued Nike as he said it unlawfully copyrighted his personal logo that he said he created in college, according to The Oregonian. Nike then filed a countersuit against Leonard. The company said it holds exclusive rights to the logo and that its team of designers created it.
Nike did admit that Leonard forwarded a rough draft sketch that incorporated his initials and his jersey number. The company said, though, that Leonard approved one of the designs Nike created in June 2014. The company also said the logo is distinct from his sketch.
Nike requests to delay the case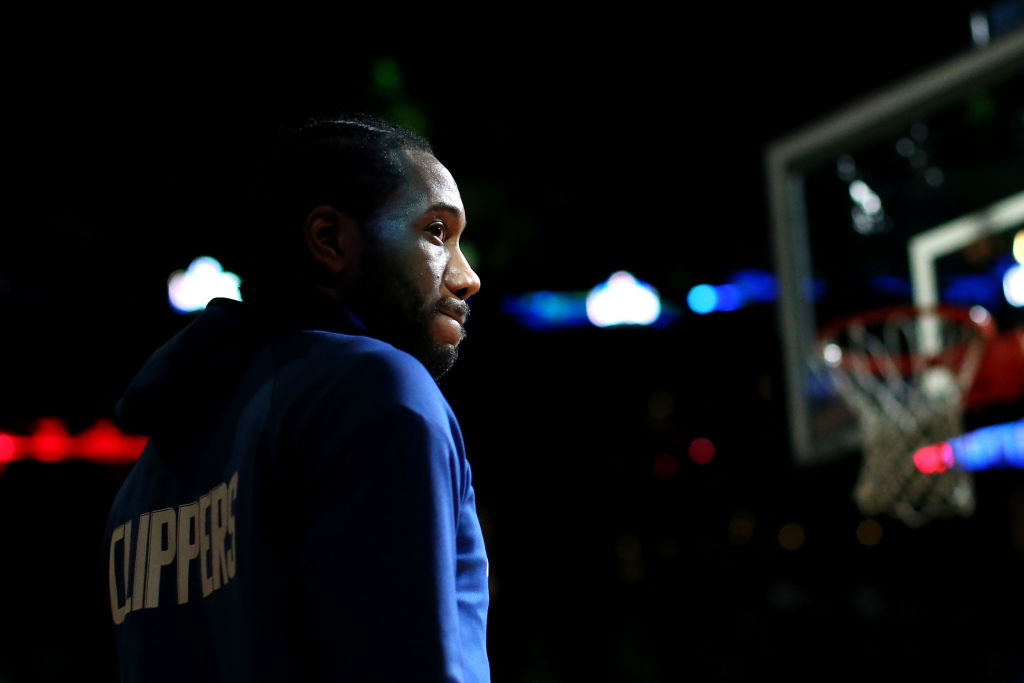 Nike recently requested a delay of the case and a protective order to ensure any documents shared are not made public. A federal Oregon judge granted the protective order but denied the request to delay the case, according to The Oregonian.
A U.S. district judge, Michael W. Mosman asked both sides if they can share all documents by June. Nike did not give the impression that that is possible, though, because of the closure of the company's campuses due to COVID-19. 
"Right now, Nike is essentially shut down and they are not allowed to go into their offices,'' Nike's lawyer Tamar Duvdevani told the court, according to The Oregonian. 

Tamar Duvdevani, Nike's lawyer
Judge Mosman responded, saying the law firm representing Nike, "is going to have to do a little better than telling me that Nike has shut down, which isn't the case,'' according to The Oregonian.
Additionally, Duvdevani added that "it's anybody's guess when we're all going to feel comfortable flying around the country and having our staff and court reporters doing depositions.'' This insinuates that Nike, for right now, would not be willing to travel for the case.
The Kawhi Leonard and Jordan Brand/Nike breakup has been messier than Leonard's breakup with the San Antonio Spurs. The COVID-19 pandemic is now just throwing another wrench into it. From the looks of it, this case could continue for quite a while. Is the "Klaw" logo Leonard's? Is it Nike's? We probably will not know for quite some time.