Keenan Allen Continues To Make Teams Pay for Doubting Him
Keenan Allen might be one of the most reliable receivers in the NFL, but everything about his career has been a journey to prove the doubters wrong. The long-time Chargers player was once a top-tier draft prospect, but injury woes cost him entering the 2013 NFL draft. After falling to the third round, Allen continues to prove his doubters wrong every time he takes the field. 
Keenan Allen goes to college
Allen had about as successful a college career as one could hope for. In three years at Cal, Allen went from a little-known freshman receiver to one of the country's best. During his first season with the team, he had a smaller role than he expected. Still, with nearly 500 receiving yards on 46 receptions, the promise was already there. 
The following season, his best at the college ranks, Allen earned the Cal offense's keys, and a prospect was born. Allen blew his previous year's production out of the water as a sophomore. He received 1,343 yards on 98 receptions to become one of the most praised receivers in the college ranks.
Allen had the makings of a star, but an injury affected his ability to work out with teams. And his draft stock started to fall, details SB Nation. At his peak, Allen was the second-ranked wideout in the 2013 draft class. But if injuries were going to limit him from the get-go, he wouldn't be able to play to his true potential. Allen watched his stock slide from a surefire first-round selection to an uncertain spot in the draft. 
Keenan Allen proves them wrong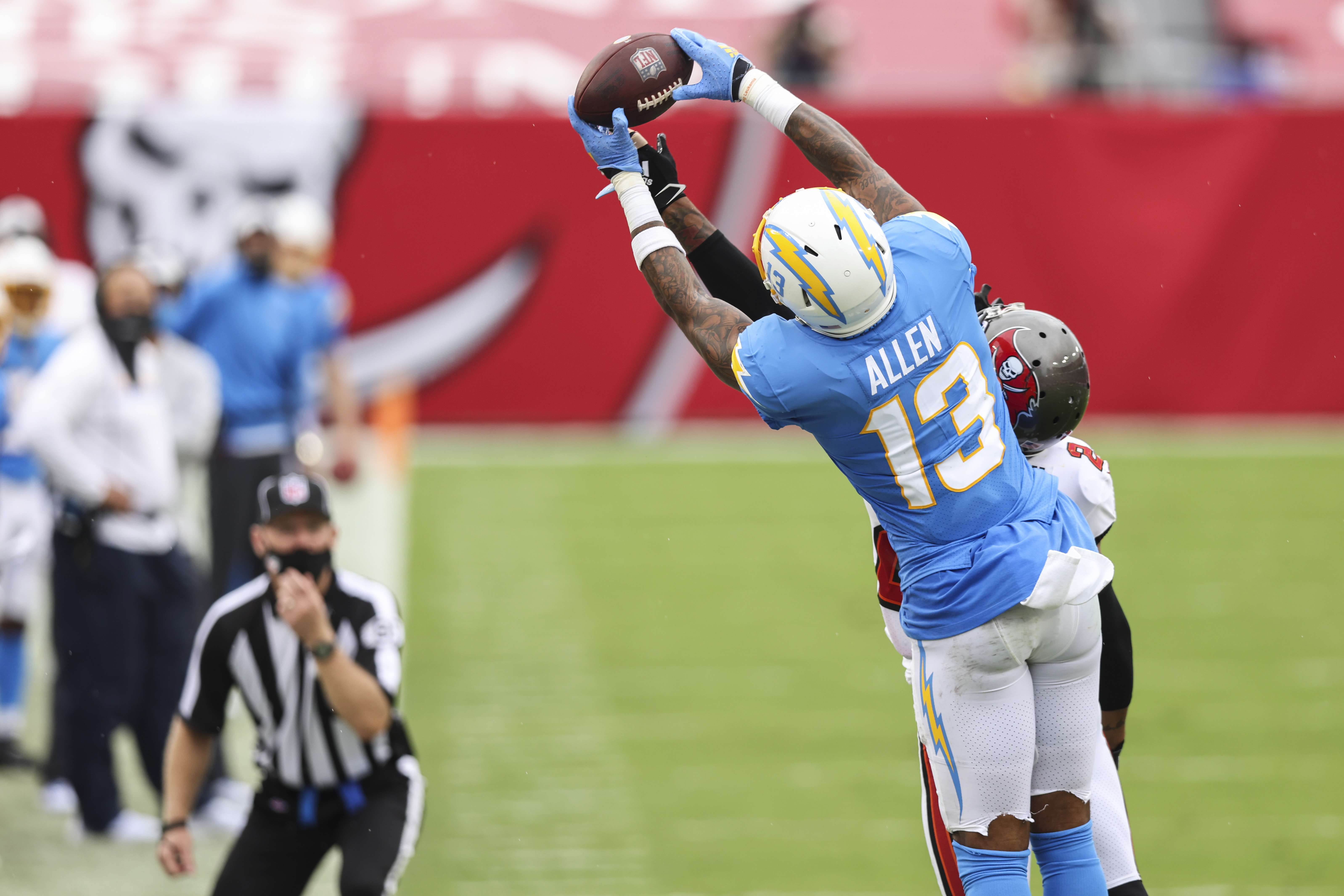 Allen had to wait patiently for his name to be called in 2013. While the injuries were a legitimate concern, Allen knew that he would perform to the hype prescribed to him if only given a chance. Still, teams were cautious about drafting someone who had just injured his knee before he ever got to take the field as an NFL player. 
"I'm not sure what happened. I was in the dark, like you guys," Allen said at the time per CBS Sports. "I wasn't that worried about when my name was going to be called, but I was just being calm and keeping my head up just waiting for my name to be called."
With his name called 76th overall by the then-San Diego Chargers, Allen no longer had to worry about getting drafted. He had to worry about showing why the other teams made a mistake by drafting over him many times over. This has fueled him into an already impressive career. 
A star is born
Allen sat out his first game as a pro, but after coming in off the bench, the doubts about his NFL talent were quickly squelched. Now eight years into his career, Allen is still healthy. He had a brief spell in 2015 and 2016 in which he played just nine games over two years but hasn't missed any games since then. His story is inspiring for everyone around him. He spoke about a text he got that helped him realize just how inspiring his story is. 
"It kind of hit me a little when Coach Wiz [Ken Whisenhunt, Chargers former offensive coordinator] texted me this past week and congratulated me on this success," Allen told Sports Illustrated. "He told me, 'hey, you just been the nail on the hammer ever since ever since you got in, in Philly."
At 28 years old, Allen could still have a long superstar career ahead of him. For a man who once had to worry about getting drafted, at all, he's had about as great a career as one could fathom.