Keenan Allen Just Sent a Stern Message to the Entire NFL and Put a Ton of Pressure on Himself While Doing It
Throughout the years, Keenan Allen has been one of the most reliable wide receivers in the NFL. However, the star Los Angeles Chargers pass-catcher has been pretty underrated as he is rarely ever discussed as being one of the top receivers in the league. Now, Allen is starting to voice some frustration over the disrespect he has received. In fact, he just recently sent a stern message to the entire NFL.
Keenan Allen has been extremely reliable for the Chargers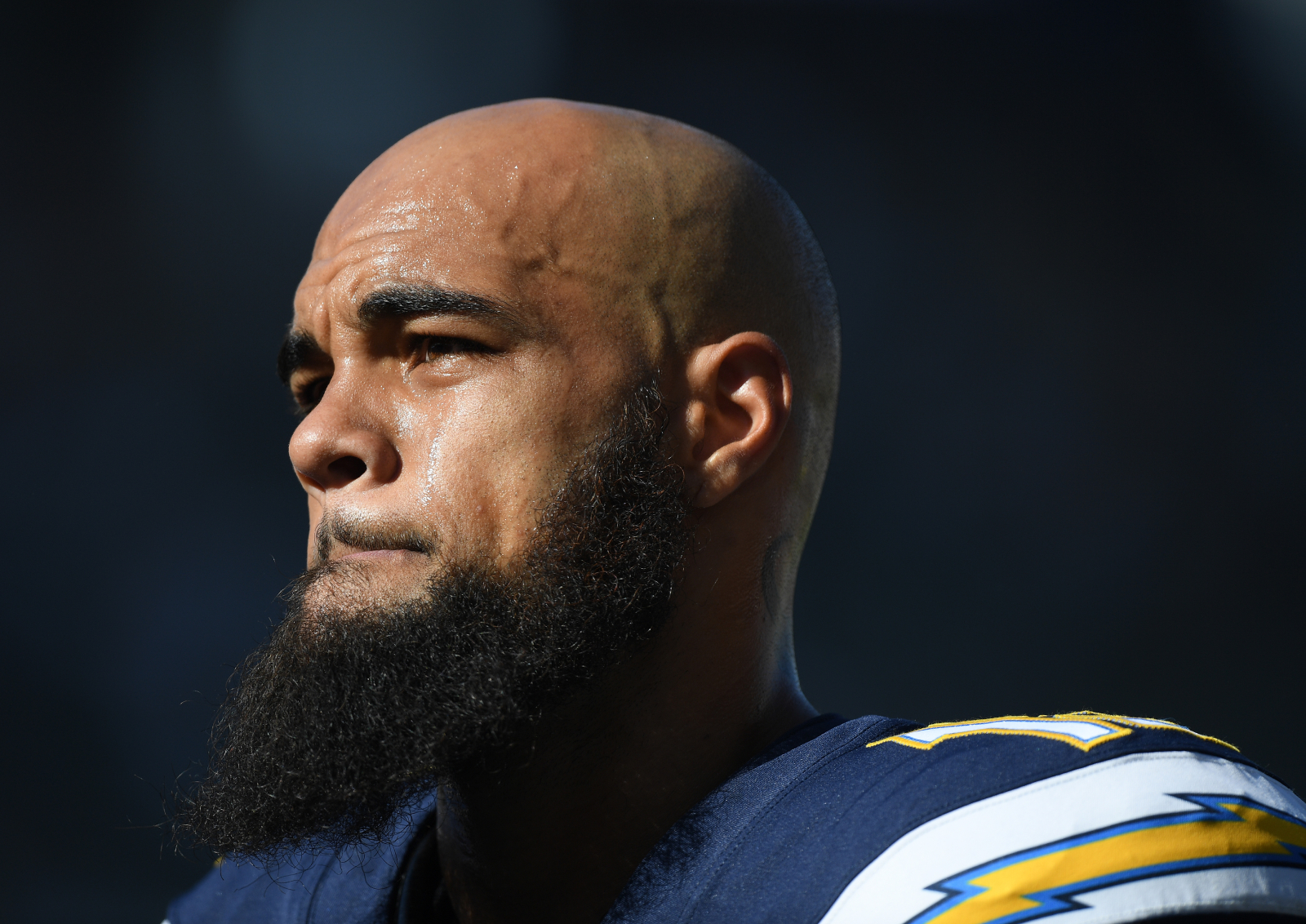 RELATED: Cowboys LB Jaylon Smith Was Just Ridiculously Disrespected by His Peers
Allen entered the NFL as a third-round draft selection out of California in 2013. He has ultimately become a first-round talent for the Chargers, though.
In his rookie season in 2013, Allen caught 71 passes for 1,046 yards and eight touchdowns. However, after catching 77 passes for 783 yards in 2014, Allen was on pace for an excellent season in 2015. Through eight games, he had 67 catches for 725 yards and four touchdowns. Allen only played in eight games that season, though, as a lacerated kidney kept him from playing half of the season, per ESPN.
Allen then only played in one game in 2016 due to another injury. In 2017, though, Allen became a star. He caught 102 passes for the Chargers for 1,393 yards and six touchdowns. He also ultimately earned his first of three consecutive Pro Bowl selections, and was the AP Comeback Player of the Year.
Allen has since been one of the best receivers in the NFL as he has gained over 1,150 receiving yards and has caught over 95 passes each of the last three seasons. He helped the Chargers have a really good season in 2018 too as they went 12-4 and reached the playoffs before losing in the Divisional Round to the New England Patriots.
Last season, Allen caught 104 passes for 1,199 yards and six touchdowns.
He is No. 77 on the NFL Top 100 list
RELATED: The Controversial NFL Top 100 Has the Most Ridiculous Voting Process
The NFL Top 100 is a list that ranks the top 100 players in the league. It is based on votes by NFL players. The list comes out prior to each NFL season. 
In 2018, Allen was the 41st ranked player in the NFL. In 2019, Allen was the 38th-ranked player. However, heading into the new season, Allen is the 77th-ranked player on the 2020 NFL Top 100 list.
This is despite Allen's 104 receptions in 2019 being the third-most in the NFL in 2019, and his 1,199 receiving yards being the sixth most in the league. He also had more receiving yards and more catches in 2019 than he had in 2018, and he ranked 39 spots higher after the 2018 season.
As you can probably imagine, Allen does not seem too happy about where he ranks.
Keenan Allen just sent a stern message to the rest of the NFL
RELATED: Dez Bryant Just Trolled His Former Rival on the Dallas Cowboys
After Allen learned of his 2020 ranking, he took to Twitter to voice his displeasure.
"Ok I'm tired of biting my tongue," Allen tweeted. "[Tyreek Hill, Mike Evans, Chris Godwin] … (and the list goes on) ARE NOT a better receiver than me! Faster than me … every day of the week but separation … CHILD PLEASE!"
Let's look at the three players Allen specifically mentioned — Hill, Evans, and Godwin. Hill played in only 12 games in 2019, but Allen had 46 more catches than him and 339 more receiving yards. Evans missed three games in 2019 and caught 37 fewer passes than Allen, but Allen only had 42 more receiving yards than he did. Lastly, Godwin played in two fewer games than Allen, and caught 18 fewer passes than he did, but gained 134 more yards.
Additionally, Allen also tweeted, "I'M THE BEST WR IN THE AFC WEST!!! Without question!!!" This was more of a direct shot at Hill as he plays in the AFC West for the Kansas City Chiefs. However, Cortland Sutton also had a Pro Bowl year for the Denver Broncos in 2019, catching 72 passes for 1,112 yards.
Allen's displeasure is certainly warranted, but he just put a ton of pressure on himself. Saying he is better than Hill and Evans is a massive statement. Evans has gained over 1,000 receiving yards in every season in his career since entering the NFL in 2014. Additionally, during the 2018 season, he gained over 1,500 receiving yards.
Hill, on the other hand, has also been one of the most explosive receivers in the league the past few years. He gained 1,479 receiving yards in 16 games in 2018 as he was a First-Team All-Pro selection. Allen has never gained over 1,393 receiving yards in a season and has never been a First-Team All-Pro.
Has Keenan Allen been an underrated wide receiver for the Los Angeles Chargers? Absolutely — he is one of the best receivers in the league. However, he just put a ton of pressure on himself for the 2020 season by saying he is better than Tyreek Hill and Mike Evans. Few receivers in the NFL can reasonably make that claim.
Stats courtesy of Pro Football Reference