Jimmy Butler and His Teammates Keep the Soul of the Miami Heat for Only $2.6 Million
It was a minor move on the NBA spectrum. The Miami Heat re-signed 41-year-old big man Udonis Haslem for next season. The franchise's all-time leader in rebounds appeared in only one game in 2020–21 and has taken off the warmups for 45 games since 2016.
Haslem is returning for a 19th season, moving into an elite category. Only four players have spent at least 19 years with one franchise. Dirk Nowitzki was a Dallas Maverick for 21 years. The Lakers and Kobe Bryant were synonymous for 20 seasons. Then you have Tim Duncan and John Stockton with 19 years apiece with the Spurs and Jazz, respectively.
That's four Hall of Famers and an undrafted free agent who had to start his career in France. But at the same time, Haslem is the Heat. He's spent the last six seasons on the back end of Miami's bench, as much a coach as a player. So, what is the price of veteran leadership?
The Miami Heat aren't the only team willing to pay for a vet in the locker room
It's easy to look at the Udonis Haslem and think Miami Heat president Pat Riley is losing his edge. But Heat coach Erik Spoelstra called him an essential piece to the puzzle during a post-game interview in May 2021, per ESPN.
"Everybody knows in this building, but most importantly in that locker room, the level of impact that he has. That's developing leaders in that locker room and helping teach and cultivate a culture that means something to us. It's not him just barking that out; it's rolling up his sleeves and developing the next wave of leaders in the Heat culture, and I just think that's been amazing."

Erik Spoelstra
Channing Frye played the grizzled veteran role with the Cleveland Cavaliers late in his career. He talked about the importance of that role on The Old Man and the Three podcast with NBA veteran J.J. Redick in May 2021.
"You're undervaluing seatbelts in a really expensive Ferrari. Nobody ever cares that there's seatbelts in a Ferrari, but Udonis Haslem is the seatbelt — if anything goes wrong, he locks them up. He is the guy when Jimmy Butler or Victor Oladipo wants to act crazy; he brings them back into the seat, so they're connected to the car, and they don't fly off the rails."

Channing Frye
Haslem has played that role in Miami for a long time now.
Udonis Haslem had a highlight moment in less than 3 minutes
In the Miami Heat's 70th game, Spoelstra called on Udonis Haslem to make his first appearance of the season against the Philadelphia 76ers on May 13, 2021. Haslem made it count.
Haslem hit a couple of shots, got a rebound to extend his team record, and drew a charge (a veteran flex). But that was just the buildup to the big finish.
He got two technical fouls and an ejection in a shoving match with Dwight Howard. All that in 2 minutes, 40 seconds. That's next-level multitasking right there.
After the game, Spoelstra called Haslem's ejection his favorite moment of last season.
"I've just enjoyed watching him evolve to this kind of mentorship. It's felt by the young players, for sure. The young players are going to remember UD for the rest of their entire careers. But the veteran players, to me, he's had just as much of an impact, developing them, keeping them stable, keeping them growing, and continuing to evolve, and that's from his really incredible guidance that he can reach anybody in that locker room, and the staff."

Erik Spoelstra
A coach's voice is different to a player than that of a teammate. Having a veteran who is able to bridge the gap and keep the team together behind the scenes is a valuable commodity.
The Miami Heat can't quit Udonis Haslem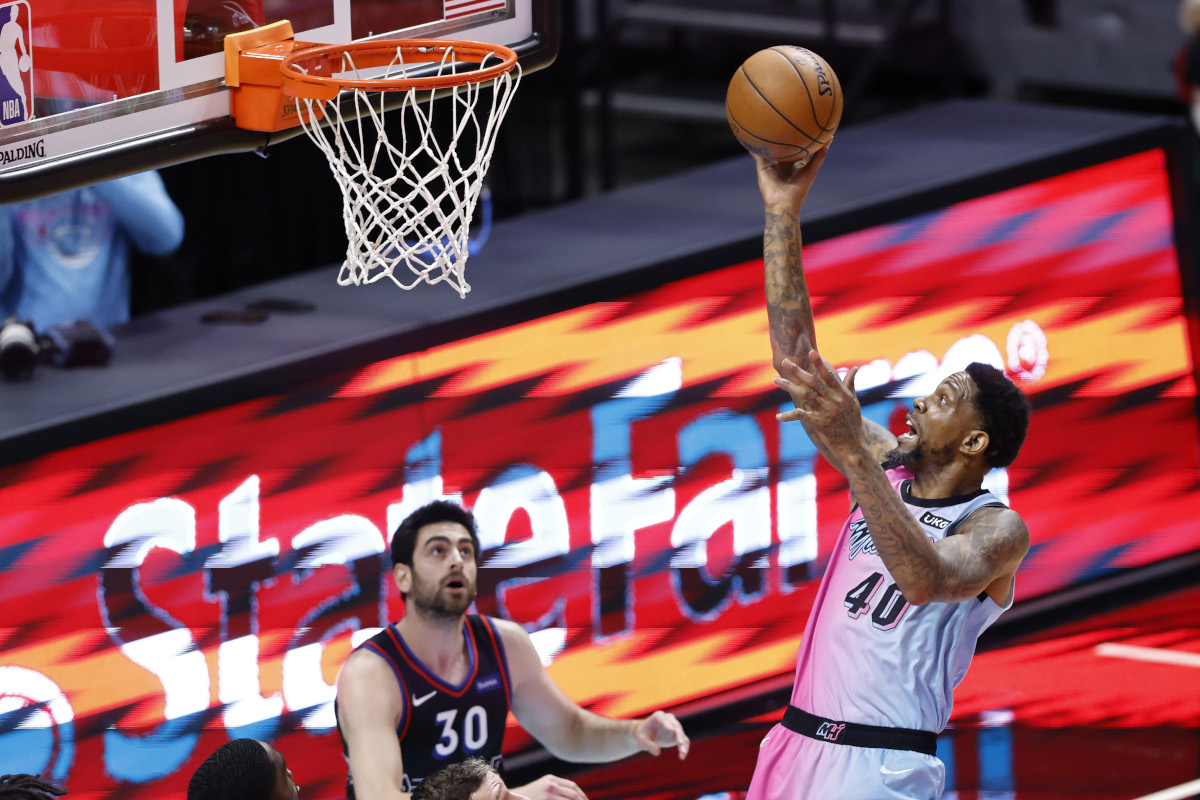 Udonis Haslem officially signed his one-year, $2.6 million veteran's minimum deal with the Miami Heat on Aug. 15, per ESPN. He went from an undrafted kid playing in Europe to starter for one championship team and critical rotation piece for two more.
Haslem is Miami through and through. A graduate of Miami High School, he helped Florida get to its first NCAA championship game in 2000. He made his way back to South Beach in 2003, playing for Miami's Summer League team in Orlando. The Heat signed him to a contract in August 2003, and he's never left.
If Haslem gets into a game after Nov. 8 next season, he'll become the seventh-oldest player in NBA history. He can only hope it is as memorable as his 2020–21 cameo.
In exchange for a baller whisperer, a veteran's minimum deal seems a small price to pay to keep a team on the same page.
Statistics courtesy of Basketball Reference.