Kelley Earnhardt Needed Only 2 Words To Describe the End of Dale Jr.'s Career
NASCAR legend Dale Earnhardt Jr. could be forgiven if he hoped to finish his career with a storybook ending.
Concussions and inefficiency not only ravaged the end of Earnhardt's career but forced him to retire earlier than intended. Not even one of the most popular drivers in modern racing history was safe from ailments and the struggles that followed him on and off the track.
Earnhardt's last years took a toll on him and his family. His older sister, Kelley, didn't mince words when asked to describe her brother's final chapter as a full-time driver.
Dale Earnhardt Jr.'s career didn't intend how anyone wanted
RELATED: Dale Earnhardt Jr. Suffered Through His Concussions in Silence But Used That Awful Experience For a Good Cause
In hindsight, the 2016 Daytona 500 should have been a bad sign for what was to come in Dale Earnhardt Jr.'s career.
A two-time Daytona winner, Earnhardt placed 36th in the 2016 event. Earnhardt rebounded and finished second at Atlanta Motor Speedway the following week.
However, Earnhardt sat out the second half of the 2016 season with concussion-like symptoms. It is believed Earnhardt was concussed after a June 12 crash at Michigan International Speedway. Earnhardt placed 39th that day.
Doctors cleared Earnhardt to race in 2017, but his season began with a 37th-place finish at the Daytona 500. Earnhardt had only one top-10 finish in his first 11 races in 2017.
Kelley Earnhardt didn't mince words near the end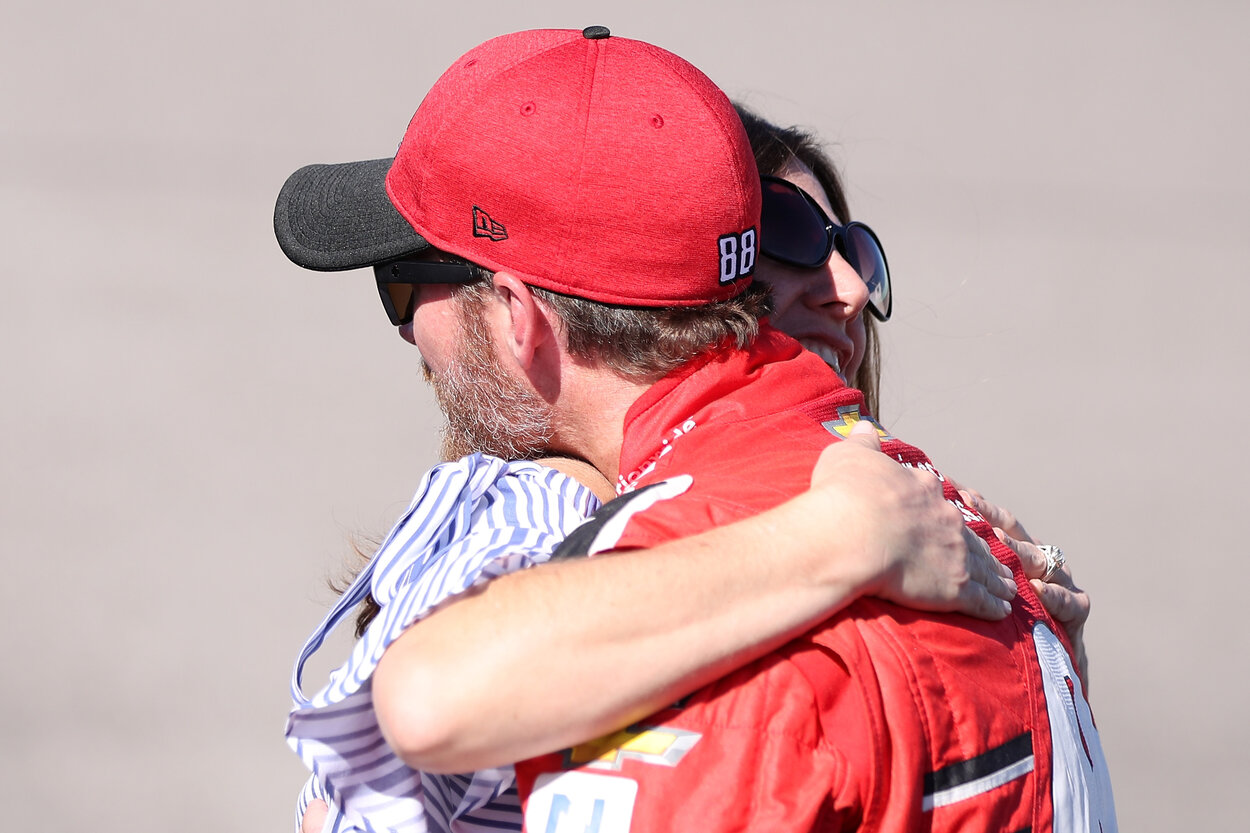 RELATED: Dale Earnhardt Jr. Summed Up His Sister Kelley in 1 Word
Although Dale Earnhardt Jr. didn't miss a race in the 2017 Cup Series campaign, it was clear that his best years were behind him. 
Earnhardt never placed higher than fifth in a race that year, and that came in the season's seventh event. In April 2017, Earnhardt announced he would no longer be a full-time Cup Series driver when the season ended.
Earnhrdt Jr. wasn't the only one frustrated with how his career was ending. His older sister, Kelley, told NBC Sports in September 2017 that her brother's struggles on the racetrack were "fairly depressing."
"It seems like it's just some luck things that happen here and there, and things that are beyond his control. It's certainly not the season of how I know that he would want this last season to be. It's not a lot to write home about lately, so it's been pretty depressing and disappointing.''
Kelley told NBC that she continued texting her brother and kept telling him to "keep his head up."
"He doesn't like anything mushy, so I try not to get too mushy," Kelley said. "I try to just keep it just on the surface and not get too deep and let him know that we're thinking about him."
There was no storybook ending for Dale Earnhardt Jr.
RELATED: Dale Earnhardt Jr. Lifts the Curtain Behind What NASCAR Drivers Genuinely Think Moments Before a Crash
Sometimes, the sports gods have a way of shining favorably on aging athletes in their final performances.
Yankees shortstop Derek Jeter hit a walk-off single in his final home game in September 2014. Three days later, Jeter recorded a hit in his last at-bat.
NFL legend Peyton Manning ended his career by winning Super Bowl 50 with the Denver Broncos. Kobe Bryant scored 60 points in his final game with the Lakers.
Dale Earnhardt Jr. had no such luck when he got behind the wheel at Homestead, Fla., in November 2017. Earnhardt placed 25th in a race that Martin Truex Jr. won.
Earnhardt has raced in one Xfinity Series in each of the last three seasons. His days as a full-time driver, however, remain over.
Like Sportscasting on Facebook. Follow us on Twitter @sportscasting19.