Kelly Stafford Encourages Lions Fans to Cheer on Matthew Stafford in the 2022 Super Bowl: 'Detroit Is What Made Matthew. It Made Him the Quarterback He Is Today'
Matthew Stafford spent 12 seasons with the Detroit Lions, the organization that drafted him No. 1 overall in the 2009 NFL Draft. His wife, Kelly Stafford, also spent that time in Detroit. She watched a ton of losing football.
With Stafford on the verge of winning a Super Bowl in his very first season with the Los Angeles Rams, things seem to be looking up for Detroit's one-time favorite celebrity couple.
Even though the Stafford's are focused on Super Bowl 56 and bringing a Lombardi Trophy home to LA, Kelly did say that eventually, the city of Detroit will get some love from its long-time quarterback. In fact, she believes its Detroit who made Stafford the potential Super Bowl-winning quarterback he is today.
Matthew Stafford spent the bulk of his career with the Detroit Lions
It's interesting to think that if Stafford and the Rams win Super Bowl 56, there's a decent chance that he'll eventually go into the Hall of Fame wearing a Rams hat instead of a Lions one. There's a lot that still has to play out, of course, and Stafford seems to still have many good years left in him. Anything can happen.
With that said, Kelly was asked on a recent Barstool Sports podcast whether or not Stafford will thank the city of Detroit when that retirement speech does eventually become a reality.
"Yes, he will. That city means a lot to us,' she said. "We can't say anything bad about that place, besides the weather is terrible. He for sure will."
Though he's risen to national notoriety during this Super Bowl run for the Rams, Stafford had quietly been one of the NFL's best quarterbacks in Detroit. He, unfortunately, wasn't good enough to lead the Lions out of the NFL's basement. He never won a playoff game in Detroit. He never even won the NFC North in 12 seasons.
Still, from a pure talent and statistical standpoint, Stafford was always amongst the top 10 quarterbacks league-wide.
His talent was just hidden, or perhaps even wasted, with the Lions.
A trade to the Los Angeles Rams that changed everything for Stafford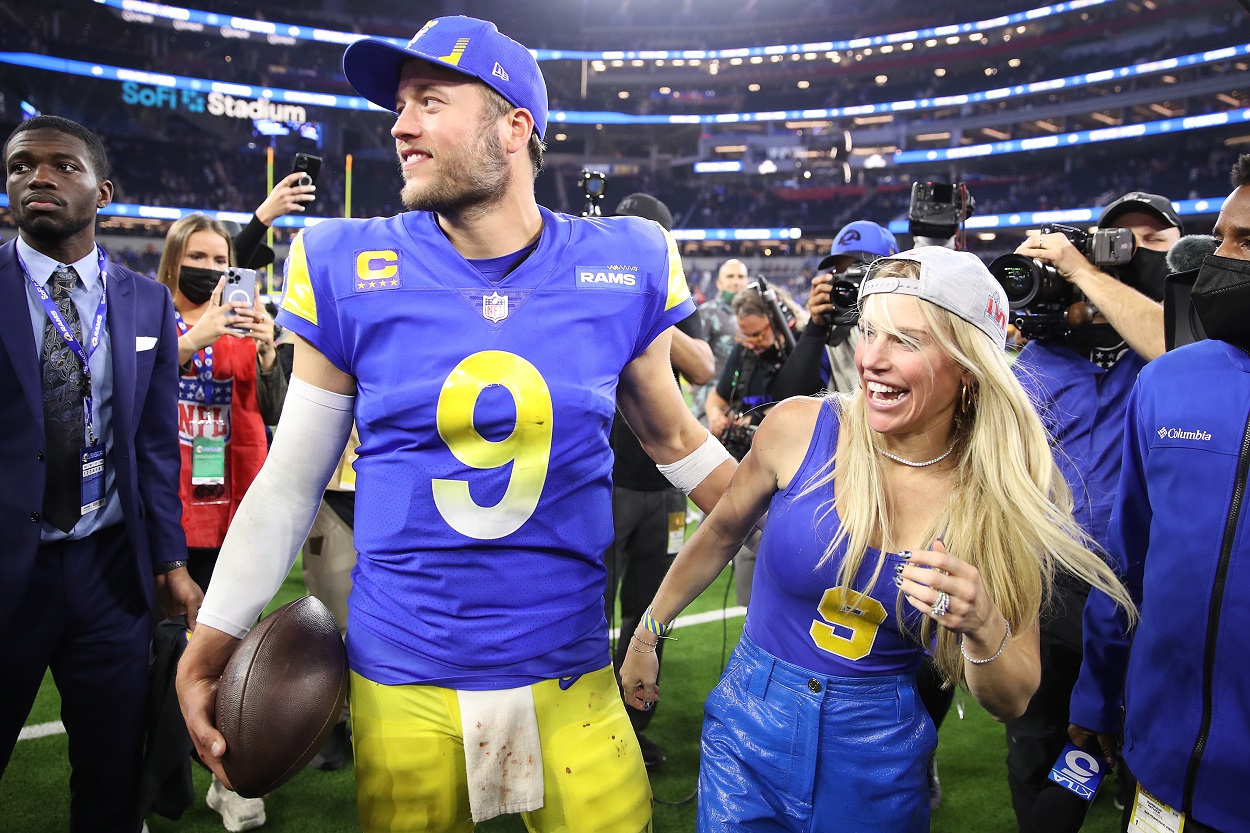 Head coach Sean McVay knew he needed an elite quarterback to take the next step and not just get back to the Super Bowl but win it this time. He made it to Super Bowl 53 with Jared Goff at quarterback but couldn't beat Tom Brady, Bill Belichick, and the New England Patriots.
To be fair, who could?
The Rams adopted an all-in mindset from that moment on and have made a plethora of big moves. Since then, Jalen Ramsey, Von Miller, and Odell Beckham Jr. have found their way to LA to team up with McVay to chase the ultimate goal, but trading for Stafford was arguably the franchise's most significant move.
It was also risky.
The Rams traded Goff, first-round picks in 2022 and 2023, and a 2021 third-round pick to Detroit for Stafford. They literally went all-in. In return, they received a quarterback who had accomplished a lot but also nothing of true significance in his 12 NFL seasons.
Luckily enough for McVay and Rams general manager Les Snead, the price of doing business has absolutely been worth it for LA.
Stafford threw for 4,886 yards and 41 touchdowns in 2021. He did throw 17 picks, but those have always been an issue for him. He only threw one in the postseason run, and that paled in comparison to the three playoff wins he helped orchestrate, which were the first three playoff wins of his career.
Stafford has fit McVay's offense like a glove, and he's made the most of a brilliant connection with Cooper Kupp (1,947 yards, 16 touchdowns) and a budding on-field relationship with OBJ.
McVay needed his quarterback, and he got his wish answered in the form of Stafford.
The Stafford to LA trade could not have worked out better for both parties and they're one win away from hitting the ultimate pay dirt.
Kelly Stafford says Detroit made Matthew Stafford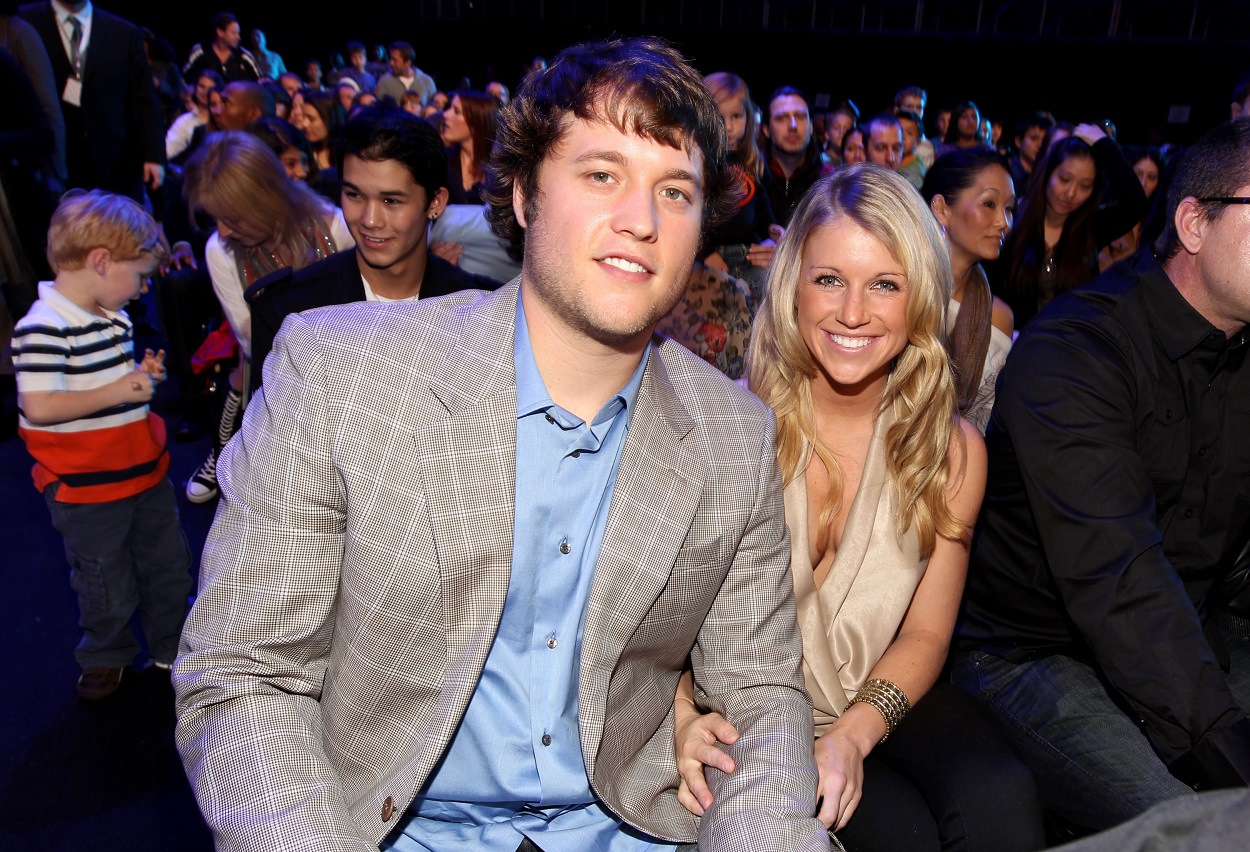 Though Stafford could ultimatly hoist the Lombardi Trophy as a member of the LA Rams, Kelly recently took to Instagram and encouraged his old fans in Detroit to keep on rooting for their one-time quarterback.
"We feel and hear all the support, and if you're catching flak for cheering Matthew on this Sunday, don't let it happen," she wrote.
If you're a fan of Detroit sports radio, you've likely heard a ton of discussion lately about Stafford and whether or not it's proper for a fan of the Lions to root for him to win Super Bowl 56. Some are happy that the quarterback they saw toil in futility for years has a chance to bring home the biggest prize the sport has to offer. Others feel it's akin to watching your ex meet someone new right away and immediately winning the lottery.
For her part, Kelly believes the city of Detroit has plenty of reason to cheer on her husband.
"Detroit is what made Matthew. It made him the quarterback he is today. It made him the tough S.O.B. he is. It made him the leader he is. It made him the man I love," she said. "He said it, without Detroit, he wouldn't be where he is today. So if you want to cheer and root for him, please do because the people of Michigan influenced and groomed him, from a child to an adult…and you deserve this too"
Some in Detroit will cheer. Others will believe it proves that the Lions are cursed. Either way, she is right.
Detroit made Stafford who he is today, and who he is today is a quarterback 60 minutes away from being a Super Bowl champion.
Stats courtesy of ESPN and Pro Football Reference. Contract information via Spotrac
RELATED: Calvin Johnson Bashes Lions as Former Teammate Matthew Stafford Prepares for 2022 Super Bowl: 'Detroit Ain't Getting No Parade. They Don't Deserve a Parade'