Kelvin Benjamin Went From a Juvenile Prison Stint to a $15 Million NFL Career
The New York Giants are giving Kelvin Benjamin the Tim Tebow treatment.
Benjamin, a veteran wide receiver and a former first-round pick of the Carolina Panthers, recently signed with the Giants. Nearly three years after he caught his most recent pass from Chiefs quarterback Patrick Mahomes, the 30-year-old wideout is expected to try reviving his career as a tight end, much like Tebow might do with the Jaguars.
Even if he doesn't make it to final cuts, the former All-American receiver has certainly come a long way since he grew up in Belle Glade, Florida.
Kelvin Benjamin had a troubled childhood in Florida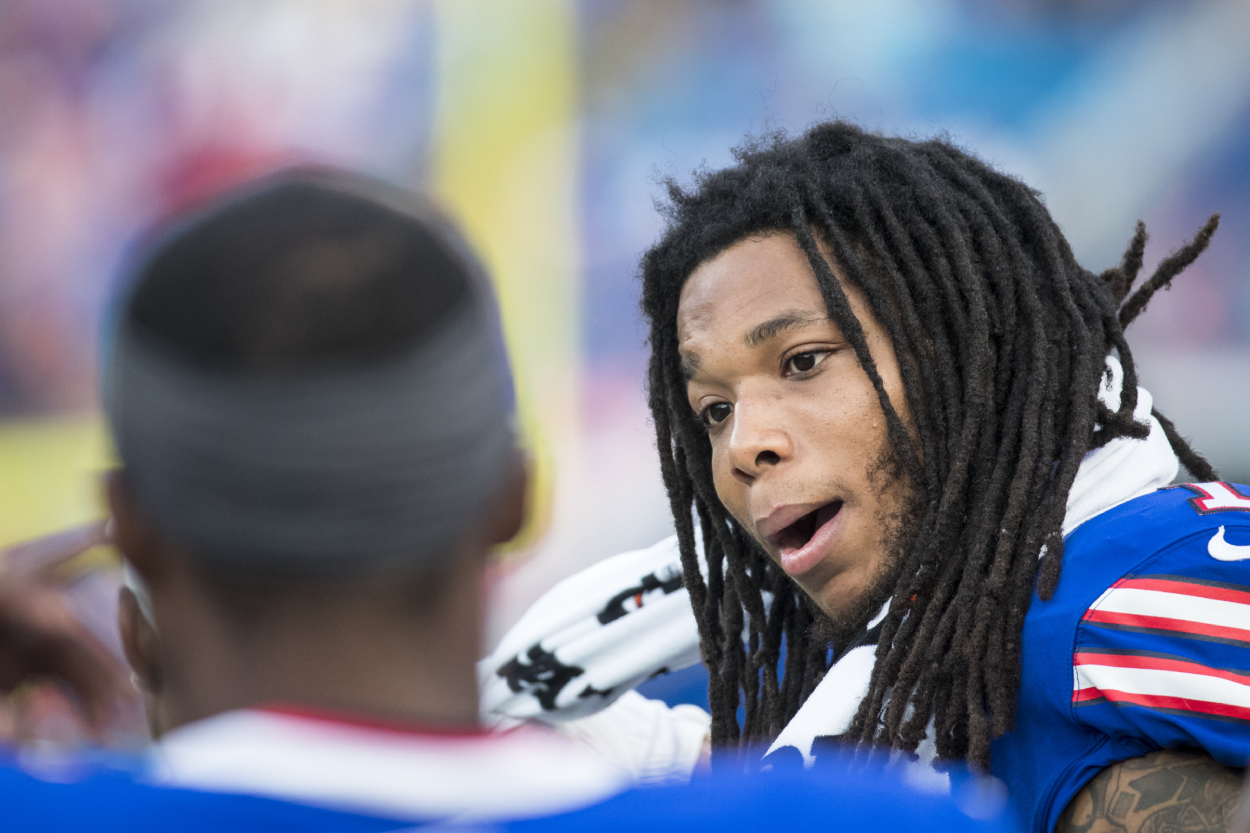 When Kelvin Benjamin entered the NFL in 2014, he joined a massive fraternity of men — including longtime NFL receiver Anquan Boldin — who reached the pros after growing up in 'The Muck.'
Muck City, an area in Palm Beach County, Florida, refers to the towns of Belle Glade and Pahokee. Benjamin is from Belle Glade and played at Glades Central High, which sent the likes of Fred Taylor and Santonio Holmes to the NFL. Boldin and Janoris Jenkins, a veteran cornerback on the Titans, are among those from Pahokee. 
Life in the Muck — an area that has struggled with AIDS, poverty, and crime over the years — wasn't easy for Benjamin. He told The Palm Beach Post in 2012 that he'd spent time in a juvenile detention center as a middle school student for getting into "a lot of fights."
Greg Dent, a high school teammate who later played receiver at Florida State, spoke with Benjamin about playing football. Although he described Benjamin as someone who wasn't "much of a sports person," he convinced his friend to try out for the Glades Central football team. From there, Benjamin never looked back.
"I'd see a lot of guys from my neighborhood going to jail. A lot of guys I grew up [with] right now are still in jail. I just put my mind to [football] and stayed out of trouble."

Kelvin Benjamin
With his mind on football, Benjamin became an elite high school prospect and eventually earned a scholarship to Florida State.
Benjamin has earned $15 million in the NFL thus far
Benjamin grew into an All-American receiver at Florida State and, as Jameis Winston's No. 1 receiver in 2013, helped the Seminoles to a national championship victory that season.
The Carolina Panthers used the 28th overall pick in the 2014 NFL draft on the talented receiver, and he recorded 73 catches, 1,008 yards, and nine touchdowns as a rookie. He added 11 receptions, 108 yards, and two touchdowns in two playoff games.
Unfortunately for Benjamin, he missed all of the 2015 season with a torn ACL and missed the Panthers' Super Bowl run. He struggled with inconsistency over the next few years, even after the Panthers traded him to Buffalo midway through the 2017 season, and he last played for the Chiefs in 2018.
According to Spotrac, Benjamin has earned over $15 million in the NFL thus far.
Benjamin is making a comeback with the New York Giants
After a couple of years away from football, Benjamin has a fresh opportunity on his hands.
The New York Giants signed the former first-round pick after a tryout in May. Giants general manager Dave Gettleman drafted Benjamin in 2014 when he worked for the Panthers.
As of May 2021, the Giants listed Benjamin — who stands 6 feet 5 inches and weighs 245 pounds — as a tight end. Evan Engram, the incumbent starting tight end, earned Pro Bowl honors in 2020 but also had a career-high 11 drops.
The Giants host the Panthers on October 24. Perhaps Benjamin will have an opportunity to stick it to his old team, assuming that he is still around and receiving offensive snaps.
All contract figures courtesy of Spotrac.