Kemba Walker Admits He Was Being Recruited to Come to the New York Knicks in the Middle of Games: 'I'm Finally Here'
The New York Knicks are ready to prove last season was no fluke. After finishing 41-31 and making the playoffs for the first time since 2013, the Knicks went out and made moves this offseason to further boost their chances of competing in a tougher Eastern Conference. Chief among them was Kemba Walker, who signed a two-year deal worth nearly $18 million.
Walker, who spent the last two seasons with the Boston Celtics, wasn't even supposed to be a free agent at the end of the season. Still, the four-time All-Star found himself being recruited whenever he would go head-to-head against his future squad.
Kemba Walker has a deep connection with New York
It shouldn't be too difficult for Walker to find his way around the city. The 31-year-old was born and raised in The Bronx and attended Rice High School in Harlem before becoming a star at the University of Connecticut. His signature moment at UCONN was also in NYC, when Walker's game-winner at Madison Square Garden resulted in a Big East title for the Huskies.
"It's the most unreal feeling [to be back in New York], I can't explain it," Walker said during his introductory press conference. "I can't really put into words how amazing this feeling is of being back home."
Walker has certainly made New York City proud. The four-time All-Star has earned over $120 million from NBA contracts through his first 10 seasons, with another $70 million or so owed to him across the next two seasons. But most impressively, the ninth pick from 2011 remains the highest NBA draft pick to come out of a New York City high school since Joakim Noah was taken seventh by the Chicago Bulls in 2007.
"'Melo [Carmelo Anthony] was the first real star you saw from the Knicks who was in the community," said Kashif Pratt, Walker's former teammate at Rice and close friend. "I feel like I never saw 'Melo sign an autograph. You didn't really need 'Melo for an autograph because you knew you would see him again. I think It's going to be the same with Kemba. Knicks fans are going to love him."
Taj Gibson was recruiting Walker during Knicks games
It's possible Kemba always had plans to come play for the Knicks. But Taj Gibson was there to give the former All-NBA selection a little extra push (New York Post).
Gibson, 36, has been recruiting Walker to New York "forever," Walker said. They would be lined up for free throws on opposing teams and Gibson, who grew up in Fort Greene [in Brooklyn], would look back and say, "Come home." The on-court luring was not just a one-time thing, Walker said.

"I'm finally here," he added.

Mark W. Sanchez, New York Post
Walker has a natural rapport with Gibson. The two veterans, along with second-year forward Obi Toppin, are the three Knicks on the roster who are from the Big Apple.
"It's like we [he, Gibson, and Toppin] already have that connection," Walker said. "We've gotten along really easy."
Walker will play a big role for the New York Knicks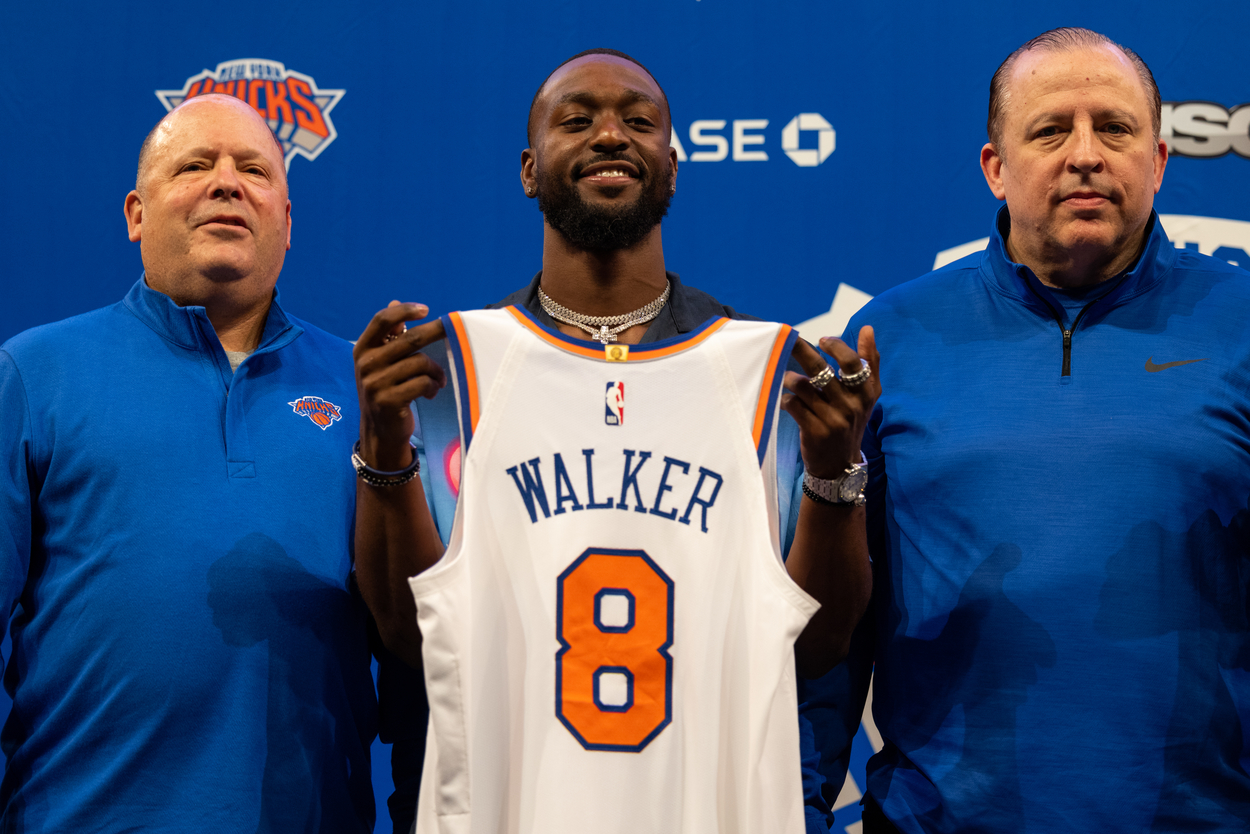 Gibson's attempts to bring Walker to New York were ultimately successful. Walker signed with the Knicks after being traded to and subsequently bought out by the Oklahoma City Thunder. Now it comes down to the veteran guard helping his new team build off of last season's surprising success.
Kemba joins newcomer Evan Fournier as New York's biggest additions. The two guards, who played together in Boston last season, will share the court with Julius Randle and RJ Barrett, while also ceding time to Sixth Man of the Year candidate Derrick Rose. There's also the New Yorkers Gibson and Toppin, as well as fourth-year players Mitchell Robinson and Kevin Knox, who will all factor in coach Tom Thibodeau's game plan.
"Those [young] guys, they want to learn," Walker said. "They're very smart guys, and if I see them doing something wrong or something they can improve on, try to help them as much as I can."
As for Walker, he is not worried about any additional pressure of being back home.
"This feeling has been like no other," Walker said after signing with the Knicks in August. "Just randomly getting goosebumps. It's an unbelievable feeling to be able to come home. As far as added pressure — I don't think so. As long as I'm in a great environment around great people, I'll be fine."
All statistics courtesy of Basketball Reference and contract figures courtesy of Spotrac.
RELATED: New York Knicks Star Julius Randle Is Leaving Over $80 Million on the Table With His New Contract Extension