Kemba Walker Speaks out About Almost Joining the New York Knicks With Kevin Durant in 2019: 'I Was Pretty Close'
Kemba Walker is back in the arena where his career first took flight. Walker signed with the New York Knicks on Aug. 10, 2021, a little more than 10 years after putting UConn on his back in the Big East Conference Tournament. That run ended with a national championship and made the undersized guard a lottery pick.
Taken ninth overall by the then-Charlotte Bobcats in 2011, Walker evolved into an All-NBA point guard. In 2019, he cashed in with a four-year, $140.8 million deal that moved him to the Boston Celtics in a sign-and-trade. Knee problems short-circuited his stay in Boston, but Walker recently revealed he was nearly a Knick well before now.
Kemba Walker's waning effectiveness of late
In his last season with the Charlotte Hornets in 2018–19, Kemba Walker picked an excellent time for a career year. Though Charlotte fell short of the playoffs, Walker earned All-NBA Third Team honors after averaging 25.6 points, 5.9 rebounds, 4.4 rebounds, and 1.2 steals in 34.9 minutes per game. He also started all 82 games for just the second time in his career.
The Celtics and Hornets worked out a two-way sign-and-trade that sent Walker to New England and Terry Rozier to Charlotte. Few would have predicted it would be the Hornets that came out on top of the deal.
But Walker missed 16 games in 2019–20 and did not have a strong postseason aside from Boston's first-round sweep of the Philadelphia 76ers. Last year, he sat out 29 games and appeared in just three games of the Celtics' five-game loss to the Brooklyn Nets in the first round.
Boston moved Walker in a swap of increasingly bad contracts, getting back Al Horford from the Oklahoma City Thunder in a deal that also cost the Celtics first- and second-round picks. The Thunder bought Walker out as soon as the moratorium on transactions ended, preferring to eat $53.7 million over the next two years, per Spotrac. The former All-Star left $20 million on the table in exchange for his freedom.
Kemba Walker says he was close to a super-team flex with Kevin Durant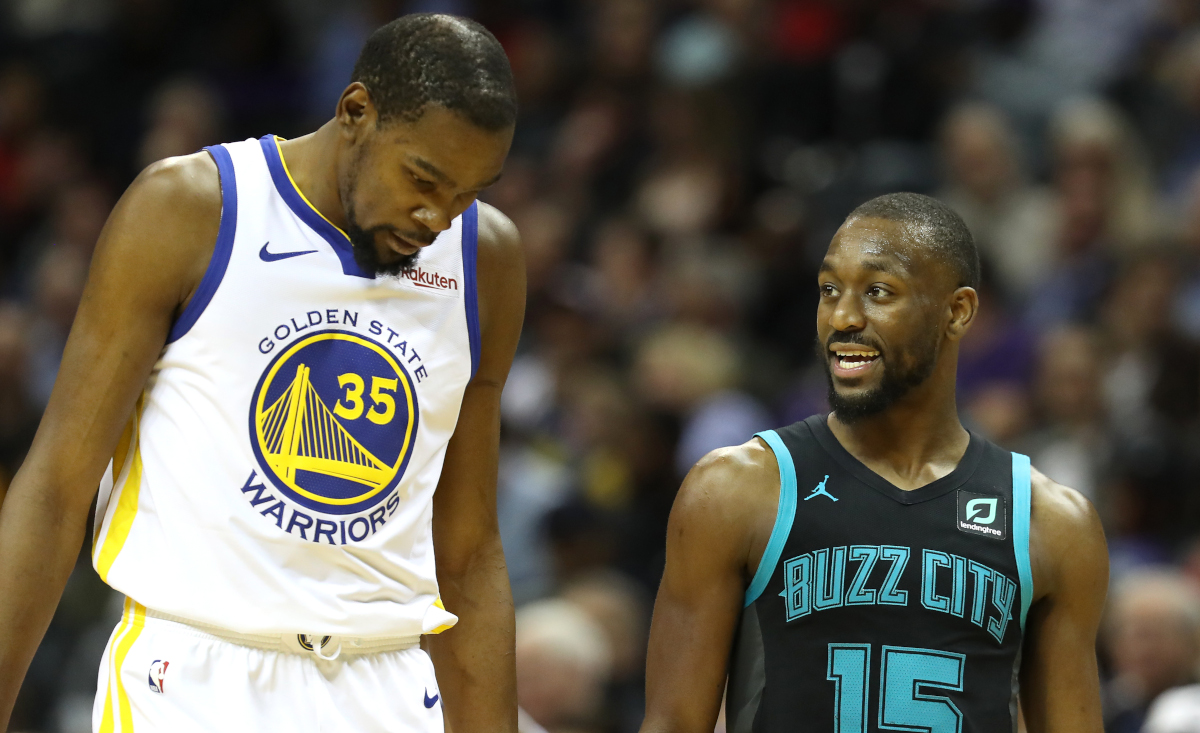 When Kemba Walker met the New York press after joining the Knicks, he recalled nearly coming to Manhattan during his 2019 free agency. The Knicks hoped to put Walker and Kevin Durant together as a superstar duo in Madison Square Garden. That was Plan B for New York after learning Kyrie Irving was not interested in joining the Knicks and was committed to going to Brooklyn.
At his introductory press conference, Walker said the partnership nearly came to be, per the New York Post.
"Yeah, I was pretty close, actually. It just didn't work out."

Kemba Walker
Walker told The Ringer in 2020 that he looked at the Knicks before focusing on Boston.
"Before Boston actually came along, the Knicks were one of my top priorities. I was thinking that they were actually going to get another player, but it didn't work out. That's pretty much all I can say, though."

Kemba Walker in 2020
The Knicks can't be too unhappy with their consolation prize. Reigning Most Improved Player Julius Randle has worked out well for New York.
Durant says he never strongly considered the partnership
While Kemba Walker talks about the move to the Knicks being close, Durant has long maintained the team in Manhattan was never a serious contender. That despite his father strongly pushing the former MVP to join the Knicks.
Walker is a New York native and a former prep star at Harlem's now-defunct Rice High School. There were reports that his family had concerns about Walker coming to the Knicks as a savior figure in 2019.
Now, Walker comes in at 31 years old with an arthritic knee. The expectations — and the paycheck — are not nearly as high. He signed for two years and $17.9 million and likes the timing of the move to the Knicks.
"My guys, my home team, the Knicks, they believed in me. And I'm here now. Whatever happened in the past is irrelevant at this point."

Kemba Walker
Walker's signing is one of several moves New York made to address the backcourt. They also re-signed veteran Derrick Rose and brought in free agent shooting guards Evan Fournier and Alec Burks.
It's two years later than expected, but Kemba Walker is with the New York Knicks to team with an All-Star frontcourt player. While Randle is no Kevin Durant, it's not a bad place to start.
Statistics courtesy of Basketball Reference.