Kemba Walker Lurching Closer to NBA Irrelevance by Balking at a New York Knicks Buyout
Kemba Walker of the New York Knicks is the latest fading star to join the ranks of the "Not With Team—Mutual Disdain" club. Walker and the Knicks reportedly agreed that the four-time All-Star wouldn't play again this season. That throws another can of gasoline on what began as a lovely homecoming tale for the former Rice High School star.
At 31, Walker's career trajectory resembles that of a cliff the last three seasons. Knee problems wrecked his two seasons with the Boston Celtics. The aftermath of the injury woes limited his effectiveness with the disappointing Knicks.
It's a familiar tale. The diminutive guard approaches 30 and can't do what allowed him to thrive — or at least survive — in the NBA. The former UConn star is just the latest to walk (or limp) that path.
Kemba Walker rose to stardom in his second NBA contract
Kemba Walker shot to national prominence late in his junior season at UConn. The Huskies limped into the Big East Conference Tournament with four losses in their last five games and were seeded ninth in the 16-team event.
The Bronx native put the struggling team on his back, scoring 130 points in five days to carry UConn to the championship and the automatic NCAA Tournament berth that went with it. The run wasn't over; Walker earned Most Outstanding Player honors in the tournament while leading the 32–9 Huskies to the program's third national title.
He declared for the NBA draft. But at 6-feet and 184 pounds, Cardiac Kemba had two things working against him. First, he played three seasons of college basketball. While that raised his floor for scouts, it also lowered his ceiling compared to the 19-year-olds coming out after a single collegiate season.
Then there was that size issue. Walker landed with the then-Charlotte Bobcats at No. 9 overall. He was an inefficient volume shooter for a team that sneaked into the playoffs once in his first four seasons. His breakout came in 2015–16 when he topped 20 points a game for the first time.
Walker was an All-Star, the lone scoring threat for a team not quite good enough to reach the postseason for the next three years. He capped that with an All-Star Game start and All-NBA nod in 2018–19.
But not even that was enough to coax Hornets governor Michael Jordan to break the bank. Instead, Walker signed with the Celtics in the rare two-way sign-and-trade deal, with Terry Rozier crossing paths with him on the way to Boston.
He was limited to 99 games in two pandemic-shortened campaigns in The Hub and played only three of their playoff games in a five-game first-round loss to the Brooklyn Nets last spring.
The New York Knicks brought Kemba Walker back home
After Kemba Walker posted his worst numbers since 2014–15, the Celtics traded his bad contract (with two years and $73.7 million remaining) to the Oklahoma City Thunder for Al Horford's lousy contract (two years and $53.5 million, not fully guaranteed).
OKC ate $53.7 million of Walker's guaranteed cash over the next two seasons, and the New York Knicks signed him to a mid-level value deal, two years and $17.9 million.
While the native New Yorker had some moments — a 44-point explosion in a loss to the Washington Wizards just before Christmas, most notably — coach Tom Thibodeau removed him from the rotation. Since Jan. 18, he played in 13 of 15 games before the All-Star break, averaging 8.1 points in 22.6 minutes.
The 37.1% shooting over that span that included 27.3% from three-point range coupled with his poor defense didn't endear him to Thibs.
According to Adrian Wojnarowski of ESPN, the team and Walker reached an accommodation to sideline the guard.
There was some speculation Walker could end up on the buyout market for the second time in less than a year. Instead, the thought is that agents Jeff Schwartz and Javon Phillips of Excel Sports will be better able to find a trade in the offseason for the 31-year-old's expiring contract.
Walker is due $9.2 million next season.
It's a familiar trajectory for undersized guards. Teams are more willing to scheme around poor defense when you're dropping 25 or 30 a night than they are when you're building entire subdivisions with the bricks launched.
Small guards are notorious for rapid declines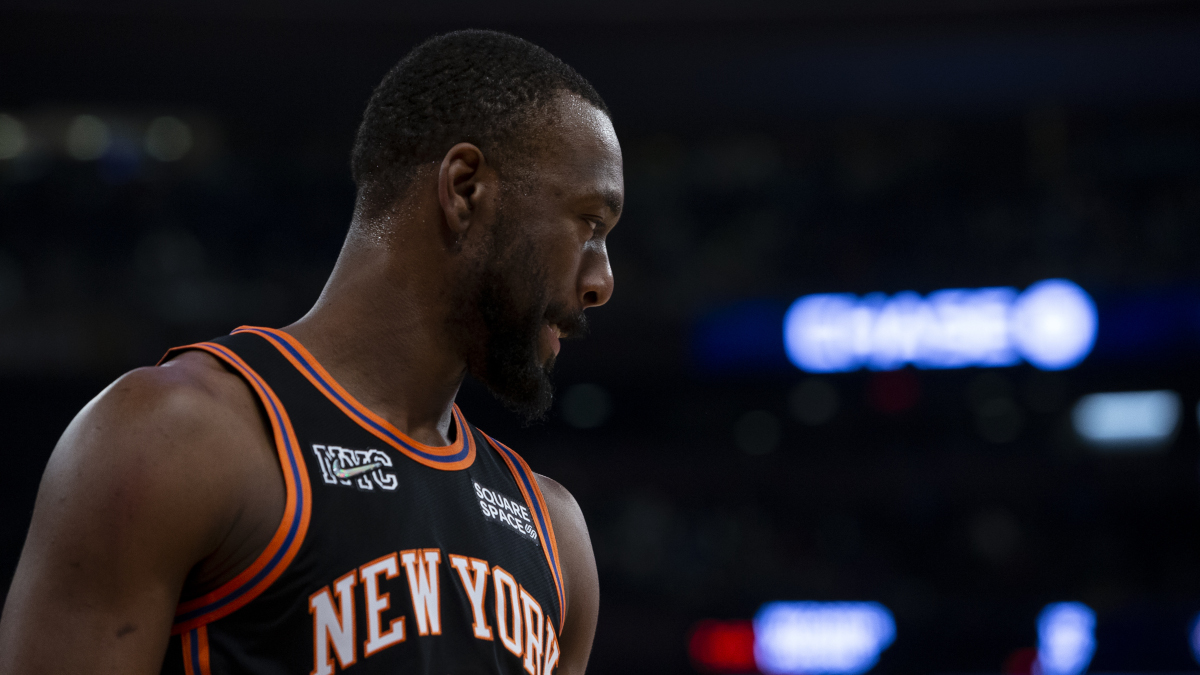 In the early days of the NBA, there was a bounty of small guards starring in the circuit. But as the league evolved, the players got bigger. The 6-foot-5 centers of the early 1950s became the 6-foot-5 shooting guards of the late 1960s and 1970s.
Allen Iverson remains the gold standard for the little guys of the NBA's modern era. Iverson was taken first overall by the Philadelphia 76ers in 1996 and led the league in scoring four times. The generously listed 6-footer earned NBA MVP honors in 2000–01 and was a first-ballot Hall of Fame selection in 2016.
But even The Answer wasn't immune from a steep decline. At age 33, Iverson's scoring plummeted from 26.4 points a night to 17.5 in 2008–09. A little more than a year later, he was out of the league.
Kemba Walker's decline is ahead of that curve. That's due in large part to arthritis in his left knee. That's a leftover from two surgeries in two years (in 2015 and 2016) to repair a torn meniscus.
Anything that degrades those attributes, even a fractional amount, is devastating for a small player whose game relies on speed and quickness.
Suddenly, that blow-by first step isn't blowing by as many folks. The explosion on the jump shot is more of a muffed fizzle. And those gambles to sneak into the passing lane for steals end badly, much more often than they once did.
Kemba Walker has likely already played his last game in a New York Knicks uniform. Whether we'll see him in any NBA game attire remains to be seen. But based on the history of aging small guards, he might have already hit the end of the road and just hasn't realized it yet.
Statistics courtesy of Basketball Reference. Contract information courtesy of Spotrac.
RELATED: The New York Knicks' Incompetence Is Once Again Confirmed After Kemba Walker Shuts Down His Season