Kemba Walker's NBA Career Could be Revived by a Return to Where it all Began, Madison Square Garden
Injuries have derailed the last few seasons of Kemba Walker's career. For an aging, diminutive point guard, that often comes with the territory.
Walker made two stops last season alone, starting in Boston, where he signed as a free agent before the 2019-20 season. The Celtics traded him to Oklahoma City midyear, attaching a first-round pick so the Thunder would take on his contract. He was then bought out and signed as a free agent with the New York Knicks this offseason.
Walker needs a career revival as he heads into his 30s. Signing with the Knicks and playing in Madison Square Garden may be just the thing to kickstart it.
Before coming back to Madison Square Garden, Kemba Walker had a rough few seasons in Boston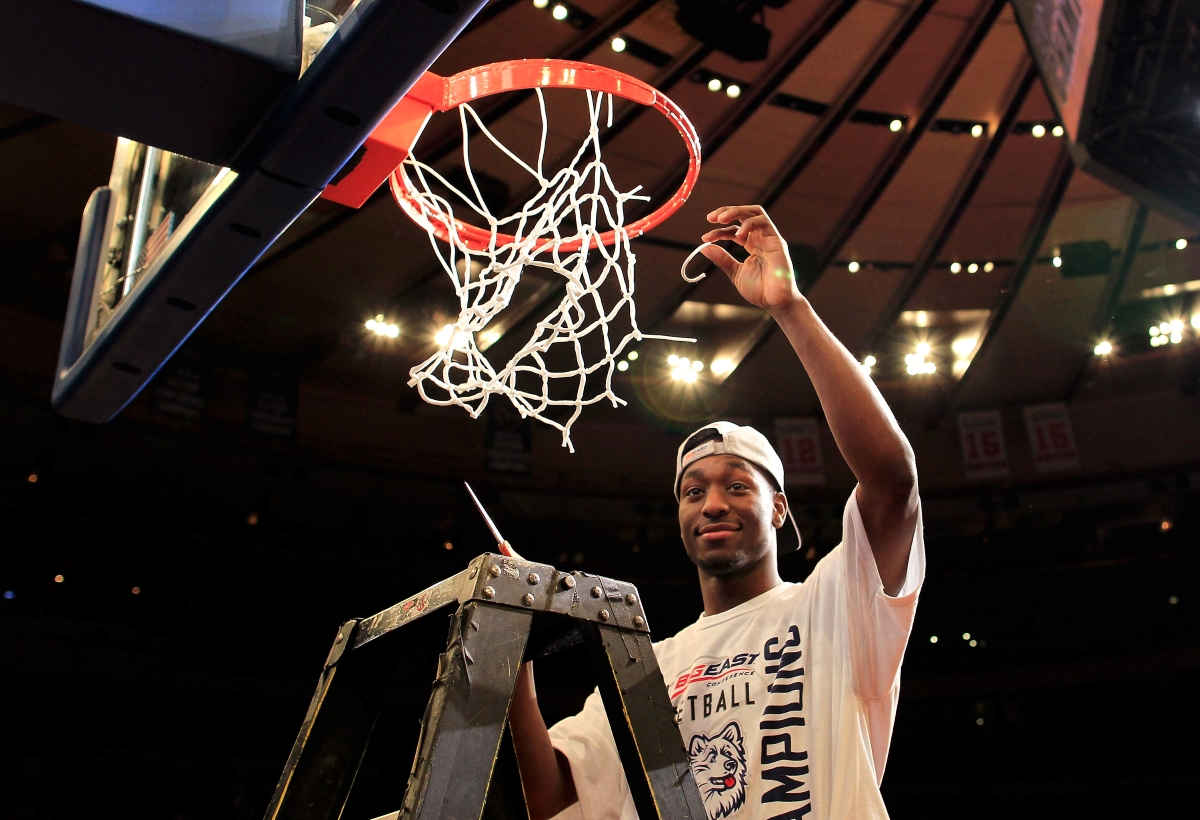 Walker was drafted in 2011 by the then Charlotte Bobcats. He quickly became the franchise's backbone. In his fifth season in the NBA, he averaged 20.9 points, 4.4 rebounds, and 5.2 assists per game with a 42.7/37.1/84.7 slash line. Over the next four seasons in Charlotte, he averaged more than 20 points per game.
He then moved on to Boston, signing a four-year, $140 million contract as part of a sign-and-trade deal, according to Spotrac. He immediately had a sharp decline in both health and production, however. Walker played just 56 games his first season in Boston and 43 in his second before he was traded to OKC. Those were his age 29 and 30 seasons.
Walker is now returning to New York and to the Garden, where his career truly began
According to NBC Sports, the University of Connecticut product reportedly gave up $20 million in a buyout with the Thunder and then signed a two-year deal with the Knicks that averages about $8 million per year. Walker's career needs a renaissance, and MSG is the place to find it.
Walker's UConn squad began the 2010-11 season overlooked but rose to as high as No. 4 in the country, according to Boston.com. The Huskies, however, dropped a series of games at the end of the year and entered the Big East Tournament, held at Madison Square Garden, as the No. 9 seed. Walker then began a run for the ages, leading UConn to five wins in as many days and a conference tournament championship.
Over the next few weeks, Walker's team kept winning. The Huskies eventually won 11 consecutive games and became national champions. UConn put on one of the greatest shows in college basketball history, and Walker was the catalyst.
The guard averaged 26 points per game in the Big East Tournament. He shot better than 50% from the field in three of the five games. He beat Pittsburgh in the third round with a game-winning, step-back buzzer-beater. The team's five wins in five days at MSG and Walker's performances will be forever etched in the memories of New York City basketball fans.
Walker's Big East Tournament run put him on the map and a stop back at MSG could revive his NBA career
Walker's run to conclude the 2011 college basketball season and his run in the Big East Tournament vaulted him to the No. 9 overall pick in the 2011 draft. His play over those five days at Madison Square Garden changed his career trajectory.
He now returns to New York as a 6-foot aging point guard with a growing list of injuries. But if he's ever going to rejuvenate his career, his history tells us the Garden is where it can happen.
All statistics courtesy of Basketball-Reference.