Kemba Walker and the New York Knicks Will be the NBA's Biggest Surprise This Season
The NBA offseason brings hope to all 30 teams. Franchises draft young potential superstars to add to the organization. Head coaches flit in and out across the league. Free agency brings established players into existing rosters. Some new acquisitions send shockwaves throughout the league and dominate the headlines, while others go unnoticed. The New York Knicks' offseason is one that flew under the radar. Bringing Kemba Walker back to Madison Square Garden is perhaps New York's biggest move. Still, the rotation the Knickerbockers have put together sets them up to be one of the biggest surprises of this upcoming season.
The Knicks kept last season's roster mostly intact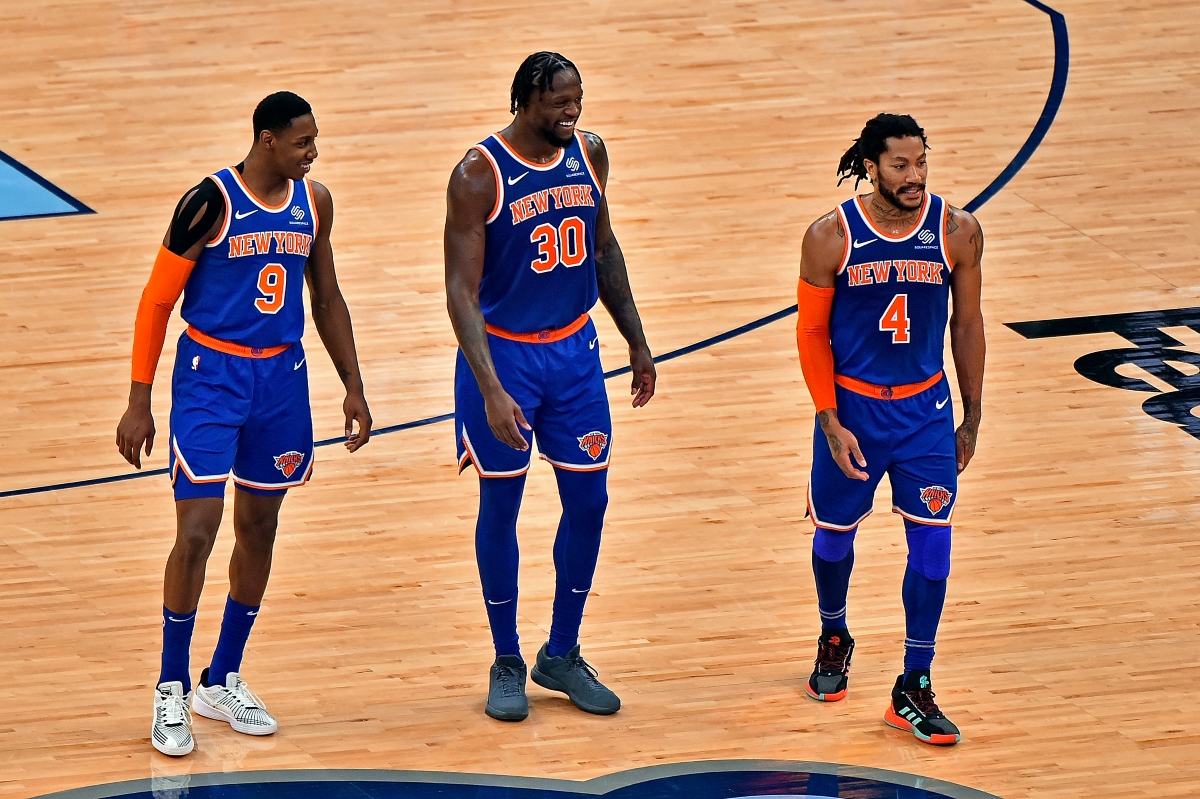 New York brought in Walker a two-year deal that averages less than $9 million per season. It's a fairly low-risk, high reward shot on a player who's carried a franchise in the past. The team also added guard Evan Fournier on a four-year contract. Fournier is a 14.3 point-per-game career scorer who also adds some much-needed playmaking to the roster.
The Knicks also brought back guards Derrick Rose and Alec Burks, along with forward Taj Gibson and center Nerlens Noel. New York returns six of its top seven rotation players while adding two players who will slot into the starting lineup immediately in Walker and Fournier.
Julius Randle returns on the heels of the best season of his career, leading New York in points, rebounds, and assists in 2020-21. He also shot a career-best 41.1% from three.
New York also has a number of young players who can continue to develop
R.J. Barrett was the third overall pick in the 2019 draft and improved statistically across the board last year while also becoming more efficient. He went from a 32.0% shooter from deep his rookie season to 40.1% as a sophomore. Barrett was expected to be the face of the franchise when he arrived in New York. He hasn't developed into that level of star yet, but he's only two seasons into his career, has shown improvement, and will enter this year still only 21 years old.
Point guard Immanuel Quickley showed immediate promise after being selected with the 25th pick in last year's draft. Playing for a notoriously difficult head coach in Tom Thibodeau, the rookie scored 11.4 points in 19.4 minutes per game in 2020-21.
Obi Toppin was the Knicks' lottery pick last year, but the No. 8 overall selection didn't have a spectacular rookie season, scoring just 4.0 points per game in only 11.0 minutes. However, through summer league, Toppin has shown why he was compared to Amare Stoudemire as an offensive player coming into the 2020 draft. His athleticism and offensive skill level have exploded in Las Vegas. Toppin scored 31 points on 12-for-20 shooting against the Detroit Pistons. He hit two threes and added three blocks and two steals. For the summer, the 6-foot-9 forward is averaging 23.5 points on 47.4% shooting across four games. He's also pulling down 9.3 rebounds per game and loading up the highlight reel.
The New York Knicks have established a rotation and roster that is ready to surprise the league
New York will likely roll out a starting five of Walker, Fournier, Barrett, Randle, and Robinson. Rose can play both guard spots off the bench, as can Quickley. Barrett can toggle between the 2, 3, and 4 spots. Noel can backup Robinson. Toppin can play power forward, or center in some small-ball lineups. The Knicks' rotation is easily nine deep with Burks and Taj Gibson still waiting in the wings.
It's a balanced depth chart with several playmakers and scorers, and with Thibodeau at the helm, the team will be disciplined, play hard, and be strong defensively.
The Knicks hosted a playoff series last season after finishing fourth in the Eastern Conference. It was the first time New York had been in the postseason since the days of Carmelo Anthony, J.R. Smith, Jason Kidd, and Tyson Chandler.
The franchise brought back most of last year's playoff roster and made two under-the-radar acquisitions in free agency. Toppin is showing improvement in his second year, and Barrett may be ready to take another jump in his third. New York's seed in the 2021-22 playoffs could very well shock the league.
All statistics courtesy of Basketball-Reference and contract information courtesy of Spotrac.