Kemba Walker's Forgettable Knicks Tenure Could End As Early as 12/15
Before the 2021-22 season began, the New York Knicks probably felt they had a low-risk, high-reward signing in Kemba Walker. After all, the veteran point guard was just a year removed from being an All-Star, and the Knicks signed him for just under $9 million in average annual value after he orchestrated a buyout with the Oklahoma City Thunder.
Instead, the Walker-Knicks pairing quickly dissolved into something untenable.
Knicks head coach Tom Thibodeau removed Walker from the rotation. Although the 31-year-old handled the demotion graciously, it seems like a matter of time before he's headed out of the Big Apple. In fact, that day could come as soon as this Wednesday.
Kemba Walker is eligible to be traded on 12/15
Some Knicks fans might be inquiring why the team hasn't tried to move Walker already, given he has no place in Thibodeau's current rotation. It's because he's not yet eligible.
Players signed in 2021 free agency do not become trade-eligible until Dec. 15. Considering the Knicks signed Kemba to a two-year deal this past offseason, he has to wait at least a couple of more days to see if his fate changes.
Much of the focus involving trade talk centers around guys like Ben Simmons. But while blockbusters could be in the offing, trade-eligible players could be more notable because many of them offer teams tradable salaries they can use to shake up the roster or make pivots.
Walker is among a group of interesting guards to watch when they became trade-eligible on Wednesday, one that might include Dennis Schroder and Devonte' Graham. How does he stack up with those players?
Assessing Walker's place among fellow trade-eligibles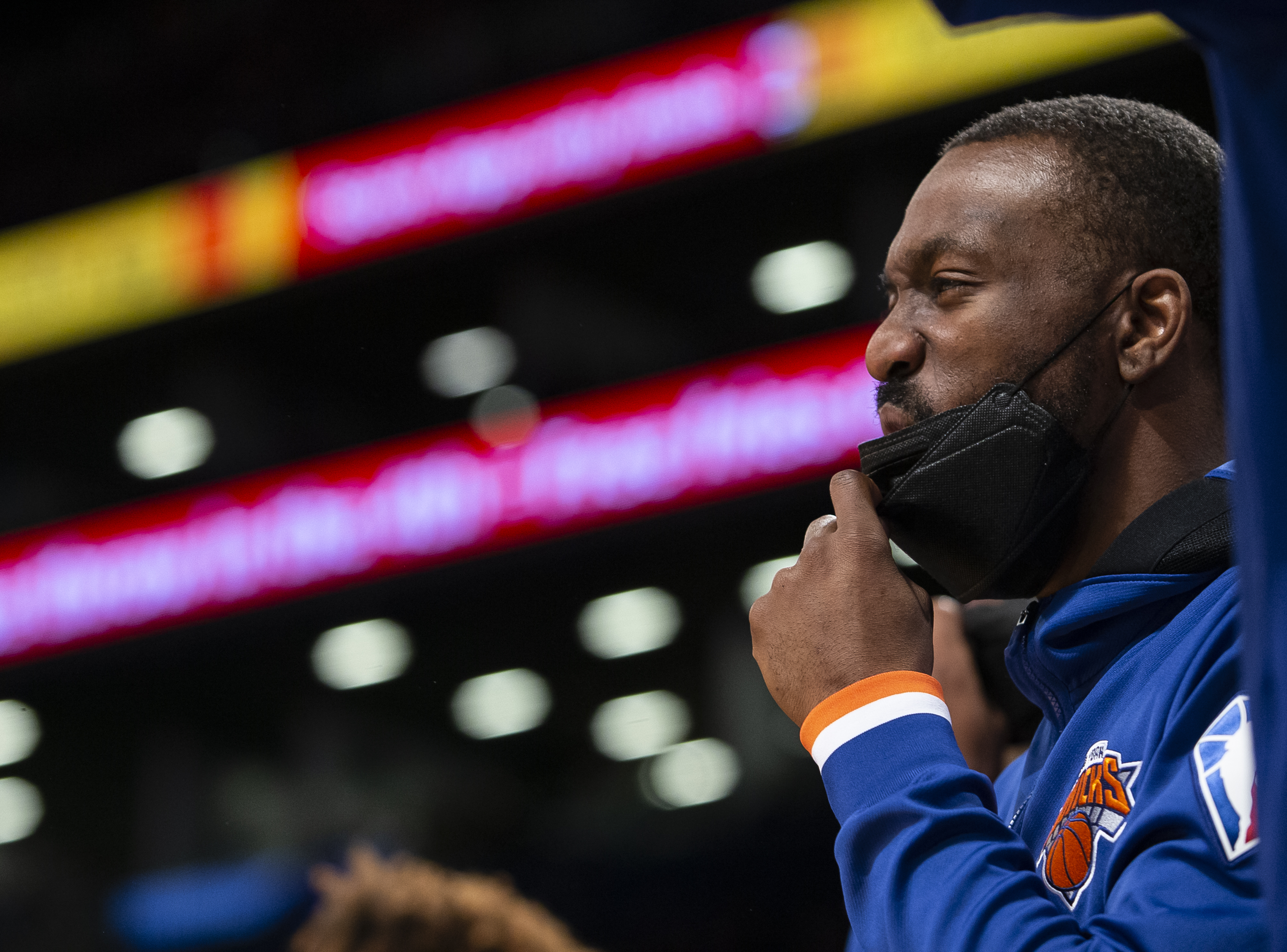 Kemba Walker could be the most attractive point guard on the market, at least among those players eligible to be traded after Dec. 15.
Backcourt upgrades typically seem to be in demand as the deadline draws near. That means there could be a market for Walker, who can give interested teams scoring and shot creation. In 18 games as a starter, Walker averaged 11.7 points. That number isn't spectacular, but Kemba's 41.3% 3-point clip is sure to be appealing. He can shoot coming off screens and be a vital floor-spacer.
But the downsides might make some teams prefer Schroder or Graham. Walker is just 31 but has dealt with degenerative knee issues that have wracked his career for the last two seasons. He's not the kind of explosive offensive player he was in days past.
Conversely, Schroder and Graham are both younger. Schroder is making under $6 million this season and is a better slashing option who can also create for teammates. A team looking for a steady guard presence in years to come could also sell higher with the hopes of re-signing him next summer, though he should have a bigger market after seemingly fumbling away $84 million.
Graham's shooting splits are ugly, and he's owed over $36 million over the next three seasons. Still, teams might prefer him given he's only 26. The New Orleans Pelicans guard was a candidate for Most Improved Player in 2019-20, which also might prompt teams to take a flyer on him.
Given that other point guards are likely to be available, can the Knicks find a way to trade Walker?
Can the Knicks move Walker before the February trade deadline?
The Knicks might hope to somehow include Walker in a Ben Simmons trade, with Shams Charania of The Athletic reporting New York is interested in the Philadelphia 76ers guard. But unless the Knicks can rope in a team and are willing to dangle numerous picks, doing so could be difficult.
Other reports have suggested the Knicks could make a play for John Wall, who has yet to play for the Rockets this season. But Wall's enormous salary makes that move every bit as difficult.
Thus, while Walker becomes eligible for trade on Dec. 15, it could take some time for the Knicks — who probably hope to use him as a means of making a splash — to find a willing suitor also capable of making the financials work. Otherwise, they might have to get what they can for Kemba, whose declining value and recent injury history make him a tough sell.
Stats courtesy of Basketball Reference. Contract information courtesy of Spotrac.