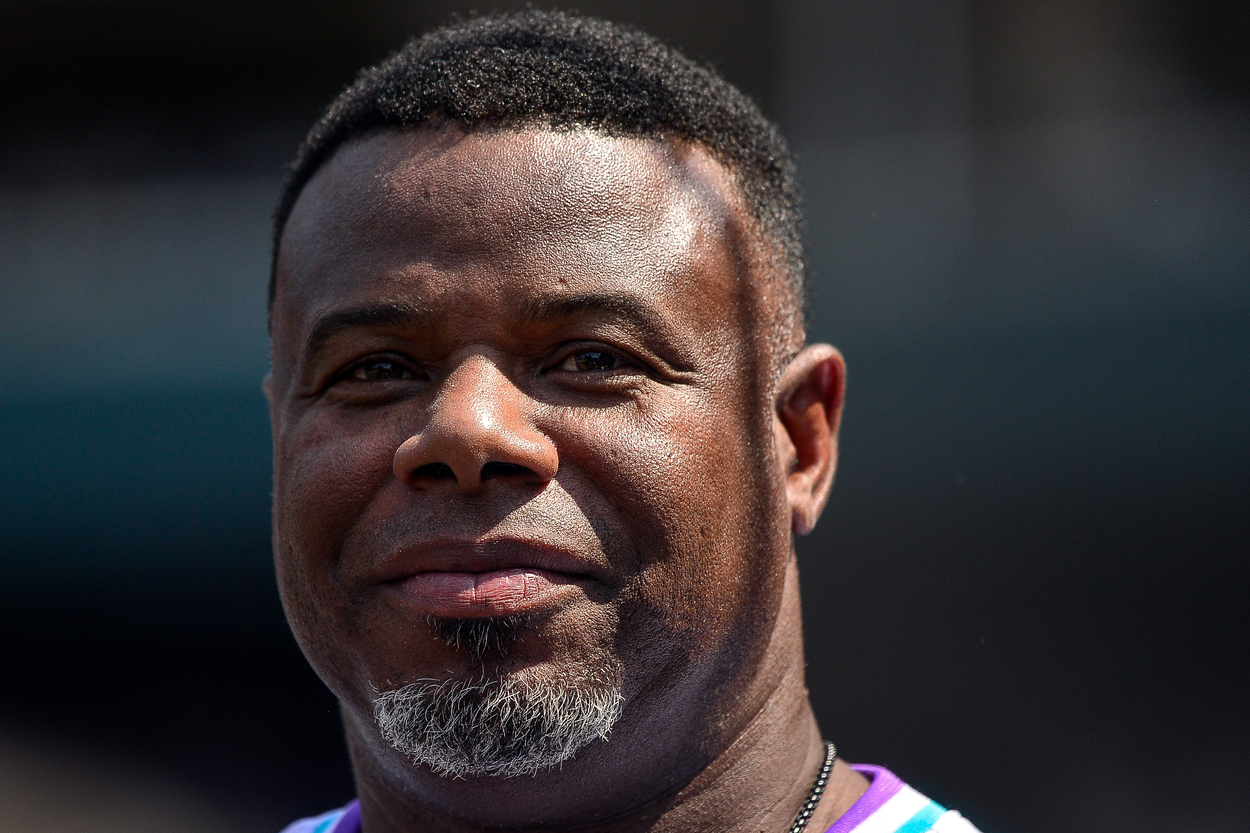 Ken Griffey Jr. Talked His Beloved Appearance on 'The Simpsons'
After famously appearing on The Simpsons' 'Homer at the Bat' early in his career, Seattle Mariners great Ken Griffey Jr. says his coaches offered important advice.
Seattle Mariners outfielder Ken Griffey Jr. didn't need long to become accustomed to the spotlight. By 1991, he'd solidified his place as a young star capable of hitting for average, reaching base at a potent clip, and playing terrific defense on a long-suffering AL West team.
Griffey could hold his own against the game's best pitchers, but the recording booth proved to be another story. Although the 13-time All-Star's guest appearance on The Simpsons remains a crucial part of his legacy over 30 years later, he doesn't exactly have the greatest memories of lending his voice to the iconic show.
Ken Griffey Jr. revealed the crucial advice he received after appearing on 'The Simpsons'
Certain episodes of television shows crack the cultural zeitgeist to the point where even if someone has never seen the specific program, they know the scene in question. Who shot J.R. on Dallas? What happened when The Sopranos cut to black? Who shot Mr. Burns on The Simpsons?
The answers: Kristin Shepard, we don't know, and Maggie Simpson. Oops, spoilers.
Even those too young to have seen The Simpsons' golden years are likely nonetheless familiar with Homer at the Bat, a 1992 episode featuring nine of the game's top active players. The episode premiered in February 1992, only months after Griffey concluded his third season with the Mariners.
The Athletic's Daniel Brown published a story on Feb. 19, 2022, looking back at the episode on its 30th anniversary. Brown even spoke with all nine players, with most of the interviews coming between 2007-10.
Griffey, then in his penultimate season with the Cincinnati Reds, spoke with Brown in 2007 and reflected on his guest appearance. The 37-year-old also admitted the Mariners' coaching staff talked to him around the time he recorded his lines and offered significant advice.
"That was my first glimpse of being in [Los Angeles] and getting caught up in the hype. I had good coaches, and they said, 'Hey, you can get caught up in this lifestyle.' They said, 'Just remember what you do for a living. And this isn't it.'"

Ken Griffey Jr.
The fictional version of Griffey drank a bottle of tonic and famously exclaimed, "It's like there's a party in my mouth! And everyone's invited!" Those who attended Mariners games in the 1990s were privy to a party of their own, especially as Griffey became arguably the face of baseball and led the league in home runs four times during the decade.
Griffey eventually took the advice to heart and mostly distanced himself from the entertainment world
Although Griffey's guest appearance on The Simpsons remains a fan favorite, he himself wasn't the biggest fan when he spoke with Brown. The 1997 AL MVP admitted he'd only watched the episode once and didn't finish it.
Griffey also listened to his coaches, who wisely reminded him that baseball should have been his priority. According to his IMDB page, Griffey's primary acting gigs during his playing career included a 1994 episode of The Fresh Prince of Bel-Air, Little Big League, an episode of Medicine Ball, and two episodes of Arli$$. 
Otherwise, that was it. Griffey didn't follow Orlando Magic star Shaquille O'Neal into the world of movies, video games, and rap albums. He never participated in a baseball version of Space Jam. Instead, The Kid stuck to baseball, and the fact he appeared on 99.3% of National Baseball Hall of Fame ballots in 2016 should speak for itself. 
Several of Griffey's fellow All-Stars looked back more favorably on their 'Simpsons' stint
Brown spoke with every player who participated in Homer at the Bat, and almost all had positive memories. Only Jose Canseco, the former home-run-mashing Oakland Athletics outfielder, really had no desire to look back on the episode. Which, given the fact that Simpsons producer Al Jean confirmed how difficult the 1988 AL MVP was during the recording process, shouldn't have been too surprising.
Boston Red Sox great Wade Boggs said people still stopped him in airports years later and talked more about his guest appearance than his 3,010 hits.
"My kids get a great big hoot out of it," Boggs told Brown. "My daughter was 13 at the time, and she said, 'You've arrived, Dad!'"
Then-St. Louis Cardinals shortstop Ozzie Smith brought his son, O.J., to the recording studio. Years after the fact, 16-time All-Star remained grateful for his brief time on the show.
"Time has certainly moved on, but you come into contact with all kinds of the diehard fans, the ones who have all the episodes in their library. At the time we taped it, we knew it was popular. But it's gone on to be the longest-running show in television history. It's an honor to be a part of it."

Ozzie Smith
Ace pitcher Roger Clemens, who spoke with Brown in 2007, even said his sister called him whenever she saw the episode on TV. 
As of publication, three of the nine players — Boggs, Griffey, and Smith — are in the Hall of Fame, and Clemens could eventually join them through the Veterans Committee. But, by the sound of things, The Kid would rather be known for his bronze bust and 630 home runs than a fictional bout of gigantism. 
Oh, and Tony Soprano died at the end of The Sopranos. Everything in that scene points to that outcome. Admit it.
Like Sportscasting on Facebook. Follow us on Twitter @sportscasting19.