Kenbrell Thompkins Has Gone From Catching Tom Brady's Touchdowns To a Disturbing Case Involving COVID-19 and Fraud
Nearly a decade ago, it appeared the New England Patriots might have found something special in undrafted receiver Kenbrell Thompkins.
Although Thompkins had an impressive rookie season in 2013, he never caught on the way that Tom Brady and the Patriots hoped. Now, with his NFL days long behind him, Thompkins is involved in a disturbing case that could send him to prison for over 10 years.
Officials charged Kenbrell Thompkins with identity theft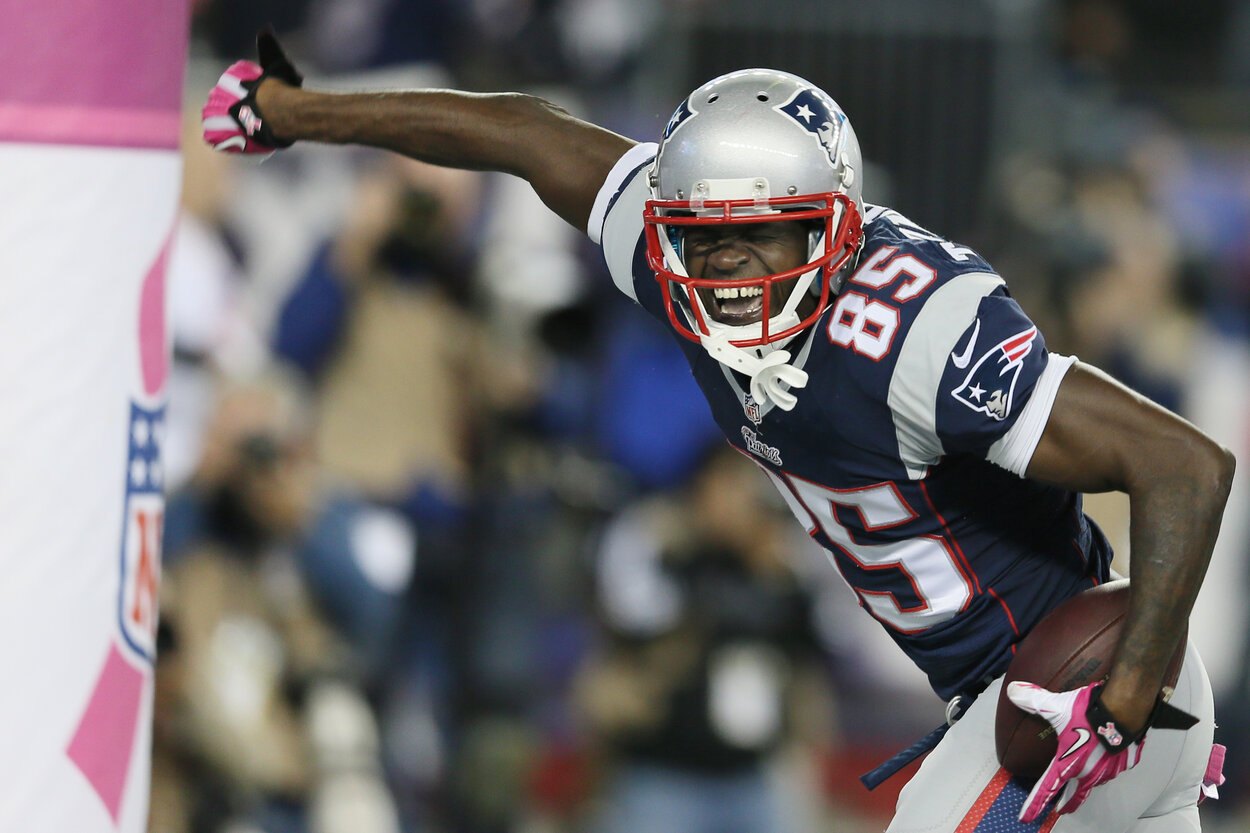 RELATED: Lenny Dykstra Has Really Hit Rock Bottom Now
Over five years since his most recent NFL game, Kenbrell Thompkins is in serious legal trouble.
Thompkins, 32, is facing federal identity theft charges. According to official documents, the U.S. Attorney's Office for the Southern District of Florida believes Thompkins used stolen identities of Florida residents to obtain unemployment benefits in California.
South Florida officials named Thompson among a slate of indictments related to fraud and the CARES Act, the first major COVID-19 relief bill released amid the ongoing pandemic.
Prosecutors said California distributed roughly $300,000 to Thompkins "in the form of debit cards, which were subsequently mailed to addresses associated with Thompkins in Miami and Aventura, Florida." Court documents allege that Thompkins withdrew $230,000 of those funds from August 16 through September 23, 2020.
According to Boston.com, officials used surveillance video to identify Thompkins by a "distinctive" tattoo on his left arm when he used the cards at several Bank of America branches in Florida.
According to the documents, a January search on Thompkins' residence in Aventura found handwritten notes with the names and social security numbers of at least three identity theft victims.
Thompkins faces over 10 years in prison
RELATED: Former New Orleans Saint Joe Horn Takes Different Approach to NFL Insurance Fraud
Kenbrell Thompkins is facing a long stretch of prison time if the legal process plays out a certain way.
Prosecutors charged Thompkins with one count of access device fraud, which carries a maximum penalty of 10 years imprisonment. Thompkins was also charged with two counts of aggravated identity theft, which carry a penalty of two mandatory years imprisonment.
Thompkins has a long history with the legal system. The Boston Globe reported in 2013 that police arrested Thompkins seven times between the ages of 15 and 18.
At one point, Thompkins spent time in a military-style boot-camp program following an arrest for cocaine possession with intent to sell.
Thompkins briefly played with Tom Brady and the Patriots
RELATED: Tom Brady Indirectly Explained Why He's Not Ready to Retire From Pro Football Just Yet
Kenbrell Thompkins has come a long way since he burst onto the scene as an undrafted rookie in 2013.
Thompkins started eight games and played in another four for the New England Patriots that year, turning 32 receptions into 466 yards and four touchdowns. Although Thompkins had six catches for 53 yards across his first two games in 2014, the Patriots cut him early in the season.
Thompkins quickly signed with the Raiders and had 15 catches for 209 yards in 12 games. A midseason signing of the Jets in 2015, Thompkins had 17 receptions and 165 yards that year.
Thompkins last played professional football for the CFL's Winnipeg Blue Bombers in 2018.
Like Sportscasting on Facebook. Follow us on Twitter @sportscasting19.