Kendrick Perkins Makes a Bold Claim About LeBron James and the Los Angeles Lakers: 'Just Look at the Lineup'
ESPN analyst Kendrick Perkins is excited about the 2021–22 Los Angeles Lakers. The team features three of his former superstar teammates (Russell Westbrook, Anthony Davis, and LeBron James), so there's likely some bias. And despite the club having an average age closer to AARP eligibility than athletic dominance, Perkins is convinced the Lakers will dominate next season.
Las Vegas tends to agree with that assessment. LA has the best championship odds of any Western Conference club and trails only the Brooklyn Nets overall. Perkins likes what the Lakers have put together this offseason. So much so, he thinks they can be one of the dominant teams in NBA history.
What the Lakers did this summer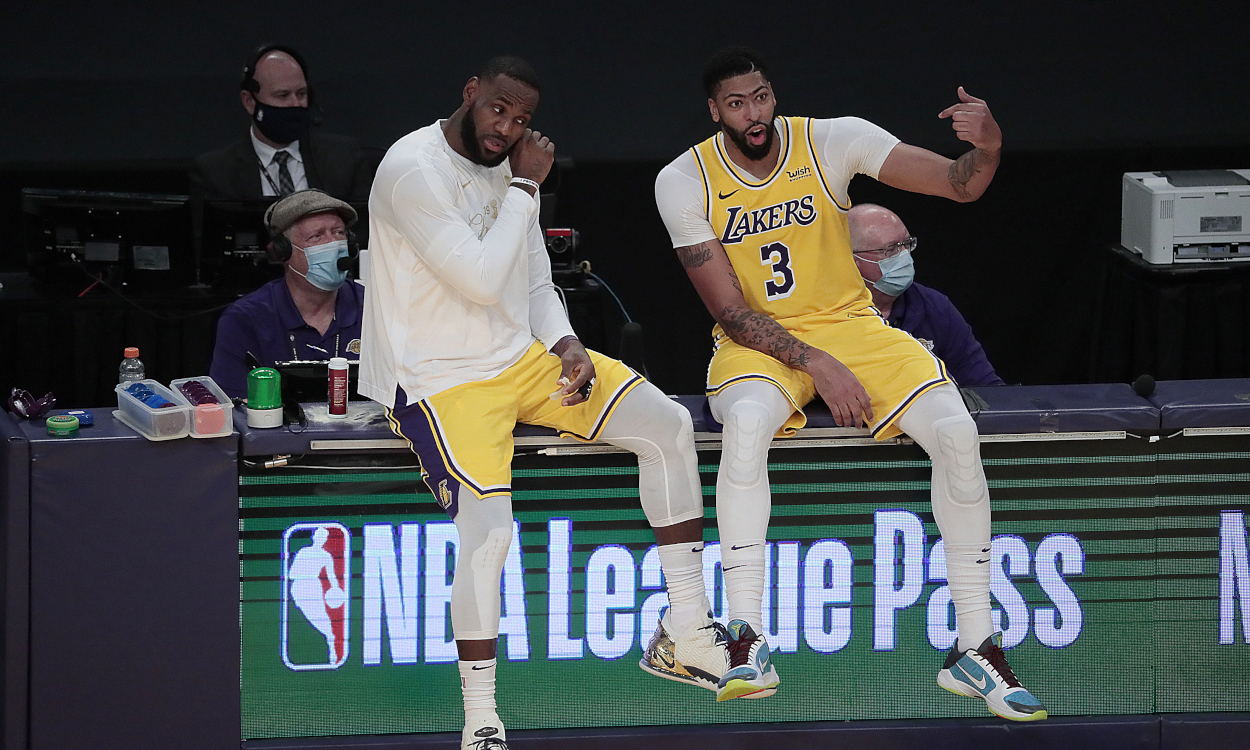 If you watched the 2020–21 Lakers, you might need a program for this season's edition. It's easier to count who remains from that roster rather than roll through the encyclopedia of players that departed.
James and Davis are back. Or, and they re-signed restricted free agent Talen Horton-Tucker. End of list.
Besides Westbrook, LA added Carmelo Anthony, Dwight Howard, Rajon Rondo, DeAndre Jordan, Trevor Ariza, Kent Bazemore, Wayne Ellington, Kendrick Nunn, and Malik Monk.
That could lead to some early-season cohesion problems. The team may consider replacing the "Wish" advertisement with a "Hello. My Name Is" badge with that many new faces. It's the adjustment period that might derail the Lakers' hopes of making Kendrick Perkins prophetic in his assessment.
Kendrick Perkins thinks the Lakers can flirt with a historic milestone
During a recent appearance on ESPN's The Jump, Kendrick Perkins clapped back against other panelists who claimed the Lakers would finish around the 50-victory mark:
"What? This is another dead, bold lie. You cannot tell me that you're about to have LeBron James, Russell Westbrook, Anthony Davis, Carmelo Anthony, Rajon Rondo, Dwight Howard, Trevor Ariza, all of these players, and you're telling me they're not going to have a 60-win season? Please. Matter of fact, I wouldn't be surprised if they scratch the surface of hitting the 70-win season. Just look at the lineup."
Putting aside that a team can scratch the surface of 70 wins by getting its first, Perkins is all-in on the Lakers this season. He played in an NBA Finals with Westbrook in 2012 and had great seats to watch James in 2015. Perkins also won an NBA title with the Boston Celtics in 2008 (a fact he goes to great lengths to never, ever let us forget).
All jokes aside, 70 wins is the rarest mark in NBA history for a reason. It's hard to get there.
A bold claim by Kendrick Perkins, but the facts say 70 wins is doubtful
How difficult is it to win 70 games in the NBA? The season is only 82 games long, so it takes a .854 winning percentage to get it done. Essentially, a team must win 17 of every 20 games, plus both games 81 and 82. It's a big ask. But Kendrick Perkins operates more in the hyperbolic world than the logical one.
Here is the progression of the wins record in the NBA, including the Basketball Association of America era:
49: 1946–47 Washington Capitols (60 games)
51: 1949–50 Minneapolis Lakers/Rochester Royals (68 games), and Syracuse Nationals (64 games)
52: 1958–59 Boston Celtics (72 games)
59: 1959–60 Boston Celtics (75 games)
60: 1961–62 Boston Celtics (80 games)
62: 1964–65 Boston Celtics (80 games)
68: 1966–67 Philadelphia 76ers (81 games, first team to top Washington's winning percentage mark of .817)
69: 1971–72 LA Lakers (82 games)
72: 1995–96 Chicago Bulls (82 games)
73: 2015–16 Golden State Warriors (82 games)
Two teams have won 70 games in a season. None of the earlier teams succeeded at a sufficient pace to get there over 82 games.
Not to knock the Lakers' chances, but neither the Bulls nor the Warriors served Ensure instead of Gatorade during timeouts.
Winning 70 games over an 82-game schedule is the rarest feat a team can accomplish. There's a champion every year, but only two teams are in the 70-win club. Maybe on a video game, the Lakers would threaten the mark. But in the real world? Kendrick Perkins might be right that 60 isn't out of play. But 70? Not very likely.
Statistics courtesy of Basketball Reference.
RELATED: LeBron James and Kyle Kuzma Brutally Trolled Anthony Davis After Aaron Rodgers and the Packers Laid an Egg Against the Saints