Kendrick Perkins Calls out His Dream Celebrity Boxing Opponent and It's Not Kevin Durant
The odds are good that if the day of the week ends in "y," Kendrick Perkins will be on sports media saying something outrageous. It's his business, and business is good. The one-time NBA champion has sparred often with former Oklahoma City Thunder teammate Kevin Durant. Now Perkins has an opponent in mind for some actual sparring.
Perkins left the NBA after a one-game cameo with the Cleveland Cavaliers near the end of the 2017–18 season. Since then, he turned some guest appearances on various ESPN NBA coverage into a regular gig on programs such as Hoop Streams, The Jump, First Take, and Get Up. Perkins was a late first-round pick in the much-revered 2003 draft class straight out of Clifton J. Ozen High School in Beaumont, Texas. His plain-spoken style rapidly became a lightning rod on social media.
His comments about USA Basketball earned him a call-out from Draymond Green after the U.S. won the gold medal in Tokyo.
Kendrick Perkins was a valuable role player in his prime
Kendrick Perkins' career numbers from his 14 NBA seasons aren't overwhelming. He averaged 5.4 points and 5.8 rebounds in 782 games. The only time he averaged double figures was in 2009–10 with the Boston Celtics when he put in 10.1 points a night.
But his knee injury in Game 6 of the 2010 NBA Finals became a part of Celtics folklore. To hear the Boston faithful tell it, that injury cost the Celtics their 18th NBA title. The following year, Boston traded Perkins to the Thunder, and in 2012, Oklahoma City reached its first NBA Finals. He also played in the 2015 NBA Finals with the Cavs. It was three minutes in one game, but he did play.
It's looking more likely that Perkins will be a much more significant television presence than he was during his journeyman NBA career. Some of his takes have been outrageous, but he is completely fearless and will take on superstars such as Durant and Giannis Antetokounmpo, as well as second-tier stars like Draymond Green.
Perkins comes close to issuing a challenge to Draymond Green
Kendrick Perkins makes the rounds as a fledgling media personality. Recently, he appeared on the Road Trippin' podcast with hosts Richard Jefferson and Channing Frye. And he didn't hold back when talking about one of his favorite topics, Draymond Green.
A recent popular trend is celebrity boxing, with personalities like Logan Paul making lots of bank off very little substance. In the vein of the YouTube star, Perkins indicated Green would be his choice as an opponent in the squared circle.
"He's not even my former teammate, but he feel like that I talk sh*t, and I feel like he talk sh*t it is Draymond Green. Like if I had to get in the ring and really put these paws on somebody, it would be Draymond Green.
"But I really think he don't want that smoke, and history tells me he really don't want that smoke."
Would it be a popular matchup? Hey, the Logan Paul-Floyd Mayweather mismatch got more than 1 million buys at a $49.99 price point. It makes sense (maybe not the right word) there would be an audience for Perkins-Green.
Kendrick Perkins wasn't afraid to mix it up as a player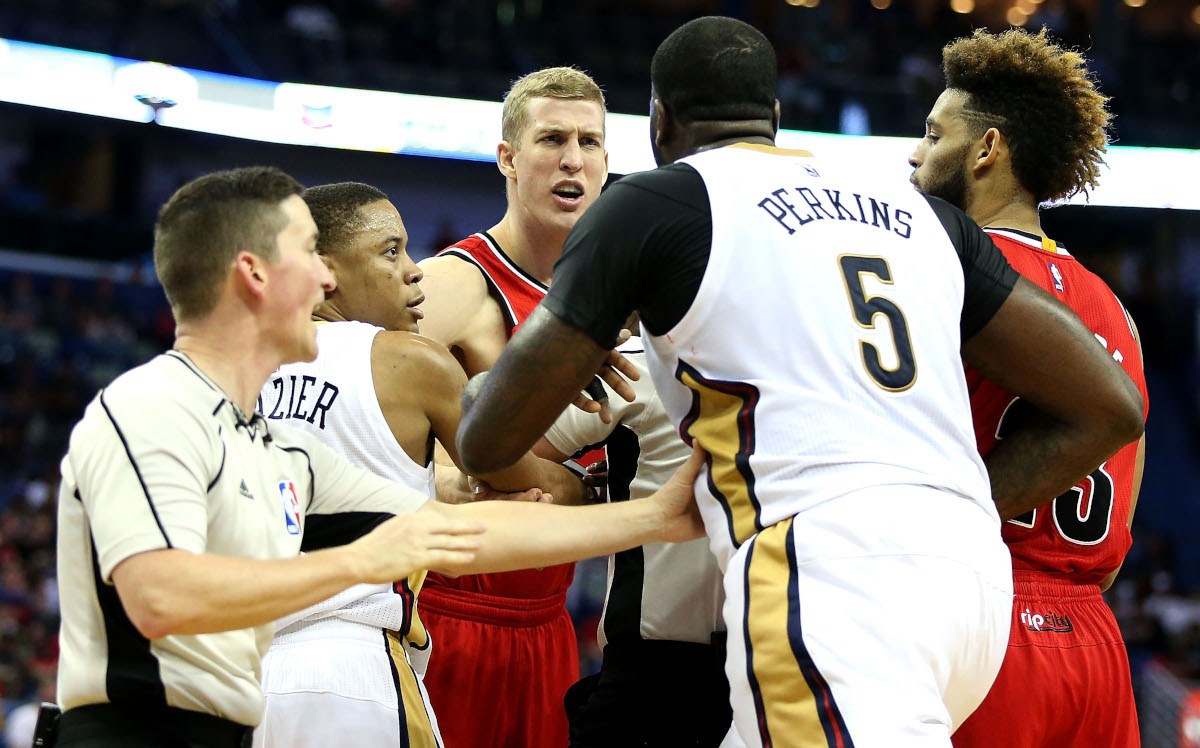 During his lengthy NBA career, Kendrick Perkins was a no-nonsense big man from the old school. He mixed it up with notable foils Jason Maxiell, LaMarcus Aldridge, Dirk Nowitzki, Zach Randolph, and Jae Crowder. Heck, Big Perk got into a shouting match with famous Toronto Raptors fan Drake.
He was no stranger to the enforcement branch of the NBA office in New York. While he only served a one-game suspension in his career (it seemed appropriate for head-butting Tyreke Evans), Perkins paid $173,767 in fines, per Spotrac. It's not a big chunk of his career earnings of $57.7 million (0.3% for those keeping track of the math).
Perkins and Green played each other 14 times in the regular season and once in the postseason. But their minutes didn't coincide often. Perkins was a starter in Oklahoma City when Green was a reserve early in his career. By the time Green ascended to star status, Perkins was a bit player for the Thunder.
Will Kendrick Perkins and Draymond Green ever step into the ring? It's the 21st century, and people are always hungry for the next big thing. Or, at the very least, the next spectacle. But if Big Perk has any plans to make it real, he might want to get into the gym sooner rather than later.
Statistics courtesy of Basketball Reference.