Kendrick Perkins Calls out Chris Paul for Breaking a Promise: 'I Guess CP3 Meant to Get Himself That Bag'
A little less than four months ago after the Phoenix Suns beat the Los Angeles Clippers at Staples Center to take a 3–1 lead in the Western Conference Finals, Chris Paul made a bold proclamation. Now with teammate Deandre Ayton headed to restricted free agency next summer, ESPN analyst Kendrick Perkins made sure to keep the receipts.
Ayton couldn't come to terms on a max extension of his rookie deal before the Oct. 18 deadline. As a result, the 2018 No. 1 overall pick will play out the final year of that first contract for $12.6 million before hitting the market (sort of) on July 1. Perkins wants to know where Paul went in the interim.
Chris Paul's promise to the Phoenix Suns' young center
After beating the Clippers 84–80 in Game 4 of the Western Conference Finals, Phoenix Suns star Chris Paul told Scott Van Pelt of ESPN there was big money in Ayton's future.
"We're gonna get him a bag this summer," Paul said. "We're gonna get him a bag."
But the only bag Ayton may have received this offseason was from Puma, with which he has his shoe deal. Because there was not a large bag of cash at the end of the negotiations to be had for the 6-foot-11 center from the Bahamas. Not even after averaging 15.8 points, 11.8 rebounds, and 1.1 blocks per game on 65.8% shooting in the playoffs.
Ayton wanted a max extension, the same afforded to three other first-round picks from 2018. Trae Young of the Atlanta Hawks and Luka Dončić of the Dallas Mavericks were slam dunks to get the full five years and $207 million. Michael Porter Jr. of the Denver Nuggets, on the other hand, was a stunner to many.
Shae Gilgeous-Alexander (five years, $172 million) of the Oklahoma City Thunder and Memphis Grizzlies stretch big Jaren Jackson Jr. (four years, $105 million) also got nine-figure extensions. Even Suns teammate Mikal Bridges, the 10th overall pick, got $90 million over four years.
If Ayton gets his big payday, it will either be as a restricted free agent next summer or, more likely, if he takes the one-year qualifying offer from Phoenix so he can hit the open market in the summer of 2023.
Perkins kept the receipts on Chris Paul
On ESPN's NBA Today recently, Perkins called out Chris Paul for not following through on his promise. Perkins thought Ayton should have gotten his money from the Phoenix Suns:
"The man deserved his dollars. If you're gonna pay Bridges, you've gotta pay Deandre Ayton. When you're trying to compete and win the championship, you need everybody in the locker room with a clear head and everybody to be focused. And then you have a young player like Deandre Ayton, who outplayed (Nikola) Jokić in the Western Conference (semifinals) last year to help them get to the Finals and then he watches everybody get paid."
The Suns gave out other extensions to 2018 first-round picks, but not Ayton. There was also one other contract that got noticed. Perkins later blasted Paul for 120 million other reasons.
Paul got his own bag from the Phoenix Suns during the offseason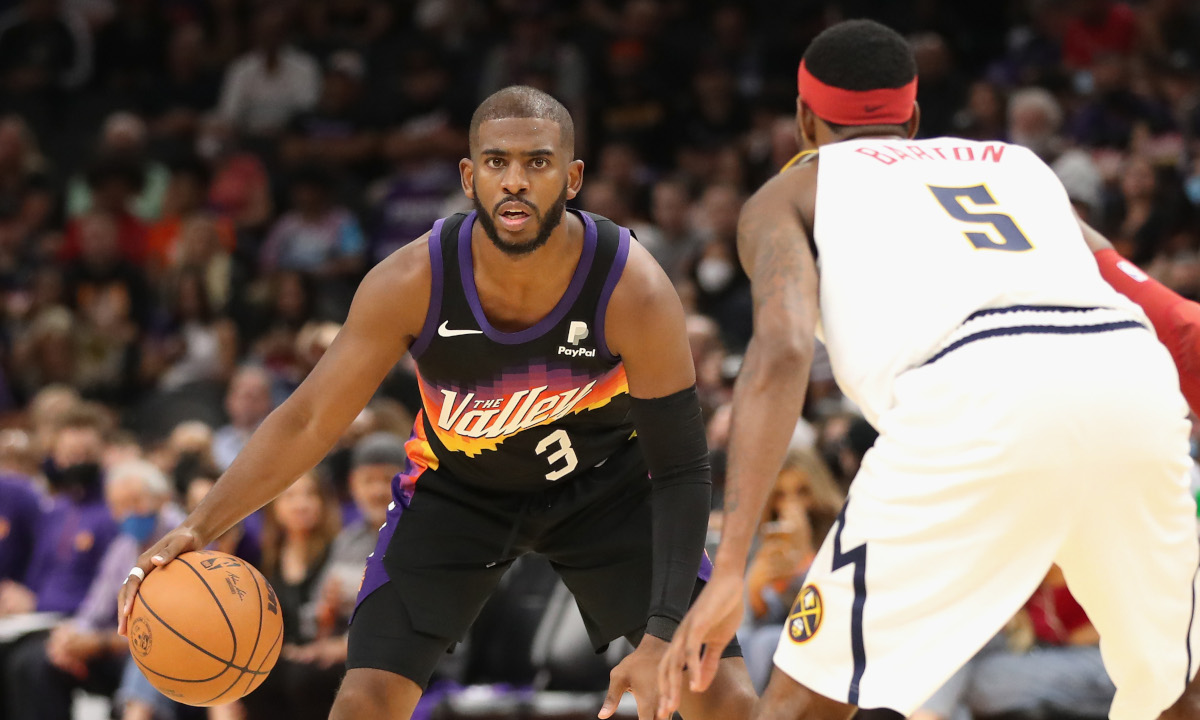 Chris Paul's max contract ended when Paul opted out of the final year and $44.2 million. Paul later agreed to a four-year, $120 million deal to remain with the Phoenix Suns.
As Perkins pointed out, "I thought CP3 was supposed to get Ayton his bag? I guess CP3 meant to get himself that bag."
The Ayton negotiations imploded on Oct. 18 without a deal and the young center is not happy, per Adrian Wojnarowski of ESPN.
Many executives around the NBA expected Ayton was getting the max extension he sought. The Suns gave Bridges an extension. Phoenix also forked over $43 million over four years for newly acquired guard Landry Shamet, also a 2018 first-round pick.  
Wojnarowski said Ayton's situation may affect how teams look at their salary-cap situation next summer. Some team may roll the dice on a big offer sheet for Ayton. The hope would be the traditionally thrifty Phoenix ownership declines to match. Or the Suns do match and deal with the cap consequences accordingly.
Ultimately, it's not Chris Paul's job to get Ayton — or any other player, for the matter — their money. But it's also undeniable that the veteran's influence could have greased the skids for a payday for his big man.
Statistics courtesy of Basketball Reference. Contract information courtesy of Spotrac.
RELATED: Deandre Ayton's Botched Extension Talks Place a Dark Cloud Above the Phoenix Suns and Their Championship Aspirations: 'He's Very Unhappy'