Kendrick Perkins Claims John Wall Is the Answer for an Eastern Conference Contender
If there is a ridiculous NBA position to take, ESPN analyst Kendrick Perkins can almost always be counted upon to take it. His latest idea involves the Philadelphia 76ers, embroiled in a countdown to detonation in a standoff with star point guard Ben Simmons. Perkins claims he knows the answer to what ails the 76ers: oft-injured Houston Rockets point guard John Wall.
There are reasons why Wall is a challenging piece for the Rockets to move. Not only is there his injury history, but he also has a considerable number remaining on his contract. But at least one source is claiming Houston wants Simmons as its star piece to rebuild around. Making that happen will be tricky at best for both the Rockets and the 76ers if they are, in fact, interested in adding Wall.
John Wall's rise to owning perhaps the NBA's worst contract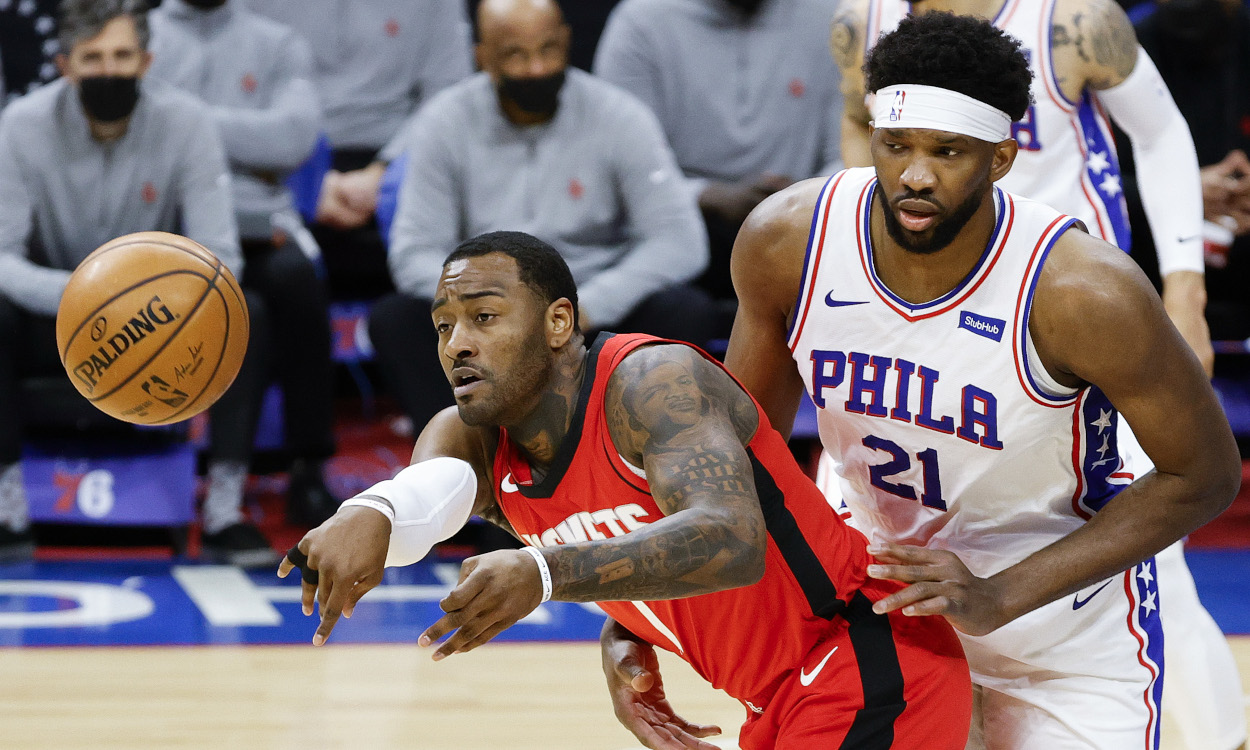 Four years ago, John Wall was one of the best point guards in the NBA. The Washington Wizards took Wall with the first overall pick in the 2010 NBA Draft, and he matured into a five-time All-Star for a flawed but talented club.
He had his best season in 2016–17, averaging a career-high 23.1 points and 10.7 assists per game. He led Washington to a seven-game war with the Boston Celtics in the second round of the playoffs before the Wizards bowed out, earning All-NBA honors for the only time in his career for his efforts.
Golden State Warriors star Stephen Curry got the first so-called supermax contract (technically a designated veteran player extension) on July 1, 2017. Not long after that, the Wizards signed Wall to a four-year, $170 million supermax that would begin in 2019. At the time, it was an easy call.
But Wall missed half the 2017–18 season after knee surgery and more than half the year in 2018–19 with a left heel injury exacerbated when he ruptured his Achilles' in a fall at home.
The first year of his extension brought Wall $38.2 million, nearly double his previous salary, and he sat out the entire campaign.
Wall missed 32 games last season because of a hamstring injury. Now he and Houston's management have agreed to seek a trade. Wall won't play again for the Rockets.
The Rockets reportedly want Ben Simmons
According to SB Nation's Evan Dammarell, the Rockets are seriously inquiring about what it would take to add Ben Simmons. Given Simmons's $31.6 million salary this season and Houston's lack of big-ticket contracts outside of John Wall, logic dictates that the former All-Star would be part of any package headed to Philly.
But Wall's $44.3 million in 2021–22 makes a one-for-one deal impossible under the collective bargaining agreement. Because the 76ers are in the luxury tax, they can't add that much salary in a Simmons swap. The 76ers would have to add at least $3 million to the trade to make it work, per the ESPN Trade Machine.
Meanwhile, Perkins believes Wall is a better fit than Simmons with superstar center Joel Embiid. Perkins shared his view on SiriusXM NBA Radio.
"I still think John Wall can help somebody, I can see John Wall going to the Clippers or even maybe Philly. I don't know what's going on with the Ben Simmons situation, but I think John Wall in Philly with Joel Embiid is better than Ben Simmons in Philly with Joel Embiid because John Wall is actually going to take those shots and be aggressive."

Kendrick Perkins
Simmons is a reluctant outside shooter. Wall is just a bad one. In 6.2 3-point attempts per game last season, Wall bricked his way to a 31.7% mark. He's been a competent deep shooter just once in his career, making 37.1% on 4.1 attempts per game before his career imploded due to injuries in 2017–18.
The real problem with a Ben Simmons-John Wall trade concept
The 76ers are in win-now mode and have been for a while. The Rockets want to rebuild around a terrific 2021 NBA Draft class headed by Jalen Green.
But Philadelphia president of basketball operations Daryl Morey isn't going to take on a declining Wall's remaining $91.7 million over two years. Not with the battered veteran entering his age-31 season. Simmons has warts, but he's also going into his age-25 campaign.
If Morey does it, Houston must part with much of its cache of future draft picks. It loaded the vault in the trades sending out James Harden, P.J. Tucker, and Victor Oladipo. Yes, Ben Simmons has four years and $140.4 million remaining on his extension, but he's also six years younger and light years healthier than John Wall.
Besides, Perkins' endorsement alone should give anyone in Philadelphia pause. His next good idea might be his first.
Statistics courtesy of Basketball Reference. Contract information courtesy of Spotrac.
RELATED: 76ers Reportedly Plan on Calling Ben Simmons' Childish Bluff to Create a Nightmare Scenario for Both Sides