Kendrick Perkins Makes an Absurd Claim About Kevin Garnett's All-Time Ranking Amongst Power Forwards: 'He Was Doing Things Before His Time'
As the NBA season returns, so do the NBA hot takes. On Wednesday's episode of NBA Today on ESPN, the player turned analyst Kendrick Perkins gave a bold take that was effusive in praise. On the receiving end was none other than Perk's old Boston Celtics teammate Kevin Garnett.
Kendrick Perkins gives Kevin Garnett a major compliment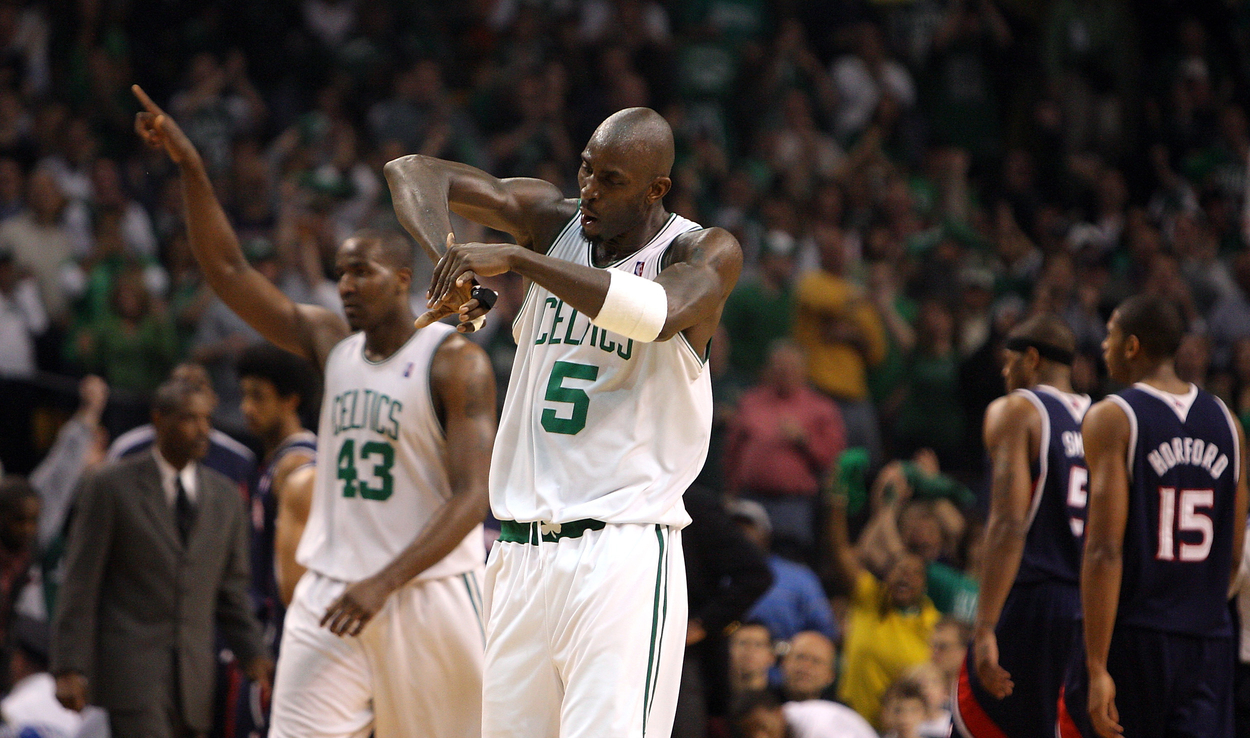 In honor of its diamond anniversary, the NBA is announcing a list of the 75 greatest players in league history. The names were broken up into three sections of 25, spread out over the course of three days, and announced in no particular order.
Names 26 through 50 were announced on NBA Today, with several stars from the 1990s and 2000s cracking the list. Among them included Tim Duncan, Allen Iverson, and the GOAT Michael Jordan. Garnett, who along with Duncan became a Basketball Hall of Famer in 2020, also made the cut.
Soon after Garnett's name was announced, Perkins gave a take that is sure to raise some eyebrows.
"Listen, let me tell you something. KG is the most skilled power forward of all time. Yeah, I said it. He was doing things before his time."

Kendrick Perkins
Perk is one of the few analysts who were teammates with the 15-time All-Star. The pair played together on the Celtics for 3.5 seasons, winning a championship in 2008 and advancing to the NBA Finals in 2010.
Is Kevin Garnett the most skilled power forward ever?
It's no surprise to see Perkins throw his hat behind Garnett. But while KG does have a case, there are other power forwards who come to mind first.
The obvious first pick is Duncan. The 15-time All-Star has five rings to Garnett's one, as well as 15 All-NBA and All-Defense selections. But from a skill perspective, The Big Fundamental dominated with automatic bank shots and unfathomable consistency over his 19-year career.
Another power forward who should be thought of ahead of Garnett is Dirk Nowitzki. Before him, power forwards were just that; power forwards. But the 7-foot Nowitzki proved big men could have unlimited range, forever changing the position.
This isn't to say Garnett wasn't skilled. At 6-foot-11, The Big Ticket showed incredible versatility and athleticism dating back to his earlier years with the Minnesota Timberwolves. He was also dominant on defense, winning the Defensive Player of the Year award his first season in Boston. But from a skill perspective, Duncan and Nowitzki are two players from his era who should get the nod instead.
Garnett is a no-doubt Hall of Famer
While Perk's take might be a little off the mark, it's not like he said Dennis Rodman is the most offensively gifted power forward in NBA history. At the end of the day, Garnett is still one of the all-time greats.
During his peak in Minnesota, Garnett would routinely average around 22 points and 13 rebounds with close to two blocks per game. He led the league in rebounding four straight years from 2004 to 2007 while also earning All-NBA honors nine times. And between his MVP in 2003-04 and his DPOY four seasons later, he is just one of five players to win MVP and DPOY in a career, joined by Jordan, Hakeem Olajuwon, David Robinson, and fellow power forward Giannis Antetokounmpo.
Garnett was an intense, dominant power forward who is one of the more skilled players to ever play the position. The most skilled at said position is up for debate. But Perk is right in acknowledging how good KG was.
All statistics courtesy of Basketball Reference.
RELATED: Kevin Garnett Had the Weirdest, Most Intimidating Trash-Talk Game in the NBA According to Blake Griffin