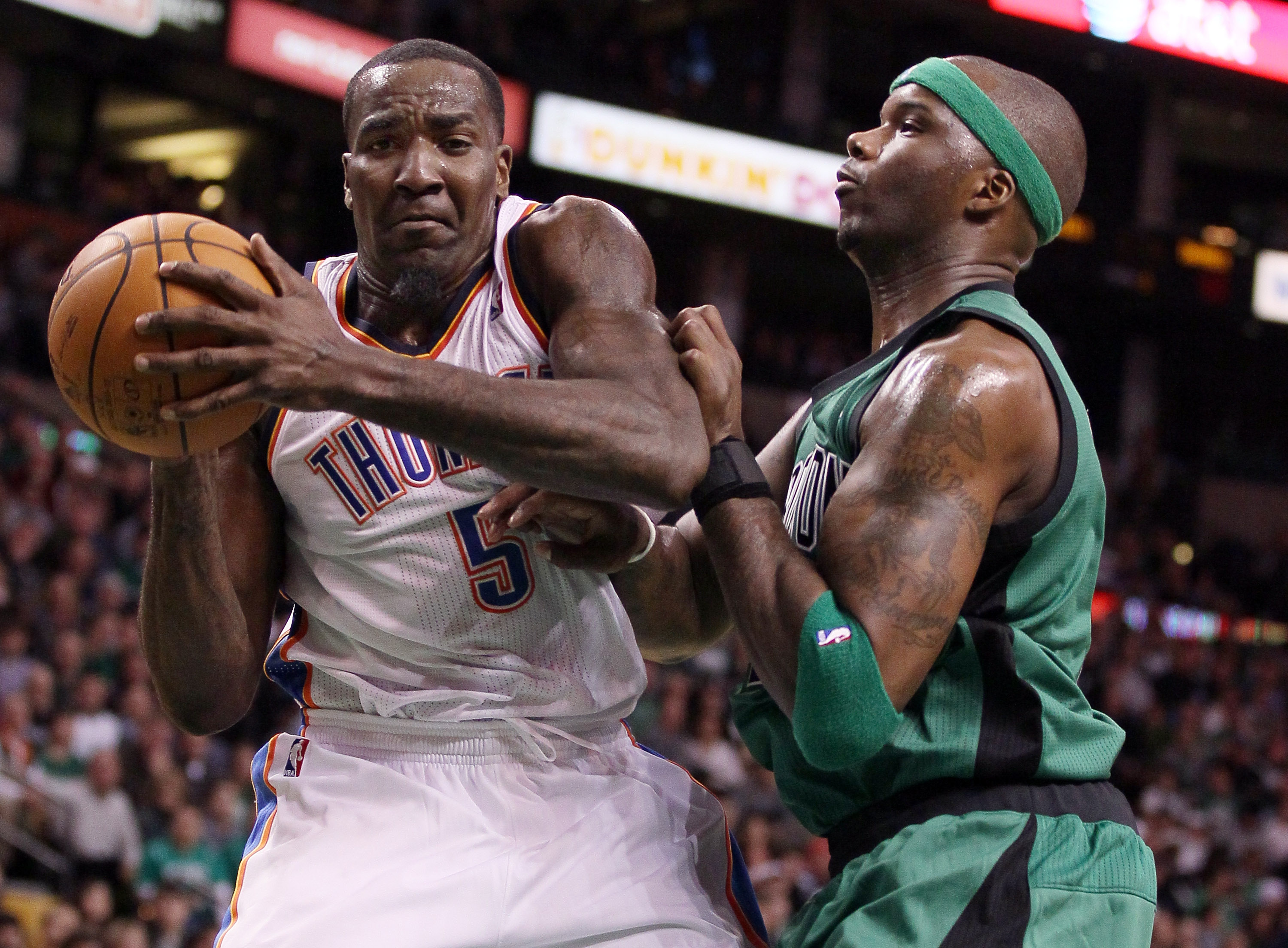 Kendrick Perkins On Leaving the Boston Celtics for the OKC Thunder: 'It Was the Most Difficult Situation I've Been In'
Kendrick Perkins recently talked about the difference in basketball environments between the Boston Celtics and Oklahoma City in his playing days
Kendrick Perkins won an NBA championship with the Boston Celtics. He may also be the reason they didn't win another.
Perkins was the starting center on the title-winning 2008 Celtics team. He held the same role in 2010 when the Celtics faced the rival Los Angeles Lakers in a rematch of the '08 Finals. Perkins injured his knee in a Game 6 loss. The injury kept him out of Game 7, one the Lakers won 83-79.
The following year, the Celtics traded him to the Oklahoma City Thunder. Perkins recently discussed his move from the Celtics to the Thunder, saying, "it was the most difficult situation I've been in."
Kendrick Perkins said OKC 'was all about KD and Russ'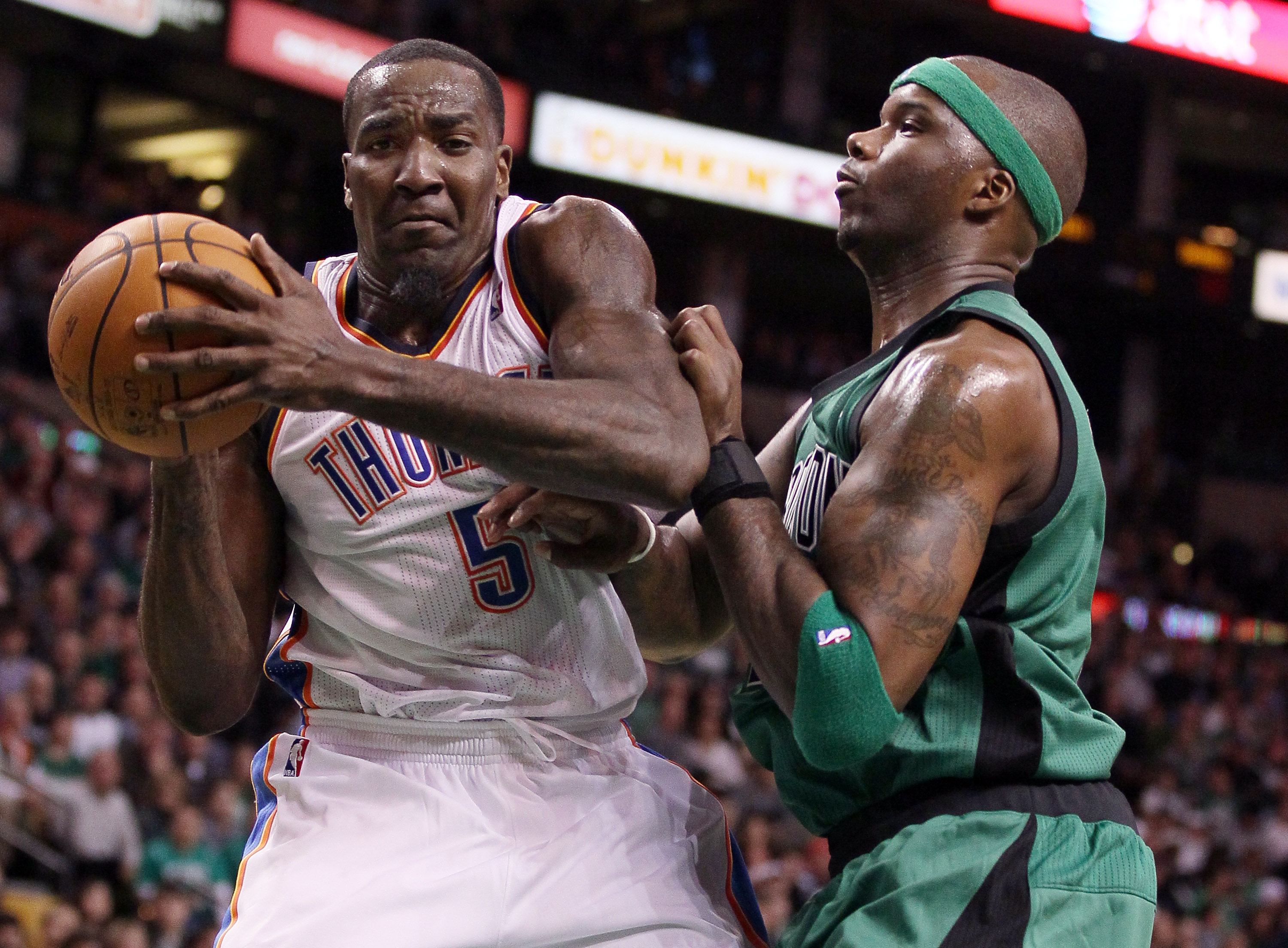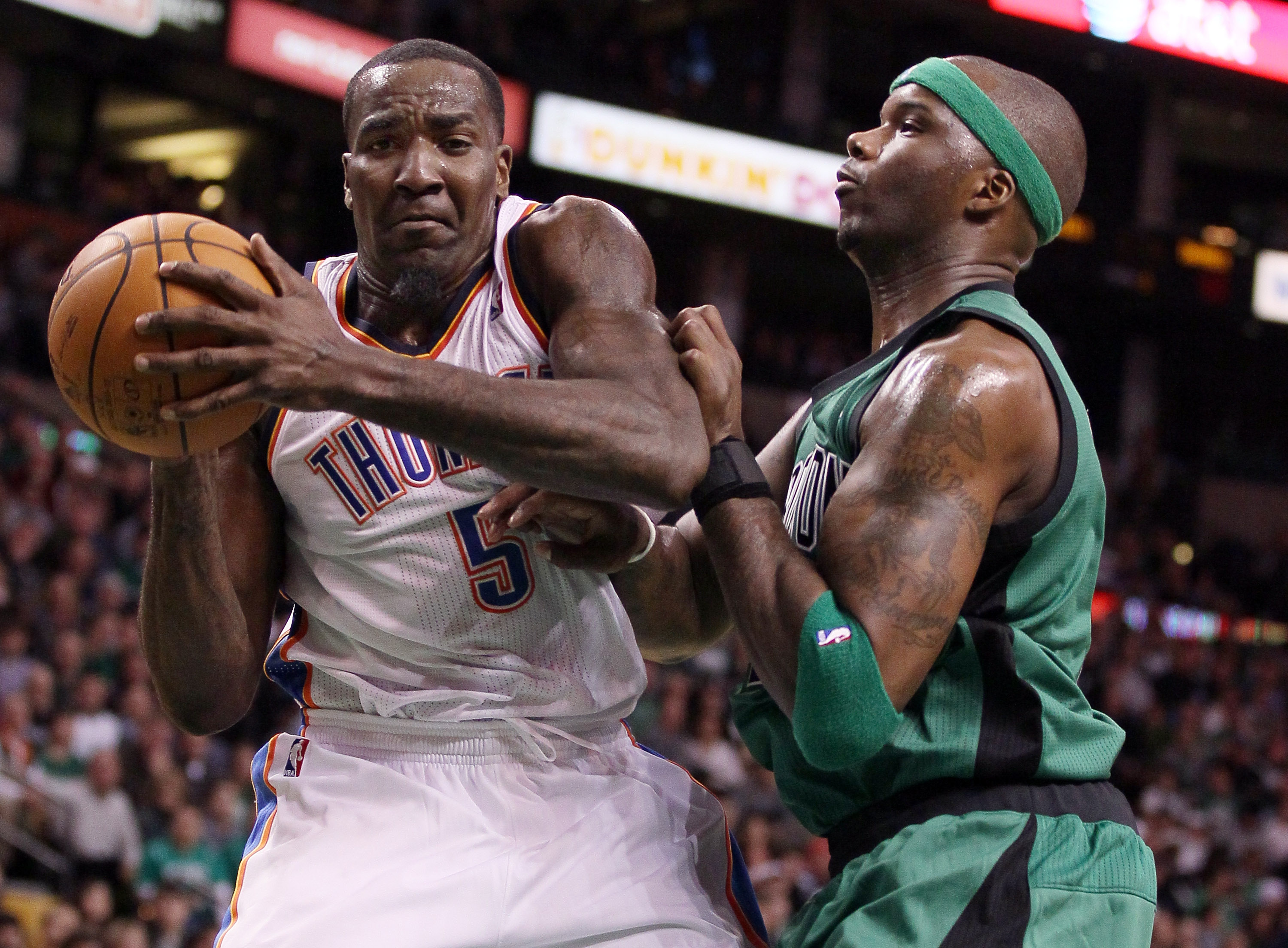 Perkins never put up staggering numbers when he was with the Celtics. He didn't have to. Playing with Pierce, Garnett, and Allen, his job wasn't to score. At 6-foot-10, 270 pounds, Perkins' job was to be a physical presence in the middle. He gave the Celtics toughness in the paint.
Midway through the 2010-11 season, the Celtics made a questionable deal, sending Perkins and guard Nate Robinson to the Thunder in exchange for Jeff Green and Nenad Krstic. Perkins left a close-knit team that had been to the NBA Finals two of the last three years.
The Thunder had three young stars in Kevin Durant, Russell Westbrook, and James Harden. They were a talented young team, but there were serious chemistry issues, unlike in Boston.
During an appearance on J.J. Redick's The Old Man & the Three podcast this week, Perkins explained how everything revolved around two of those three players.
"It was all about KD and Russ," Perkins said. "It was about their relationship, their continuity wasn't there. No matter how much they tried to fake it to the public, their brotherhood, it never was a brotherhood. And that's OK, right? You don't have to be somebody's brother to go out there and try to win a championship, but it helps."
Perkins detailed the tough environment in Oklahoma City
Perkins said there was a lot of disconnect with the Thunder players. He tried to take what he knew in Boston and make it work in OKC.
"They never just got on the same page, and it was the most difficult situation I've ever been in," Perkins admitted. "Coming in from a Celtics team that was so close, that when I got to the Oklahoma City Thunder, it was so separated.
"You had Eric Maynor, you had Russell Westbrook and James Harden and Daequan Cook. They had their little clique and they kicked it with each other. And then you just had KD, who was just by himself. He didn't even hang with them."

Kendrick Perkins
Perkins said he tried to force them to hang out, and that didn't work.
"I'm like 'Hold on, we can't win like this,'" he recalled. "'Not where we're trying to go.' And I started noticing that when we went on the road, I'm thinking oh, we're going to have team dinner together. We didn't have it.
"So I was like hold on, I've got to come in the middle of this. It was to the point where their families weren't speaking. And I'm like hold on, we've got to change this environment, and so I started forcing it. I would put those two guys, KD and Russ in a group message … and made them start interacting with each other."
OKC did get to the NBA Finals during the 2011-12 season but fell to the Miami Heat. Eventually, the discord became too much, and those stars all went their separate ways.
Like Sportscasting on Facebook. Follow us on Twitter @sportscasting19 and subscribe to our YouTube channel.