Kenny Pickett and the Most Hyped Prospects at the 2022 NFL Combine
The NFL Combine is like a holiday for football fans, and the 2022 NFL Combine will be no different. It's pure offseason. It's nothing but hype, quotes, rumors, and speculation.
It's judging football players while they do football "things" in shorts and t-shirts. Some of the biggest studs in the league end up showing out at the combine, proving their incredible athleticism and football shape. Others, like Tom Brady, only show up when the lights turn on and the pads are strapped on.
Either way, it's fun.
With that said, here are the five most hyped prospects at the 2022 NFL Combine.
Aidan Hutchinson, Defensive End, Michigan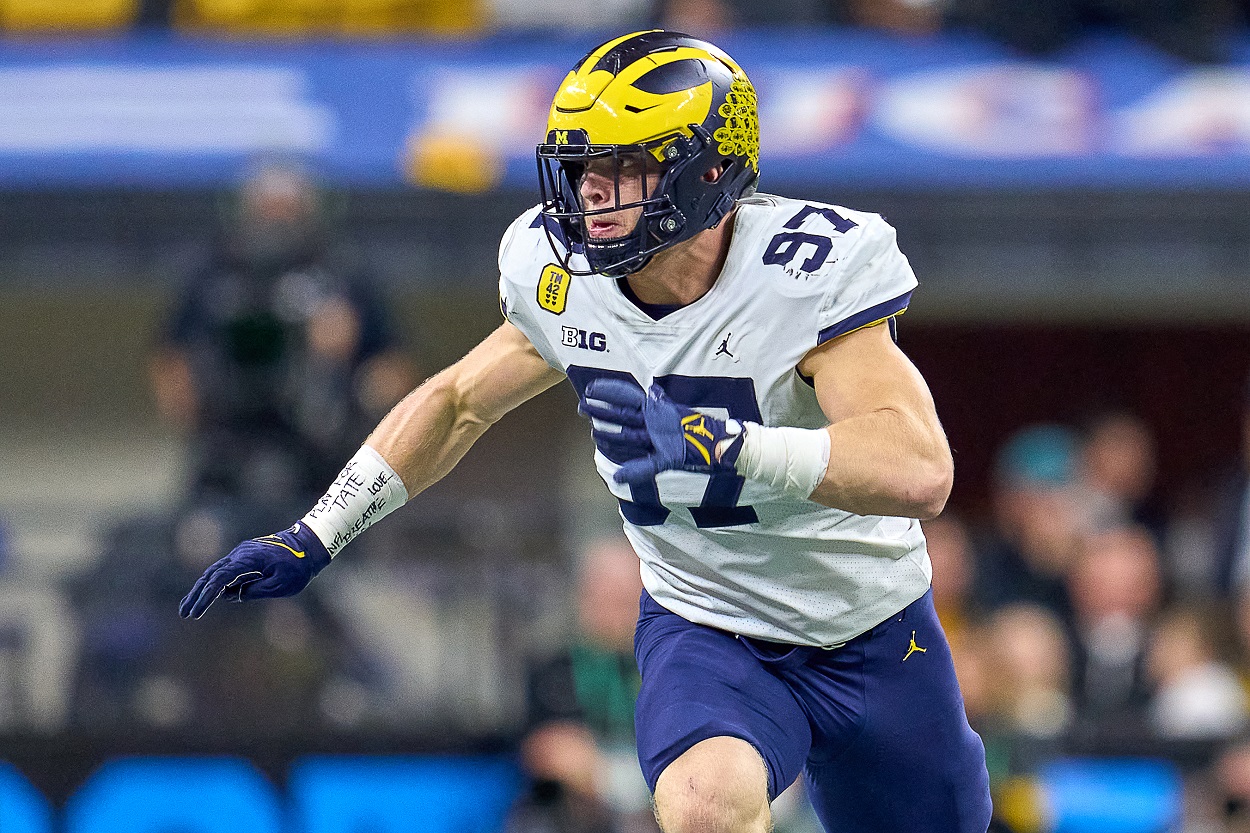 Michigan defensive end Aidan Hutchinson has a T.J. Watt quality to him. He's big, strong, fast, and intimidating. He's able to play tough on the edge and be a wall against the run, but he has the speed and bend in open space to be an elite pass-rusher.
Basically, Hutchinson is the complete defensive end.
He's easily a top-five pick in this draft, and it wouldn't be surprising at all if he stayed in Michigan and went No. 2 overall to Dan Campbell and the Detroit Lions. He just fits that Detroit mold.
Hutchinson checks in at an imposing 6-foot-6, 265 pounds. He notched 36 tackles, 14 sacks, and two forced fumbles last season for the Wolverines and was a Heisman Trophy finalist.
Evan Neal, Offensive Tackle, Alabama
There's a good chance Evan Neal goes No. 1 overall to the Jacksonville Jaguars. First of all, you can't go wrong drafting players from Alabama. Nick Saban runs the most NFL-ready program in the country. He's basically the Bill Belichick of college, both in terms of coaching style and winning.
Alabama players are ready to go from the jump, and Neal's showing at the combine is going to turn a ton of heads. The funny thing is, just showing up is all he had to do.
Neal isn't going to take part in drills, but he showed up at the podium at 6-foot-7, 337-pounds looking like he was chiseled out of granite. With taking care of Trevor Lawrence undoubtedly the No. 1 priority in Jacksonville, don't be surprised when Neal goes No. 1 overall.
Jordan Davis, Defensive Tackle, Georgia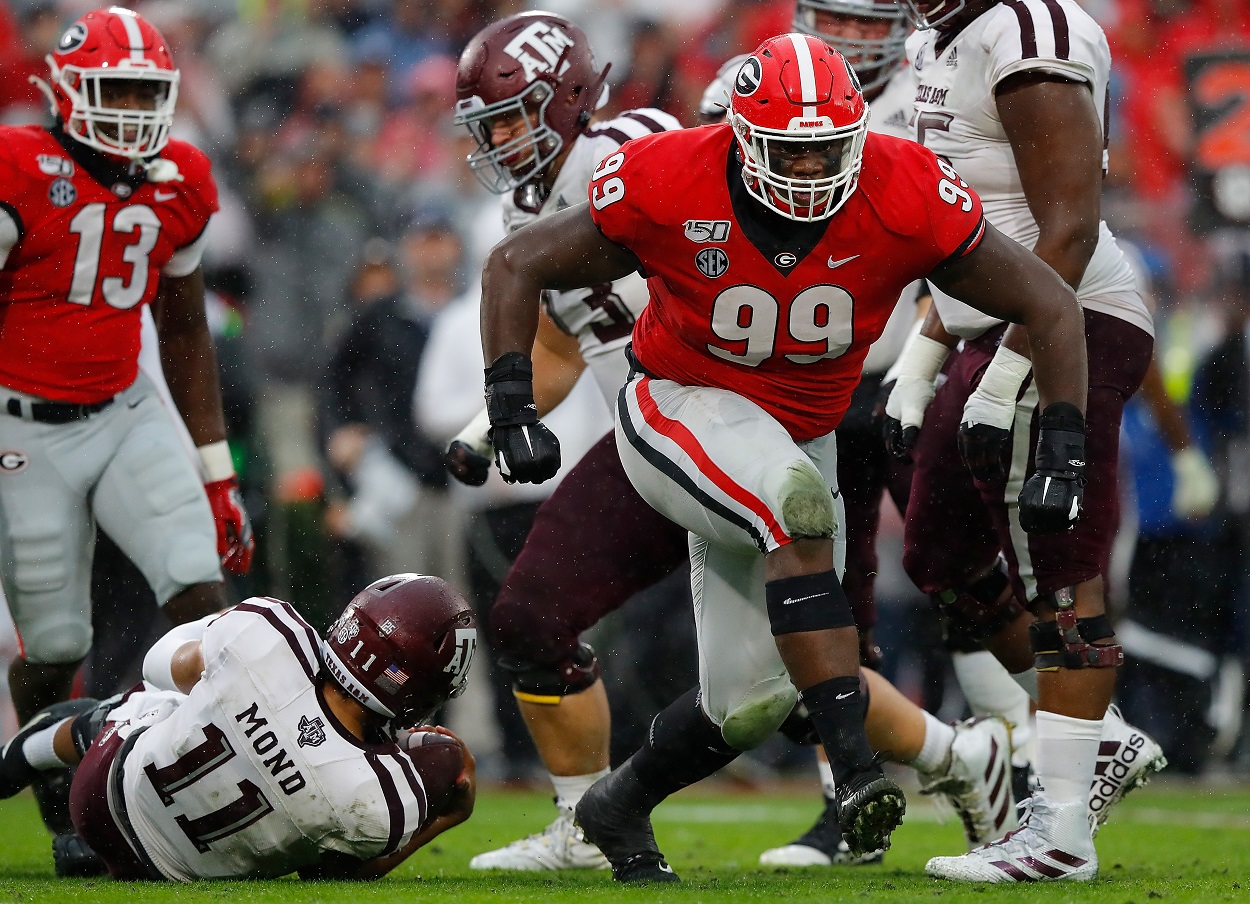 Jordan Davis is the player you put at the front of the line getting off the bus in order to intimidate the other team. He's built like a mountain at 6-foot-6, 340-pounds, but he has surprising mobility and quickness.
He's not just your typical gap-stuffing nose tackle. He appears to be a player who can make a difference from day one and ultimatly be one of the more intimidating defensive tackles in the league. He has a quick first step and the size and strength to throw the ball carrier down once he wraps his big arms around them.
It would be one thing if Davis were just intimidating, but he's much more than that.
He has serious skill.
He was the 2021 Outland Trophy Winner and Chuck Bednarik Award Winner. The Outland Trophy is presented to the best interior lineman in the nation. The Bednarik Award goes to the top defensive player overall.
The last two players to win both awards in one season are Ndamukong Suh and Aaron Donald if that tells you anything about Davis (which it should).
Garrett Wilson, WR, Ohio State
Garrett Wilson totaled 2,215 yards and 23 touchdowns in three seasons at Ohio State, highlighted by the 1,058 yards and 12 touchdowns notched in his junior year.
He has speed, route-running ability, and soft hands. He's just as likely to burn a defender on an out-route to the sideline as he is to burn a defense over the top on a go-route.
There's really nothing Wilson can't do as a receiver, and he's the safest bet to turn into a superstar amongst all the wideouts at the top of the draft.
Kenny Pickett, Quarterback, Pittsburgh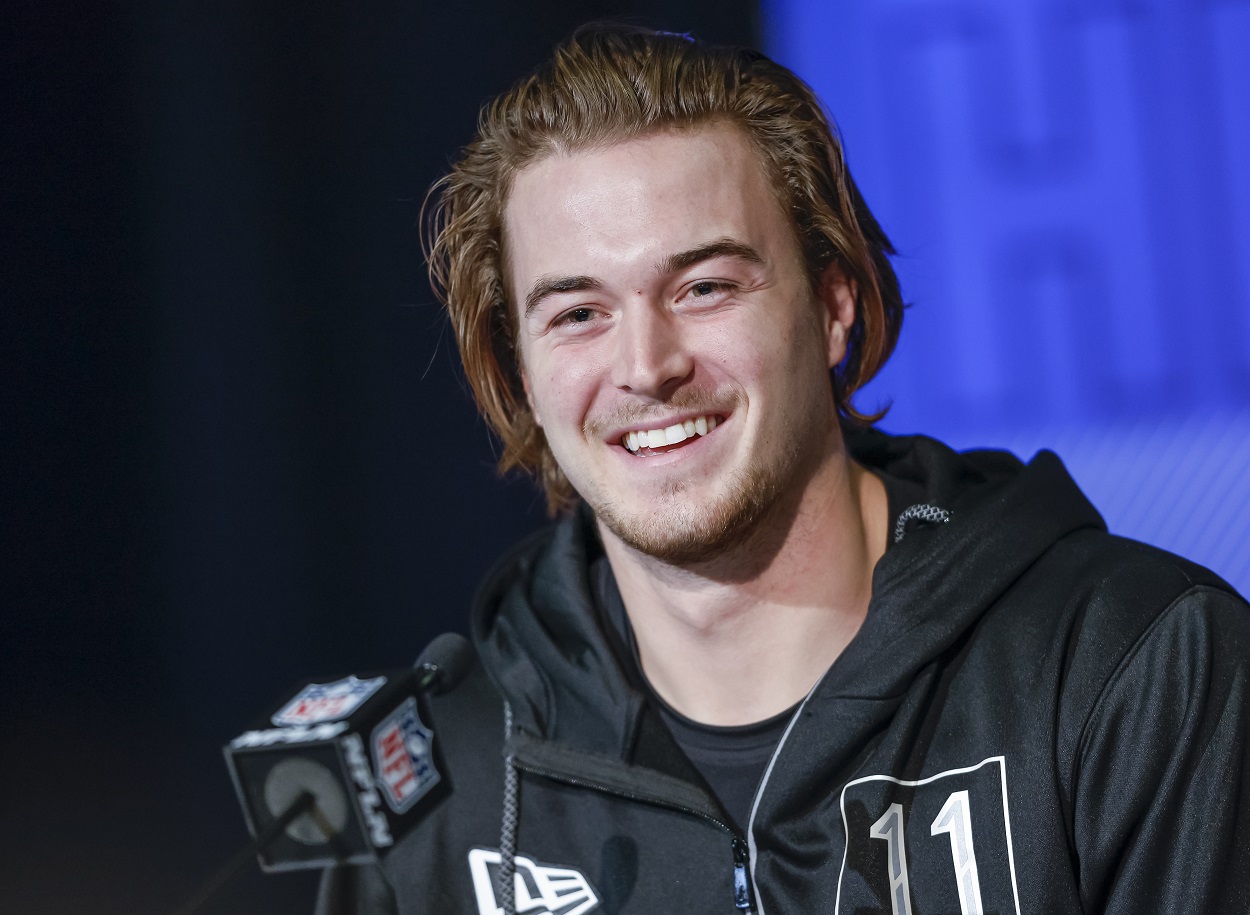 The NFL is a quarterback-driven league, so of course, Kenny Pickett is going to get some hype. By all accounts, the 2022 NFL Draft isn't the strongest when it comes to quarterbacks. There's no Joe Burrows, Andrew Lucks, or Trevor Lawrences, but that doesn't mean there aren't a handful of quarterback-hungry teams desperate to jump on Pickett with their first-round draft pick.
He had a wonderful 2021 season at Pitt, throwing for 4,319 yards, 42 touchdowns, and just seven interceptions. He had an overall QBR of 81.2, which was ninth-best in college football as a whole. He also rushed 97 times for 241 yards and five touchdowns.
There's reason to believe Pickett will be highly successful as an NFL quarterback (despite his small hands). He has everything teams are looking for in 2022.
He has good size at 6-foot-3, 220 pounds, a strong arm that can sling the football downfield and to the sidelines, and most importantly…the ability to throw while moving out of the pocket.
Pickett isn't the physical marvel that Josh Allen is, but he has a similar skill set in that he's equally as dangerous with the long-ball as he is with his legs.
There's also the fact that even if he never pans out, his fake slide will forever be legendary (even if it's now banned).
Stats courtesy of ESPN and Pro Football Reference. Contract information via Spotrac
RELATED: 2022 NFL Combine: 3 Positions the Green Bay Packers Should Watch