Kerry Rhodes Earned $30 Million Before Sexuality Rumors Ended His Career
Kerry Rhodes went under the radar and it turned him into one of the league's top safeties. But it wasn't declining play or a catastrophic injury that ended Rhodes' career at 30 years old.
Rumors about Kerry Rhodes' sexuality may have contributed to his early retirement. Did those rumors have any credibility, and what did Rhodes think? Let's take a look.
Kerry Rhodes was an All-Pro safety with the Jets
Kerry Rhodes went under the radar despite playing in one of football's biggest markets. Had his prime years came in the social media era, that may not have been the case.
A fourth-round pick from Louisville in 2005, Rhodes earned second-team AP All-Pro honors after a four-interception, three-forced fumble campaign in 2006. Rhodes intercepted 15 passes in five years with the Jets and helped them to two playoff berths.
New York traded Rhodes to Arizona after the 2009 season. Although Rhodes' play remained strong, Jets head coach Rex Ryan hated Rhodes' attitude and later called him a "Hollywood type."
The Jets might have regretted that decision. Rhodes shined in three seasons with the Cardinals and played at an exceptional level during the team's down years.
Rhodes' NFL career ended on a strange note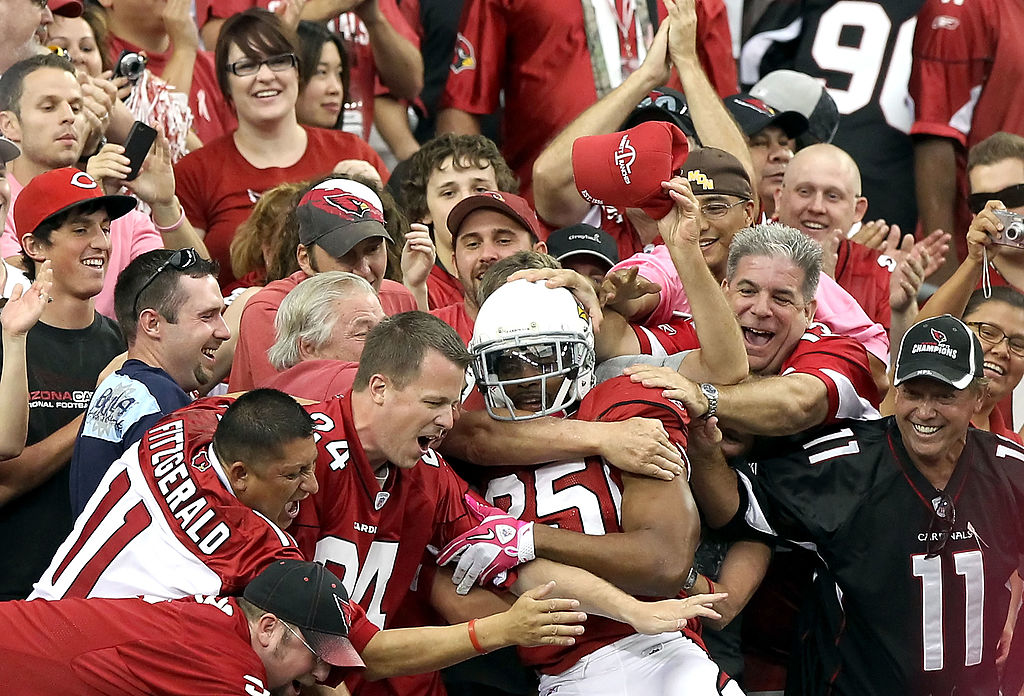 Kerry Rhodes would have played the 2013 season at 31 years old and enjoyed another standout season in 2012. Although Pro Football Focus rated Rhodes the fourth-best safety in the league, Arizona released the veteran safety because he wouldn't take a pay cut.
But from there, no teams bit and offered Rhodes a contract. In the time before Colin Kaepernick and Eric Reid, many found it strange that teams wouldn't even bring in a productive, veteran safety for a workout.
Kerry Rhodes passed the eye test and, with more teams trusting analytical services, he excelled there, too. So why didn't Rhodes play in the NFL again?
An internet picture may have been the cause. Media Takeout posted a now-deleted picture of Rhodes with his arm around another man.
Was Kerry Rhodes blackballed because of his alleged sexuality?
There are several important things to mention here. Rhodes denied on multiple occasions he's interested in men; he married Australian actress Nicky Whelan in April 2017. The two reportedly divorced that October, however.
In a 2014 interview with ESPN, Rhodes said he didn't believe the NFL would ever blacklist a player. Rhodes added he spent 2013 "wanting to do other things and not finding the right opportunity."
Rhodes responded strongly when asked about his sexuality.
"I emphatically said no once and that's all I need to say and people who know me know that's definitely not the case, To me I'm definitely not and I can't control what people think, so I move on."
Kerry Rhodes earned over $30 million in his career, according to Spotrac, and could have made more if not for the rumors.
Rhodes told ESPN he thought teams stayed away from signing him for financial reasons. But Rhodes never even earned so much as a tryout in 2013.
An openly gay player has not played in a regular-season game as of 2020, although the St. Louis Rams and Dallas Cowboys each employed Michael Sam from 2014-15.