Kevin Durant Admits to Being Duped by James Harden Before Blockbuster Trade
Kevin Durant thought he had James Harden and the Brooklyn Nets all figured out. He thought wrong.
The NBA isn't quite like Survivor, but it's safe to say that Kevin Durant felt a bit blindsided by James Harden seeking a trade from the Brooklyn Nets.
Durant played a vital role in recruiting both Harden and Kyrie Irving to the Nets. Even in the midst of a tumultuous season, KD still believed the three superstars had a foundation capable of outlasting the team's current struggles from playoff time.
But as Durant admitted on Saturday night, he thought wrong. Harden all but forced his way out of Brooklyn and steered a move to the Philadelphia 76ers, leaving KD to essentially scratch his head and place his faith in the revitalization of Ben Simmons.
Kevin Durant wanted James Harden to remain with the Nets and ignore the allure of a trade
Durant did everything he could to keep the band together.
Despite currently being sidelined with an MCL sprain, KD felt the trio of himself, Harden, and Irving gave the team the best chance of winning an NBA title, even as the Nets continue to slide in the Eastern Conference standings. Having tied his future to Brooklyn, Durant wanted that same commitment from the other two superstars. His endorsement seemed to indicate that the franchise would do whatever it could to appease The Beard.
That proved quite tricky.
Rumors regarding Harden's frustrations and desire to play elsewhere dominated the days leading up to the Feb. 10 trade deadline. Nets head coach attempted to assuage fears of a Harden trade by stating the team had no intention of moving him at the deadline.
Ultimately, Durant and Nash failed to gauge how determined The Beard felt to find a new home. Indeed, KD suggested on Saturday that he felt tricked.
Durant thought he and Harden had an understanding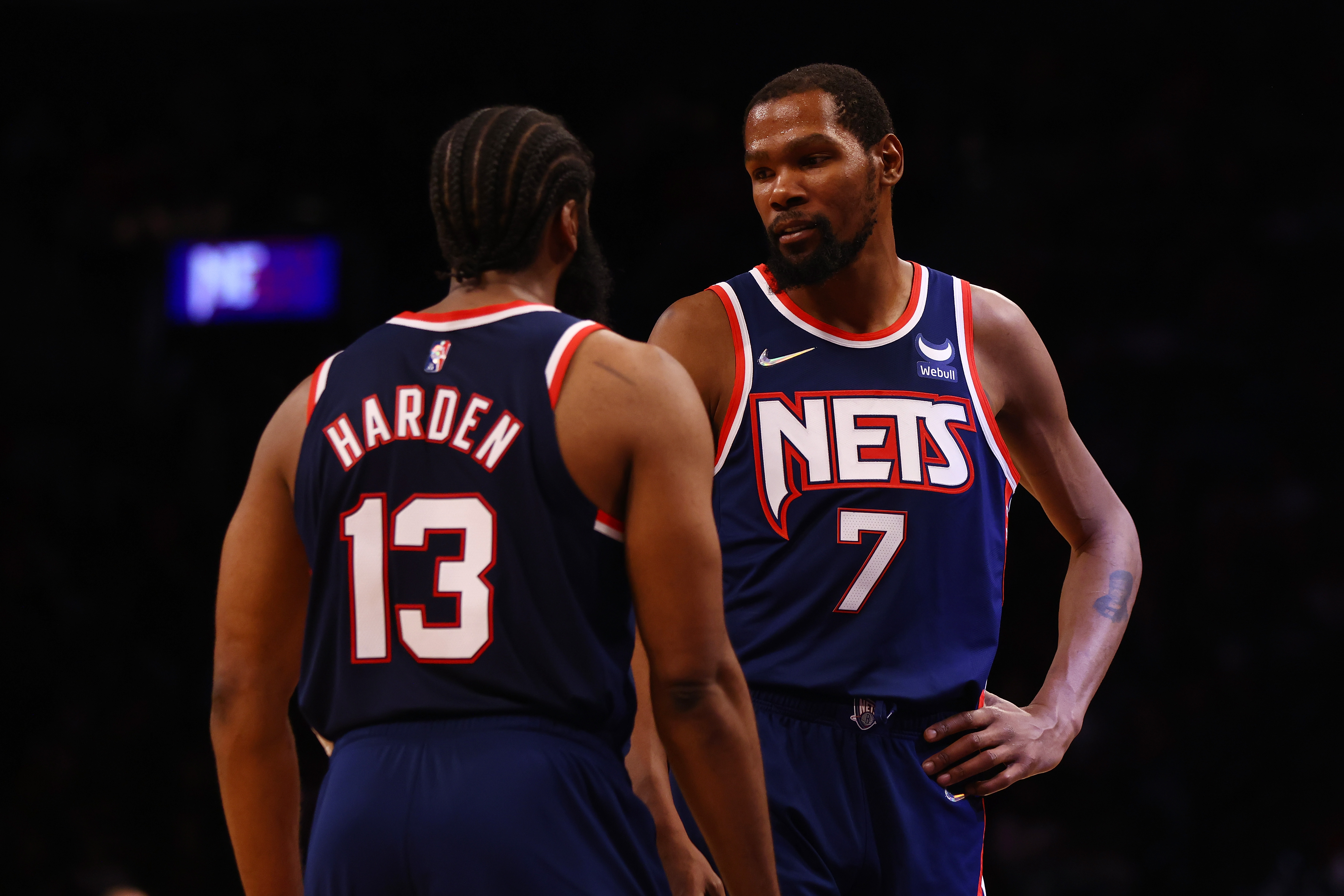 As it turns out, Kevin Durant and James Harden didn't have much communication before the blockbuster trade on deadline day.
Durant said Saturday that he never spoke to Harden directly and didn't know of The Beard's unhappiness until the week of the deadline. He acknowledged (h/t ESPN) not having a better understanding of the Nets' dynamic and admitted to wrongly believing Brooklyn had its ducks in a row.
"[Harden]'s made his decision. I'm sure people make their decision before they get to that mode of being unhappy. I didn't have any conversations with James up until then. I thought everything was solid. I don't do any convincing. I'm sure you make those choices and decisions on your own as an individual. Me as a friend, I just have to accept it."

–Kevin Durant on James Harden, via ESPN
Even if KD truly wishes the best for Harden, his saltiness became evident on Thursday.
As one of the leading vote-getters for the NBA All-Star Game, Durant had the honor of being a captain alongside LeBron James. The two traded selections until only Harden and Utah Jazz center Rudy Gobert remained. In true trolling fashion, KD chose Gobert.
It's all in good fun, apparently. Still, life hasn't been gratifying for KD and the Nets. Durant stated that all sides can finally move forward, but Brooklyn might have to start thinking about next season.
Should the Nets punt on this season?
At the start of the 2021-22 campaign, the Nets seemingly had a championship-or-bust mentality. But Brooklyn's chances of winning the 2022 NBA title are slipping away.
After Saturday's loss to the Miami Heat, the Nets (29-17) have shockingly lost 11 straight games. They now find themselves in the No. 8 spot in the East and are staring the play-in tournament directly in the face.
Having resolved the Harden situation, some might argue that Brooklyn can get back on track. However, it's not that easy.
Kyrie Irving is still a part-time player and refuses to accept his role in not playing in home games. Simmons hasn't played all season, and there's no telling how long it will take him to get acclimated to a new team. Not to mention, the team has no timetable for Durant's return. The same is true for Joe Harris.
On the one hand, Simmons is under contract for the next few seasons. That gives Brooklyn a bit of stability, considering Harden was slated for free agency this summer. Still, after underestimating The Beard's levels of frustrations, it's becoming more apparent that Durant's hopes of winning a championship this season are falling apart.
Stats courtesy of Basketball Reference.