Kevin Durant Admits That He Already Misses the Golden State Warriors 'Definitely Miss My Guys, I Can't Lie'
Kevin Durant had a lot of success with the Golden State Warriors. He helped lead them to three NBA Finals appearances and two championships. Durant ultimately moved on to the Brooklyn Nets, though, as he now looks to win a championship with Kyrie Irving. However, he recently discussed his time with the Warriors, and Durant has admitted that he actually misses them already.
Kevin Durant led the Golden State Warriors to a lot of success
RELATED: Stephen Curry Sends a Strong Message About Draymond Green
The Golden State Warriors were already a great team without Durant. They made two consecutive NBA Finals appearances, won one championship, and won 73 games during the 2015-16 season. However, once Durant got there, they became unstoppable.
Durant helped lead them to three more consecutive NBA Finals appearances, and they won back-to-back championships in 2016-17 and 2017-18.
While Durant was, of course, great in the regular season for the Warriors, he was absolutely dominant for them in the playoffs while he was there. He averaged 28.5 points per game, 7.9 rebounds, and 4.3 assists during his first playoff run with the Warriors in 2016-17. He also shot 55.6% from the field during those games and ended up winning NBA Finals MVP.
In the playoffs in 2017-18, Durant then continued to dominate. He averaged 29 points per game, 7.8 rebounds, and 4.7 assists. He also won NBA Finals MVP again, too, as the Warriors beat the Cleveland Cavaliers in the Finals for a second consecutive season.
However, while Durant did dominate in the 12 playoff games he played in during the 2018-19 postseason, averaging 32.3 points per game, he suffered an Achilles injury during the NBA Finals that year. The Warriors then ultimately lost to the Toronto Raptors in six games in the Finals.
After that season, Durant left and went to the Brooklyn Nets. The Warriors — due to Durant's departure and injuries to Klay Thompson and Stephen Curry — only went 15-50 in 2019-20.
He admitted that he misses the Golden State Warriors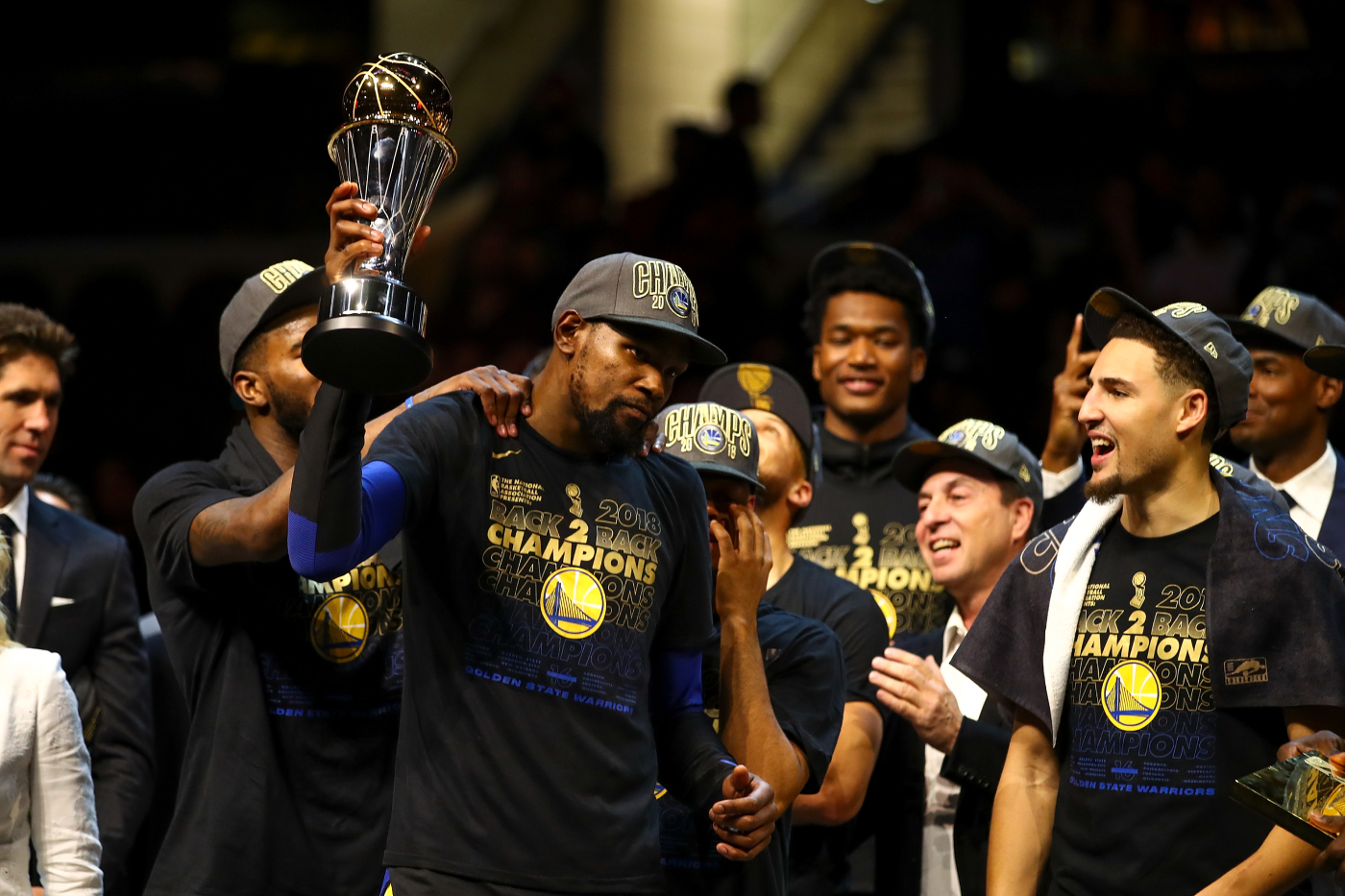 RELATED: The Golden State Warriors' New $14.3 Million Man Is Already Clicking With Stephen Curry
Durant recently appeared on the Dubs Talk podcast prior to playing against the Warriors with the Brooklyn Nets to open the 2020-21 NBA season. He admitted to missing the Warriors, too.
"Definitely miss my guys, I can't lie," Durant said, according to NBC Sports. "I miss being around, I miss just seeing the guys. Three years, and we've been through some battles. I definitely think about the guys and wonder how they're doing and wonder how their families are doing, health — all that stuff — cuz we're brothers."
He continued: "I think about Shaun [Livingston] a lot, I think about Zaza [Pachulia], I think about all of the guys that I played with there. It's gonna be good to see everybody. Texted with [assistant coach Bruce Fraser] the other day, and looking forward to seeing him. They're always going to be family. I'm looking forward to playing against them and actually saying what's up to everybody."
Well, that's interesting to read. There is typically ill will between NBA stars and the teams that they left. There doesn't appear to be any between Durant and the Warriors, though.
Now, he will look to emulate the success he had with the Warriors, but with Kyrie Irving and the Brooklyn Nets.
Kevin Durant can make the Brooklyn Nets one of the top teams in the East
RELATED: Kevin Durant Is Set To Take on an Interesting New Role With the Brooklyn Nets
After not playing at all last season, Durant has a chance to make the Brooklyn Nets one of the NBA's best teams this season. He and Kyrie Irving have formed one of the most talented duos in the league.
Durant averages 27 points per game, 7.1 rebounds, and 4.1 assists for his career and has won two championships. Irving, on the other hand, averages 22.4 points per game and 5.7 assists for his career and won an NBA championship as the second man with LeBron James on the Cleveland Cavaliers.
The Nets have a talented team around those guys, too, though. Spencer Dinwiddie averaged 20.6 points per game and 6.8 assists for the Nets last season, while Caris LeVert averaged 18.7 points per game in 2019-20. Joe Harris also averaged 14.5 points per game for the Nets and shot 42.4% from 3-point range.
The Nets also have Taurean Price, who averaged 12.1 points and six rebounds last season, as well as Jarrett Allen, who recorded 11.1 points and 9.6 rebounds. DeAndre Jordan has also been an imposing presence down low throughout his career, too. He averaged 8.3 points per game and 10 rebounds last season.
Sure, Kevin Durant and Kyrie Irving will get a lot of attention this season. But the team the Nets have around them is also pretty talented. We'll see if Durant can have close to the amount of success in Brooklyn as he did in Golden State.
Stats courtesy of Basketball Reference