Kevin Durant and Kyrie Irving Deserve Significant Blame For Their Nets Teammate Potentially Ditching Brooklyn
Kevin Durant and Kyrie Irving are every bit as responsible for DeAndre Jordan's imminent departure from the Nets as they are for recruiting him to Brooklyn in the first place. Jordan is expected to either reach a buyout or be traded by the Nets. Durant and Irving have to own some of the blame for DJ's decision to head elsewhere.
Kevin Durant and Kyrie Irving took less money so the Nets could sign DeAndre Jordan
Kyrie Irving successfully recruited Kevin Durant to the Brooklyn Nets … with the help of DeAndre Jordan. The two stars then made sure DJ got his just due.
Both Irving and Durant took slight pay cuts while signing with the Nets in the summer of 2019, allowing Brooklyn to sign Jordan to a four-year deal worth close to $40 million. The financial sacrifice indicated that Durant and Irving were adamant about Jordan joining them in the locker room.
The veteran center has put together pretty strong numbers during his two-year stint in Brooklyn. He averaged 8.3 points and 10.0 rebounds as the sixth man during the 2019-20 campaign, and his ability to step into the starting lineup and play big minutes likely helped convince the Nets to include young center Jarrett Allen in the James Harden trade.
Indeed, Jordan once again had a solid season as a interior presence and rim-runner this past season. He boasted a +16 net rating, though his on-off splits show a bit of a different story. So, too, do his postseason totals. Jordan did not log a single minute in the playoffs. How did this happen? Brooklyn's stars seemed to have left their old friend behind in favor of new personnel.
The Nets have only continued to add frontcourt pieces as Durant and Irving continue to voice input about players with whom they'd most like to play. Jordan no longer has a place on the roster.
Jordan and the Nets are expected to reach a buyout as Brooklyn keeps adding frontcourt players
Jordan still has two more seasons left on his Nets contract, but he's unlikely to be with the team much longer.
Shams Charania and Alex Schiffer of The Athletic reported the former Lob City staple is working toward a buyout with the Nets. Doing so would allow Jordan to sign wherever he pleases.
Brooklyn has reportedly been desperate to get rid of the 33-year-old's contract. Michael Scotto of HoopsHype reported the Nets were even offering pick swaps to opposing teams in an effort to trade Jordan's salary.
The Nets are trying to flood the frontcourt with more inexpensive options. Durant and Irving were among those to push for Blake Griffin. Brooklyn now appears to have an agreement with veteran forward Paul Millsap and may try to bring back LaMarcus Aldridge after he was medically cleared to play again.
On top of all that, general manager Sean Marks is trying to sign the Big Three to massive extensions, which is partially why Durant and Irving deserve some blame for Jordan's impending departure.
The Nets have ample cap considerations this offseason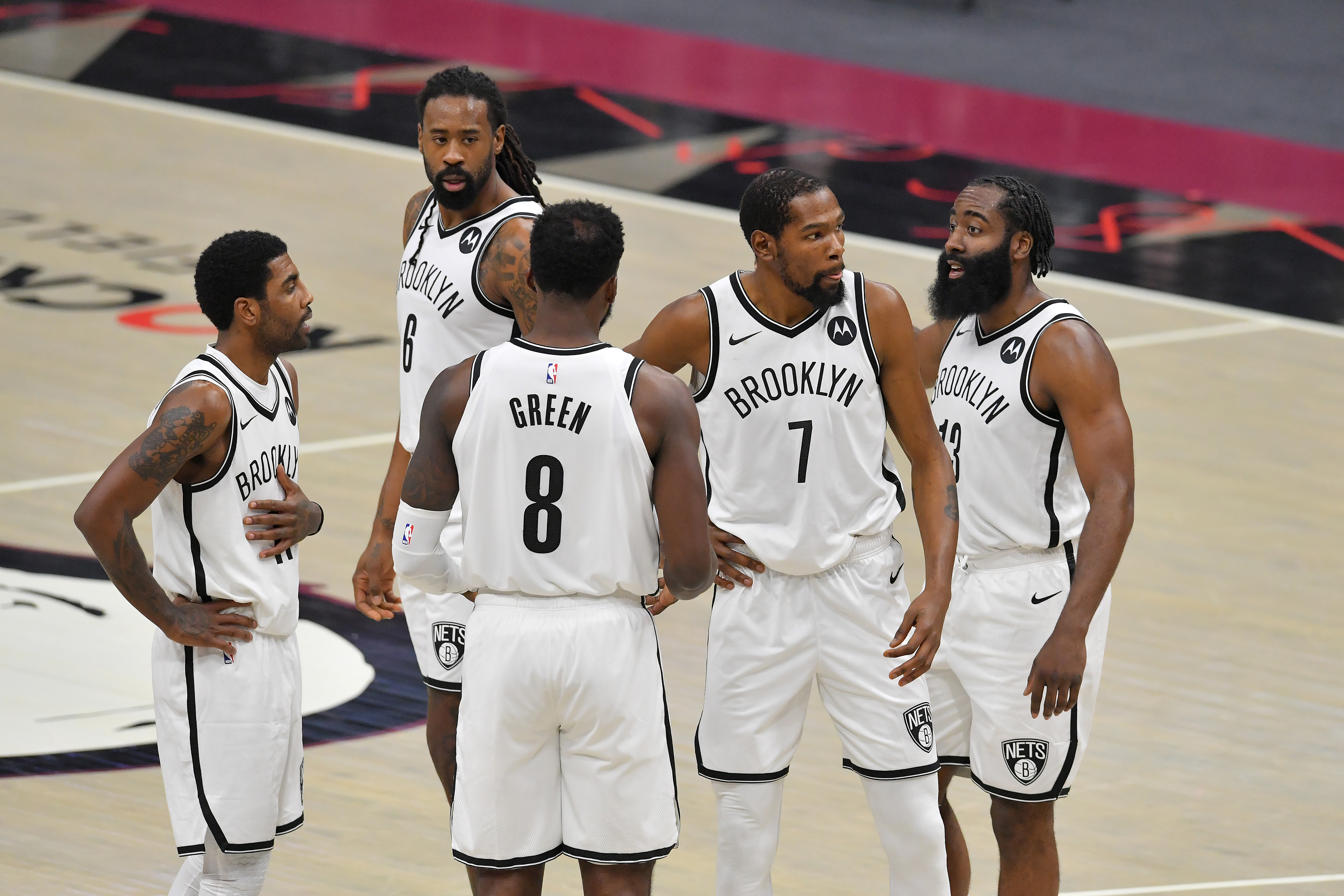 Brooklyn already signed Kevin Durant to a lucrative contract extension, and Marks hopes to do the same with Kyrie Irving and James Harden. But with all three potentially on max deals, there's not much room for other big money.
Thus, DeAndre Jordan might as well be a salary-cap casualty.
But why is this on Durant and Irving? Shouldn't they be afforded the chance to cash out? Yes, most definitely. However, it's important to remember the two stars were keen on the Nets trading for Harden. Thus, that's a third max contract Brooklyn had to take into account, squeezing the front office further.
Durant and Irving have never been shy about wanting to play with other talented players. The Nets are trying to address their frontcourt holes and preserve their foundation. It makes sense as Brooklyn hopes to win a title.
Still, all those factors play a role in Jordan's looming departure. Although KD and Kyrie deserve credit for helping bring their friend into the fold back in 2019, they must also take a decent share of the blame for all but running him out of town.
Stats courtesy of Basketball Reference.