Kevin Durant and the Brooklyn Nets Get a Dose of Brutal Truth From Former Teammate: 'I Could Have Had a Hand in Helping Get to the Finals'
The series was one of the best in the 2021 NBA Playoffs. The Milwaukee Bucks and Brooklyn Nets swung haymakers at each other into overtime of Game 7 before the Bucks finally put away Brooklyn in the Eastern Conference semifinals. Kevin Durant nearly pushed the banged-up Nets through to the conference finals, but a toe on the line turned a potential series-clinching 3-pointer into a game-tying 2. But former Brooklyn center Jarrett Allen admitted he's engaged in some "what if" thinking this offseason.
Milwaukee went on to win the title behind the punishing brilliance of Giannis Antetokounmpo. The two-time MVP was too much for the Nets' band of undersized big men (Blake Griffin, Jeff Green, Nicolas Claxton, and Durant all had their turns playing speed bump to the Greek Freak). In the series, Antetokounmpo shot 57.4% overall while averaging 31.9 points and 12.9 rebounds a game. Could Allen have made a difference?
The Brooklyn Nets gave up Jarrett Allen as part of the James Harden trade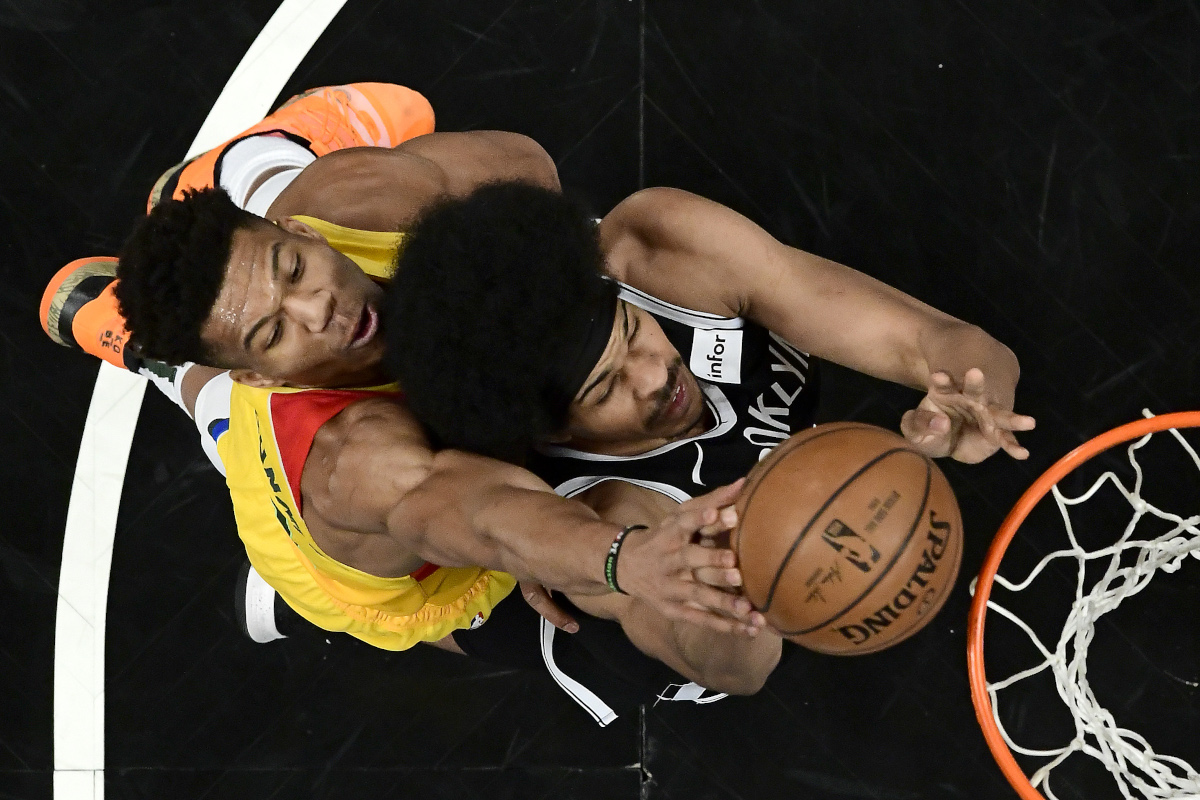 Jarrett Allen came to the Brooklyn Nets as a late first-round pick in 2017 and counts as one of general manager Sean Marks' early trade wins. At the trade deadline in 2017, the Washington Wizards wanted shooting. The Nets had cap space. Marks took the odious contracts of Andrew Nicholson and Marcus Thornton off Washington's hands, asking for the Wizards' first-round pick as the sweetener. In return, Brooklyn sent Bojan Bogdanovic to D.C.
With the 22nd pick acquired from the Wiz, Brooklyn took Allen from Texas. The raw but talented Allen wound up starting by the end of his rookie year and staved off a challenge from free agent DeAndre Jordan to keep the job in 2019.
But in January 2021, Allen was part of the four-team swap meet that brought James Harden to Brooklyn. Allen and Taurean Price headed to the Cleveland Cavaliers, Rodions Kurucs and seven first-round picks went to the Houston Rockets, and Caris LeVert was off to the Indiana Pacers.
Allen thrived in Cleveland, averaging 13.2 points and 9.9 rebounds in 30.3 minutes per game, and was rewarded with a five-year, $100 million deal to remain with the Cavs as a restricted free agent. But how much of a difference could Allen have made against the Bucks?
Before Allen's trade, Antetokounmpo got whatever he wanted against Brooklyn
While Jarrett Allen was with the Brooklyn Nets, they were 1–6 in games where he played against Antetokounmpo. That doesn't mean Allen was the primary defender for the matchups. It just means that Antetokounmpo dominated Brooklyn. Exactly how dominant? He averaged 27.7 points, 11.3 rebounds, 6.1 assists, 1.6 blocks, and 1.4 steals while shooting 55.6% overall and 42.9% from 3-point range.
Allen, who was never more than a rebounder and a pick-and-roll man with Brooklyn, started six of those seven meetings, averaging 8.7 points, 8.1 boards, and 2.6 blocks. He converted 57.4% of his shot attempts.
Those games were between January 2018 and January 2020. The first time Milwaukee faced Brooklyn last season was five days after the Harden trade. Last season, the Bucks took two of their three meetings from the Nets, with the home team winning each game. The only road win in their playoff meeting was Milwaukee winning Game 7 at Brooklyn.
Allen said on SiriusXM NBA Radio he thinks he could have made a difference for the Nets.
"I feel like I could have helped them. I'm not saying I would have been the No. 1 piece, but I feel like I could have had a hand in helping them get to the Finals. It crossed my mind a couple of times; I'm not gonna lie to you."

Jarrett Allen
Ultimately, it's one of those questions that don't have an answer.
Jarrett Allen became a fan favorite with the Brooklyn Nets
As the Brooklyn Nets transitioned from lottery team to playoff club, Jarrett Allen played a role. He was a fearless shot-blocker. Early in the 2018–19 season, Allen gained national notoriety for a pair of rejected dunks against Griffin, then with the Detroit Pistons. During Brooklyn's seven-game winning streak in December 2018, The Fro denied a dunk attempt from LeBron James in a win over the Los Angeles Lakers.
While Allen might not have been a game-changer against Milwaukee, neither was Harden. Slowed by a hamstring injury, The Beard sat out three games in the series and was not a significant factor otherwise. In 34.8 minutes per game over the remaining four contests, Harden averaged just 10.8 points per game and shot 30.6% overall, and was a putrid 19.2% from deep.
If nothing else, Jarrett Allen might have spared Durant some of the dirty defensive work while also carrying the entire offense on his shoulders.
Statistics courtesy of Basketball Reference and Stathead.