Kevin Durant Channels Kobe Bryant After Team USA Men's Basketball Defeats Spain at 2020 Tokyo Olympics
Kevin Durant keyed Team USA men's basketball's quarterfinal victory over Spain at the 2020 Tokyo Olympics, and his postgame message sounded eerily similar to something the late Kobe Bryant might say.
Team USA has endured a bit of a bumpy road to this point in the tournament, but Durant and Co. still find themselves in the semifinals. However, Durant suggested it won't matter if he and his teammates fail to come home with the gold medal.
Kevin Durant led Team USA to a win over Spain
Team USA was in danger of a shocking exit in the 2020 Tokyo Olympics against a Spanish team that has often been a nemesis in Olympic competitions.
Spanish point guard and NBA veteran Ricky Rubio absolutely went off, scoring 38 points and trying to drag his country to a mammoth upset. However, Durant would not let Team USA go home early.
The Brooklyn Nets star was practically unstoppable. Durant poured in a team-high 29 points, shooting 10-for-17 from the floor (including 4-for-7 from beyond the arc) and playing 31 minutes.
Team USA trailed by double digits in the second quarter, but Durant helped anchor a whopping 36-10 run to establish firm control of the contest. Jayson Tatum, Jrue Holiday, Damian Lillard, and Zach LaVine joined Durant in double figures as the Americans rolled to the semifinals.
It was an impressive win for Team USA, but the work is far from finished.
Durant channels Kobe Bryant's mentality after quarterfinal victory
Durant wasn't exactly celebrating his brilliant performance after leading Team USA to a big win. Instead, he embraced the Mamba Mentality of staying focused on the ultimate goal.
The 32-year-old stated Team USA expects nothing less than to be in this position and have an opportunity to win the gold medal.
"We've got to finish it," Durant said, via Ben Golliver of the Washington Post. "We're supposed to be here. For us, it's about getting the gold."
Durant's statement sounds something like Bryant's "job's not finished" press conference after his Los Angeles Lakers took a 2-0 lead over the Orlando Magic in the 2009 NBA Finals.
Much as Bryant wasn't getting ahead of himself, Durant only appears willing to celebrate once he has the gold medal draped around his neck.
Actually, Durant might also have some intrinsic motivation. He has never won less than gold at the Olympics. He doesn't seem ready to start now.
Team USA gets a rematch with Australia in the semifinals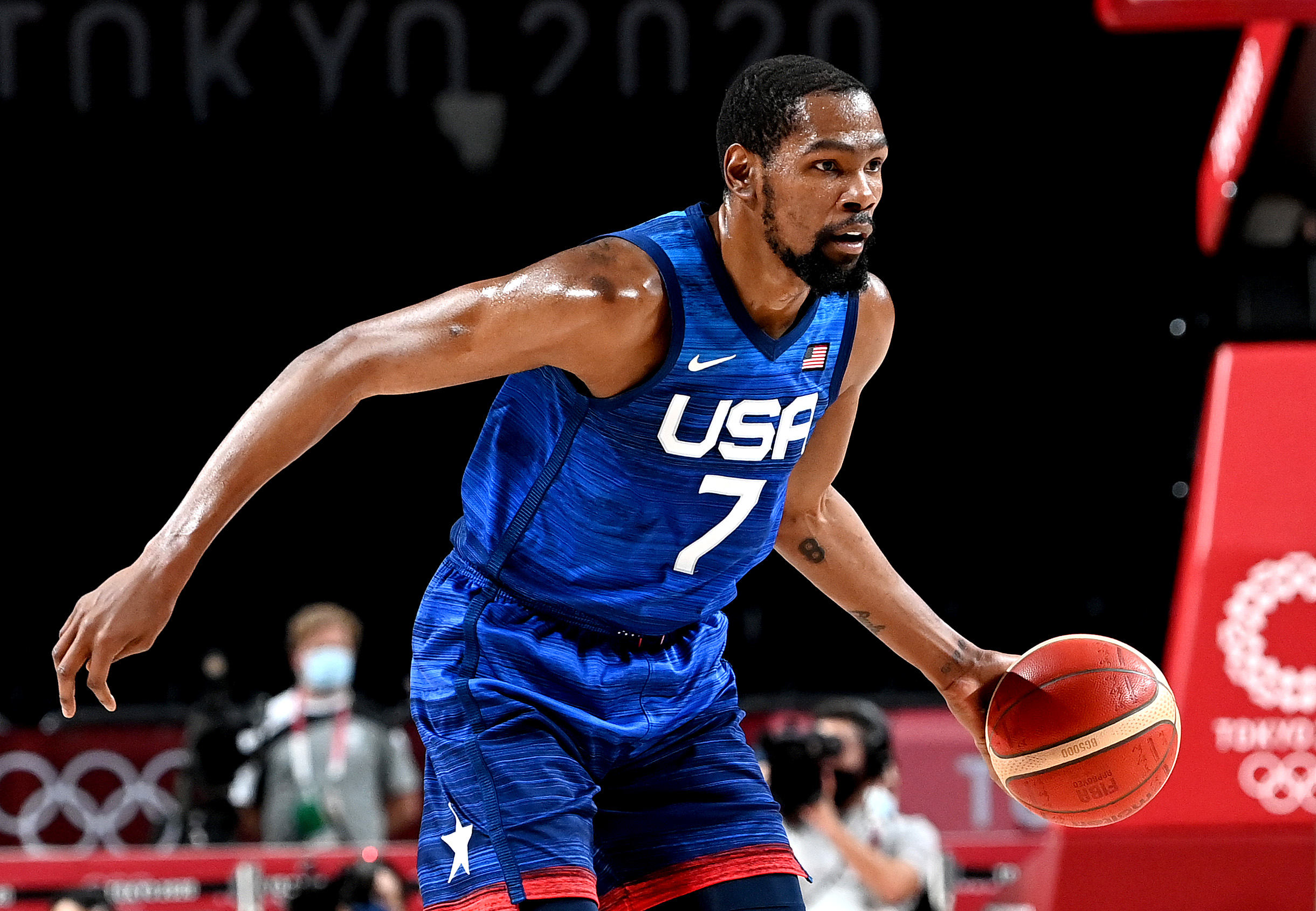 Team USA will be in for a challenge in the semifinals. Gregg Popovich's squad also has the chance to avenge an embarrassing exhibition loss to Australia.
The last time these two nations faced off, Australia closed the contest on an 11-1 run and held Team USA without a field goal for over four minutes at the end of the game. It was an ugly showing for the Americans, though Durant and Co. have built some momentum ahead of the rematch.
This is a contest someone like Kobe Bryant would relish. Bryant would undoubtedly be hungry to bury a previous loss with a convincing victory and dominant performance. Can Durant and his teammates do the same as Team USA hopes to reach a fourth consecutive Olympic final?
RELATED: Kevin Durant Makes USA Basketball History, but a Brutal Test Awaits Team USA in the Olympic Quarterfinals