1 Kevin Durant Comment That Angered the Warriors Draymond Green
Despite qualifying for the NBA Finals in 2019, the last calendar year has been a rough one for the Golden State Warriors. They lost the championship to the Toronto Raptors, saw two of their stars (Kevin Durant and Klay Thompson) go down with injuries in the Finals, and saw Durant depart for Brooklyn in the offseason. Lots of rumors surrounded Durant's departure for the entire season, leading to some acrimony between Durant and former teammate Draymond Green. They had a blow-up last season and worked it out, but it appears as though the two may still be at odds. But why exactly do they still have a problem?

How Kevin Durant came to the Warriors
Durant came to the Warriors before the 2016-17 season as a free agent. His move drew a great deal of scorn from many basketball fans, as they viewed Durant as a front runner. The Warriors were coming off two straight NBA Finals appearances when they got Durant. His addition almost seemed unfair.

The results for Golden State and KD were great. The team won consecutive championships in Durant's first two years, then fell just short against the Raptors last year. Here were some of Durant's accomplishments during his time as a Warrior:
25.8 points per game
7.1 rebounds per game
5.4 assists per game
38% 3-point shooting
Two NBA Finals Most Valuable Player Awards
If it weren't for an injury that kept him out of most of the playoffs in 2019, Durant and the Warriors might have added a third title during his tenure there.

Kevin Durant's comment about his time with Golden State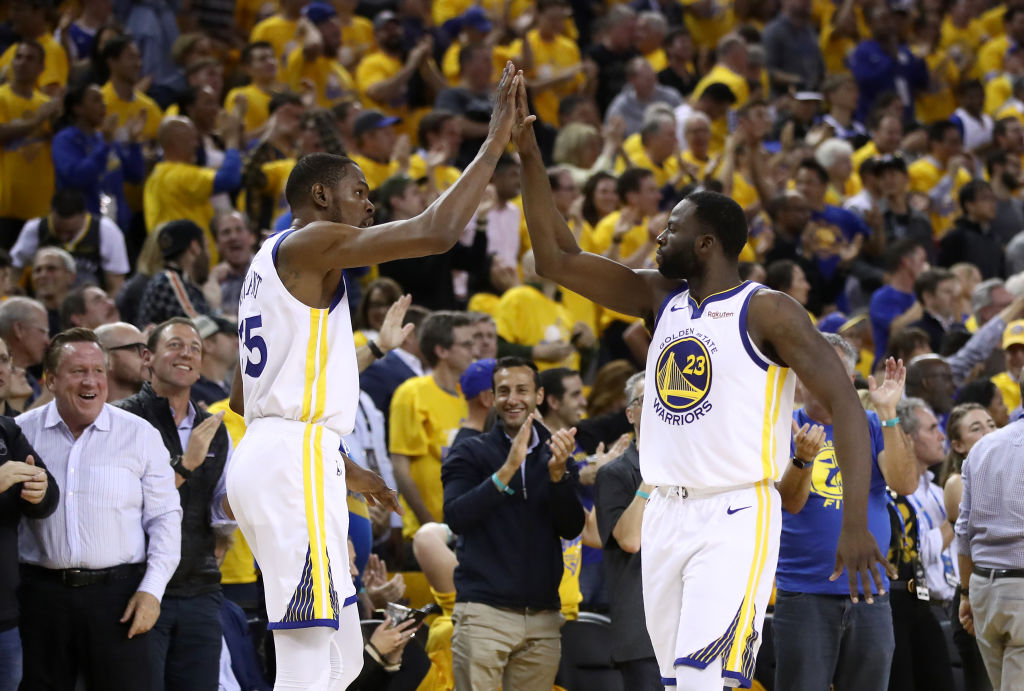 When Durant came to Golden State, he was excited to join a powerhouse. But reflecting upon his time there, Durant said he never truly felt like he was part of the core unit.

"But I'll never be one of those guys," Durant said. "I didn't get drafted there … Steph Curry, obviously drafted there. Andre Iguodala, won the first Finals, first championship. Klay Thompson, drafted there. Draymond Green, drafted there. And the rest of the guys kind of rehabilitated their careers there. So me? S–t, how you going to rehabilitate me? How can you alter anything in my basketball life? I got an MVP already. I got scoring titles."

Durant may not earn points for his humility with his statement, but he's not wrong. Durant was one of the NBA's top players before he got to Golden State, and he'll likely be one after he's left. It's a bit odd that Durant took issue with that, however, as it was his decision to go to Golden State in the first place. But one Warriors player, in particular, didn't care for the comments.

Draymond Green's reaction to Kevin Durant's comments
Green and Durant were known to argue rather demonstratively from time-to-time during Durant's Golden State years. So when Durant made his comments after leaving, it's no surprise that Green took issue with them.

"The thing that bothered me most was not that Kevin was mad or not that people were saying I was wrong or not that we lost that particular game and definitely not that Kevin decided to leave," Green told ESPN's Adrian Wojnarowski. "The thing that bothered me the most was that when, you know, when Kevin goes on his things he's doing in the media or stuff, and he says, oh, I wasn't a part of that. Or, like, I was different than those guys. A part of it is like, no, he [was] one of us, and it pisses me off."

Whether Durant felt like part of the team or not hardly matters now. He's onto Brooklyn, and the Warriors' roster is in tatters with injuries to Thompson, Steph Curry, and D'Angelo Russell.
Perhaps Draymond Green and Kevin Durant will have words about it when the two eventually meet on the court, but for right now, they'll just have to have a difference of opinion on the matter. Green may want to reflect on the role he played in pushing Durant out based on the arguments the two reportedly had.