Kevin Durant's Recent Comments About a Rookie of the Year Candidate Should Come as a Stern Warning to the NBA: 'How Old Is He, 19, 20? Sheesh … He's Only Going to Get Better'
Kevin Durant knows a thing or two about offense. The Brooklyn Nets superstar is one of the best scoring forwards of all time; his size, length, and shooting ability are just about unparalleled in NBA history. It would stand to reason, then, that KD recognizes an outstanding defender when he sees one as well, and from the praise he heaped on Toronto Raptors rookie Scottie Barnes, the leading candidate for Rookie of the Year has a bright future ahead of him.
Durant dropped 31 points on Toronto in a 116-103 win on Nov. 7. Just another day at the office for the former MVP.
Barnes scored a total of eight points that night.
Still, KD saw enough to fawn over the rookie, and his postgame comments should send shivers down the spine of offenses across the league.
Scottie Barnes has been a pleasant surprise for the Toronto Raptors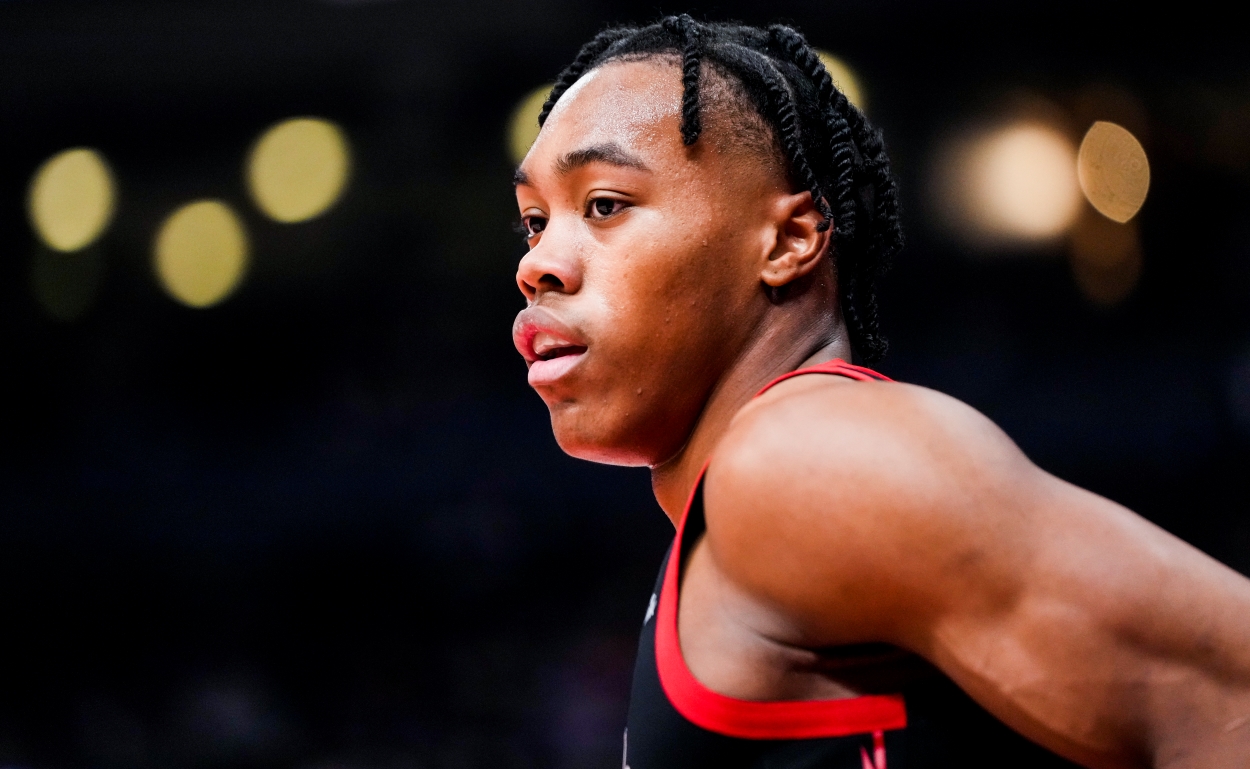 Barnes was the fourth overall pick in the 2021 draft after a one-and-done season at Florida State. In college, and even dating back to high school, he was never known as a scorer. He always fit more into the Draymond Green role as a defender and playmaker.
At 6-foot-7 and 225 pounds, the 20-year-old entered the league with an NBA-ready body and an NBA-ready skillset — but specific to certain areas.
The Florida native was expected to be a good defender from day one. He was long, strong, had the right mentality, and was intelligent enough to become immediately successful on that end of the floor.
Barnes was also highly thought of as a facilitator. He was unselfish to a fault. That was his biggest knock entering the NBA, in fact — he seemingly lacked any aggression or significant, go-to skill as a scorer.
However, it would appear scouts underestimated his offensive game because the versatile wing is playing almost as well on that end of the floor as he is defensively.
Kevin Durant had effusive praise for Barnes despite his poor statistical night
The Montverde Academy graduate finished with eight points, seven rebounds, and four assists in the 13-point loss to the Nets. He played more than 30 minutes and only attempted seven shots. He didn't get to the free-throw line once.
That specific game was not an excellent example of how good of a scorer Barnes has been.
But he also had five steals and turned the ball over only once.
As the rookie continues to learn how and when to score in the NBA, he's already shown he can be relied on to do exactly what he did against Brooklyn — play hard, play smart, and play defense.
Those things all caught Durant's eye when he shouted out the budding star during his postgame press conference via NBA.com:
"You've got a lot of guys who love to compete and love to win, but what's more rare about Scottie Barnes is his IQ for the game, his length, his enthusiasm for the game.

"All of that stuff shines bright when you watch him play. You can tell he just wants to be there for his teammates, he makes winning basketball plays.

"I think a lot of young guys in the league have that competitive fire, but he has something a little extra as far as seeing the game a little slower and that's rare for a guy, how old is he 19, 20? Sheesh.

"He knows how to play the right way and he's only going to get better."

Kevin Durant on Toronto Raptors rookie Scottie Barnes
The Florida State product is helping Toronto surprise the NBA
The Raptors lost franchise leader Kyle Lowry to the Miami Heat in free agency. Pascal Siakam hadn't played this season until the Brooklyn game. It's been a collective effort for Toronto so far, but Barnes has stolen the show.
He leads all rookies in minutes, and rebounds, is second in field-goal percentage, third in steals, and tied for third in blocks.
The most surprising Barnes stat to this point, though, is that he also all rookies in scoring at 16.6 points per game. He's scoring at least three points more per night than Cade Cunningham, Jalen Suggs, and Jalen Green — thought to be the three best offensive players in the draft.
The Raptors aren't world-beaters. They're 6-5 and currently eighth in the East. Still, Toronto has been a pleasant surprise to start the year, and their pleasantly-surprising rookie is leading the way.
All statistics courtesy of NBA.com.