Kevin Durant Could 'Eventually' Give the Nets the OK to Ship Kyrie Irving out of Brooklyn, According to ESPN's Stephen A. Smith: 'There's Some Stuff Percolating in Brooklyn'
The NBA season hasn't even started yet, but the number of big storylines circulating around the league could fill an entire newspaper, let alone a sports section. Among the biggest topics of discussion has been Kyrie Irving's situation with the Brooklyn Nets, as his reported refusal to get the COVID-19 vaccine could result in him missing at least half his team's games.
So, although the Nets have championship aspirations with him, Kevin Durant, and James Harden, those title hopes might be out the window before the year even begins, and that alone could lead to Irving's demise in Brooklyn. In fact, ESPN's Stephen A. Smith recently made an interesting claim about the seven-time All-Star and his future with the franchise.
Stephen A. Smith blasted Nets star Kyrie Irving
Kyrie Irving — who is reportedly unvaccinated — just recently received approval to practice at the Nets' HSS Training Center after the city deemed it a "private office building" instead of an indoor gym, per ESPN. But that still didn't get rid of the team's biggest issue heading into the season: Irving can't play at any home games due to the New York City vaccine mandate.
Sure, the Nets have Kevin Durant and James Harden, but not having Irving, an integral part of their Big Three, for half of the season could take a toll on a team that has championship aspirations.
ESPN's Stephen A. Smith seems fed up, too.
"He can decimate their franchise," Smith said on the Oct. 8 episode of First Take before discussing how James Harden could potentially opt out of his contract and test free agency following the 2021-22 season. "… Kevin Durant isn't the only one that deserves better; James Harden deserves better. James Harden deserves better than the nonsense Kyrie Irving is putting this franchise through. … So, when Kyrie Irving sits back, clearly thinking about himself and his quote-unquote 'principled positions,' he's compromising the franchise because Kevin Durant is a baller; James Harden is a baller. They don't want all of this other stuff; they want to hoop."
Smith's over-the-top delivery on ESPN might not be for everyone, but he made some excellent points. Why would Harden want to continue playing in Brooklyn if he can't win a championship there?
This eventually led to the commentator's next eyebrow-raising comment.
Kevin Durant could give the Nets the OK to ship Kyrie Irving out of Brooklyn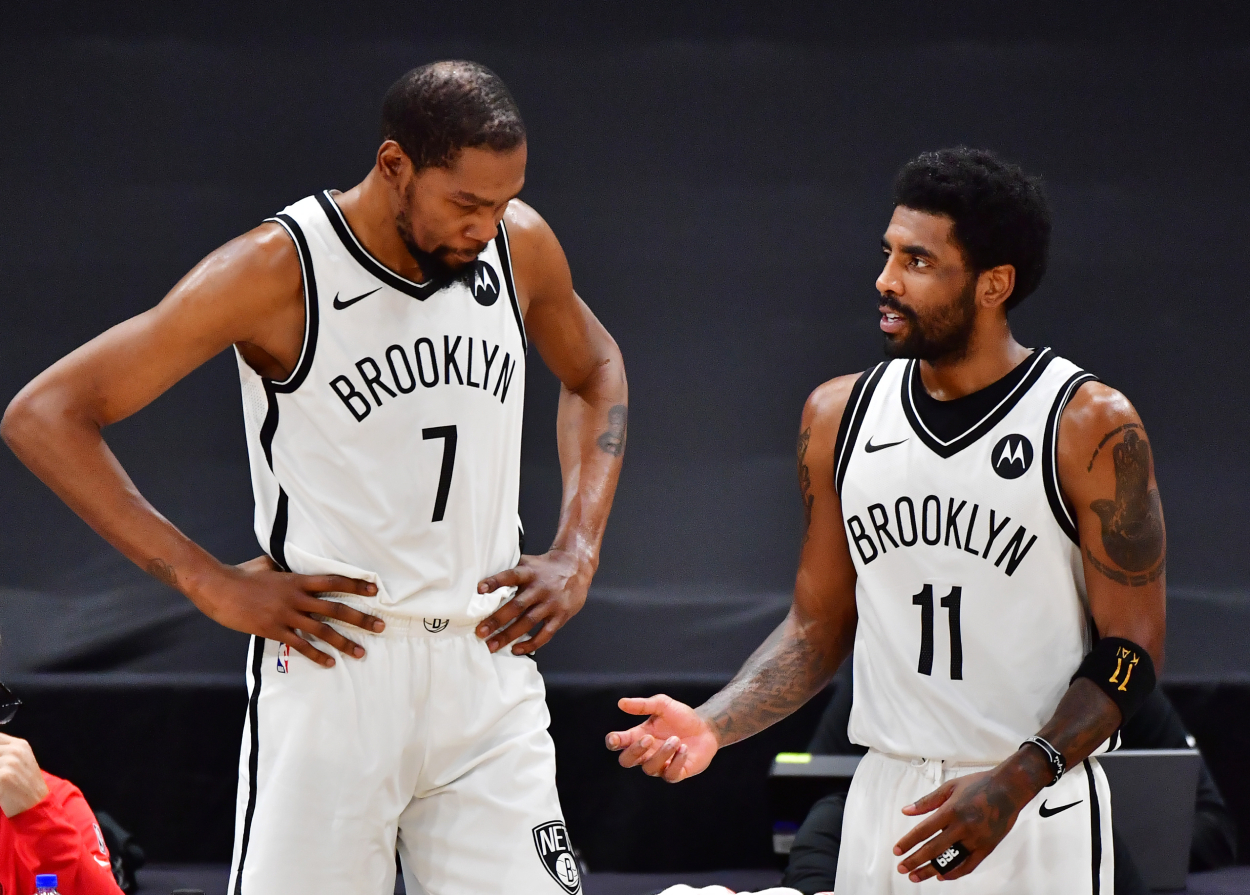 After criticizing Irving for this latest distraction, Smith then reported some rumblings from around the league.
"I was told, 'Yo, Kevin Durant; don't think for one second that Kevin Durant won't eventually give Brooklyn the OK to move this brother if it continues to be on the path that it is,'" Smith said. "'Don't think he's so married to Kyrie Irving that he's just going to tolerate all of this other stuff.' … There's some stuff percolating in Brooklyn, and if Kyrie don't get back, all hell might break loose."
It's hard to imagine Durant telling the Nets they can trade Irving, especially when considering their reportedly close friendship. But if Irving endangers KD's legacy, who knows what could happen.
Would Brooklyn, though, even be able to get anything for Irving at this point?
The Nets might be stuck with Kyrie
Kyrie Irving has been a distraction for the Nets before. Last season, he essentially took two weeks off and missed five games due to personal reasons. He also broke the league's health and safety protocols during that time.
So, with the drama that comes with him and the fact that he has a player option for next season, the trade market for Irving might be pretty low. The Nets might have to decide between keeping someone who could jeopardize their season and/or future, or not getting the value they would want to receive in a trade.
Smith doesn't think the market is that great for him, either.
"Right now, league-wide, nobody trusts him," he said on First Take. "I had one executive tell me he wouldn't be surprised if [Nets general manager] Sean Marks, if he could, that he'd give Kyrie Irving away for a box of cookies."
With Irving on the court, the Nets have a great chance to win a title and become one of the best teams in NBA history. Without him, the odds of that happening are a lot less certain. So, sure, they would probably love to trade Irving if Durant were to give them the OK, but with all the drama surrounding the guard, they might just be stuck with him.
Like Sportscasting on Facebook. Follow us on Twitter @sportscasting19.
RELATED: Kyrie Irving Is So Loyal to the Brooklyn Nets He'd Rather Retire Than Be Traded Off the Team