Kevin Durant Crushes Brooklyn Nets Rookie Cam Thomas' Boasts About 1-on-1 Success
Cam Thomas faced an uphill climb in his quest to be an impact player for the Brooklyn Nets this season. The 27th overall pick in the 2021 NBA Draft came to a veteran-laden team in win-now mode. Finding minutes for a project wasn't going to be a priority. Even when Thomas lit up the Las Vegas Summer League, the Nets didn't have him high on the depth chart entering training camp. But Thomas played a crucial role in a comeback win over the Cleveland Cavaliers on Nov. 22 and took some playful shots at Kevin Durant after the game.
The former NBA MVP clapped back at the rookie, but it was the good-natured ribbing from a happy team. With the win, the Nets reclaimed first place in the Eastern Conference at 13–5 and have won 11 of their last 13 games. It was a big step for Thomas, still buried deep on coach Steve Nash's bench.
Cam Thomas can score, but his game is still raw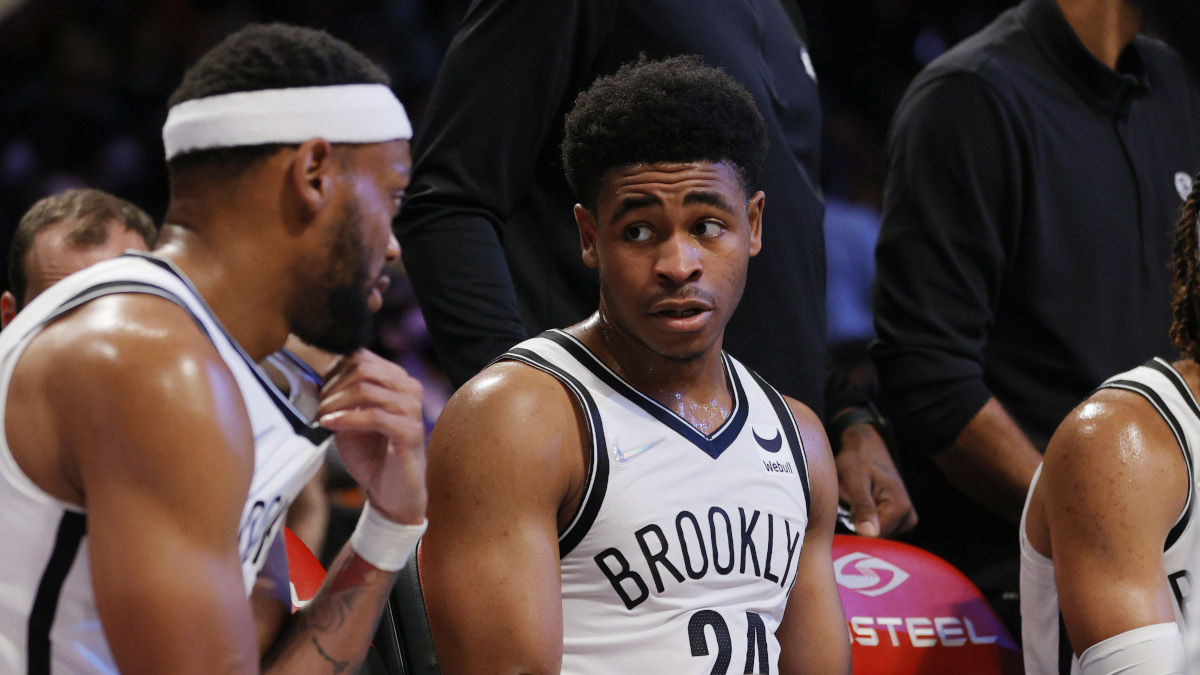 After averaging 23.0 points per game in his lone season at LSU, there were no questions about Cam Thomas' ability as a scorer. However, his efficiency and shot selection got a lot of scrutiny, which is why he was still available when the Brooklyn Nets were on the clock at No. 27 in the NBA draft.
Thomas shot 40.6% overall and 32.5% from the shorter collegiate 3-point line in 29 games last season. He averaged more turnovers (1.7 per game) than assists (1.5). In short, If the ball went to Thomas, it seldom returned. He wasn't going to challenge Kevin Durant as Brooklyn's top option. Not yet, at least.
He is aggressive going to the basket, averaging 7.6 free throw attempts per game at LSU. During Summer League, Thomas led all scorers in Las Vegas at 27.0 points per game en route to sharing MVP honors with Davion Mitchell of the Sacramento Kings. He shot 42.3% overall and 36.0% from deep, with 2.0 assists and 3.8 turnovers a contest. That ratio isn't unusual for Vegas, where team play is more concept than reality.
He also took 39 foul shots in four games, hitting 84.6%. Despite playing only 50 minutes in four preseason games, Thomas dropped in 42 points.
Playing time has been rare for the rookie early in the season. Even after scoring 11 points in 15 minutes in Cleveland, Thomas has logged only 69 minutes in 11 appearances.
He tuned up the G League in his two appearances, scoring 81 points on 27-of-55 shooting and hitting all 14 free throws. That included a 46-point outburst in a loss to Raptors 905 on Nov. 19.
After a strong performance, Cam Thomas chirped at Kevin Durant
The Brooklyn Nets started slowly against the Cavaliers and trailed by 11 at halftime. But Thomas helped key a big third-quarter comeback. In his five minutes, he scored nine points as the Nets outscored Cleveland 32–19 to take the lead into the fourth period. Thomas hit 4-of-7 from the floor, including 2-of-3 from deep.
Afterward, he claimed Kevin Durant avoids him in one-on-one matchups at the team facility, per a tweet from Sports New York:
"He never wants to play me one-on-one. We play one-on-one in shootaround all the time, post-ups, I beat him. Don't tell him that."

Cam Thomas on Kevin Durant
Narrator: Someone told him that.
Durant wasn't buying any of what Thomas was selling.
"Little 4-for-7, you know he feeling himself when he come in … he gonna come in here and fabricate."
Durant was smiling when he said it, so it was just teammates busting each other's chops.
Thomas taking advantage of an opportunity
Nash had to shuffle his backcourt with Joe Harris sidelined for the last four games because of a sprained ankle. Veteran Patty Mills has started in place of Harris, with Cam Thomas getting some minutes deep in the rotation.
In a Nov. 16 loss to the Golden State Warriors, Thomas came up small in a career-high 15 minutes. He scored four points and was 2-of-9 from the floor, including 0-of-5 from long range. Thomas took a DNP-Coach's Decision on Nov. 17 against Cleveland and logged 10 minutes in a win over the Orlando Magic on Nov. 19. He played 39 minutes for the Nets' Long Island affiliate earlier that day, so it's not a surprise he didn't have his legs.
For the season, Thomas is averaging 2.1 points in 6.3 minutes a game. He had shot a frigid 5-of-24 before the Nov. 22 outburst, and the two made 3s were the first of his career after starting 0-of-9.
Cam Thomas is a work in progress. But he's shown he has the confidence to be an NBA player. I mean, if he's going to call out Kevin Durant after an 11-point outing, imagine what he might do when he drops 20 on someone.
Statistics courtesy of Basketball Reference, NBA.com. and GLeague.com.