Kevin Durant Is Dragging the Brooklyn Nets to the Top of the East Through Sheer Force of Will
The Brooklyn Nets entered the season as the favorites to win the NBA title. The Nets are atop the Eastern Conference two weeks before Christmas with an 18–8 record. Just the way they scripted it. Yeah, about that. What was supposed to be the coalescence of the Big Three in Brooklyn after last season's injury-plagued campaign has instead turned into a solo act. But Kevin Durant appears to be up to the challenge.
Much was made of how little the Big Three of Durant, James Harden, and Kyrie Irving played together last season. Through 26 games in 2021–22, the group has logged (checks notes) zero minutes simultaneously. That's because Irving gave up his quest to become World B. Flat in favor of resisting the COVID-19 vaccine. As for Harden? This season has been difficult.
The Big Three became Kevin Durant and sometimes Harden
Irving hasn't played this season due to his vaccination status and the city of New York's mandate. The Brooklyn Nets decided they were better off without their point guard being available for road games only.
Meanwhile, it's been tough sledding at times for Harden. He spent the offseason rehabilitating the nagging hamstring injury that hampered him last season. But he's also been struggling to adapt to a new-look NBA that no longer gives him two or three free throws every time he throws himself into a defender.
Harden is having his worst season as an NBA starter. He averaged 20.8 points, 9.6 assists, and 7.9 rebounds per game. His 40.4% shooting percentage is his lowest since his rookie year, while his 33.7% mark from 3-point range is on pace for a career low.
So instead of Brooklyn's vaunted and much-hyped Big Three, it's been Kevin Durant and the Role Players taking center stage at Barclays Center.
Kevin Durant has been exceptional for the Brooklyn Nets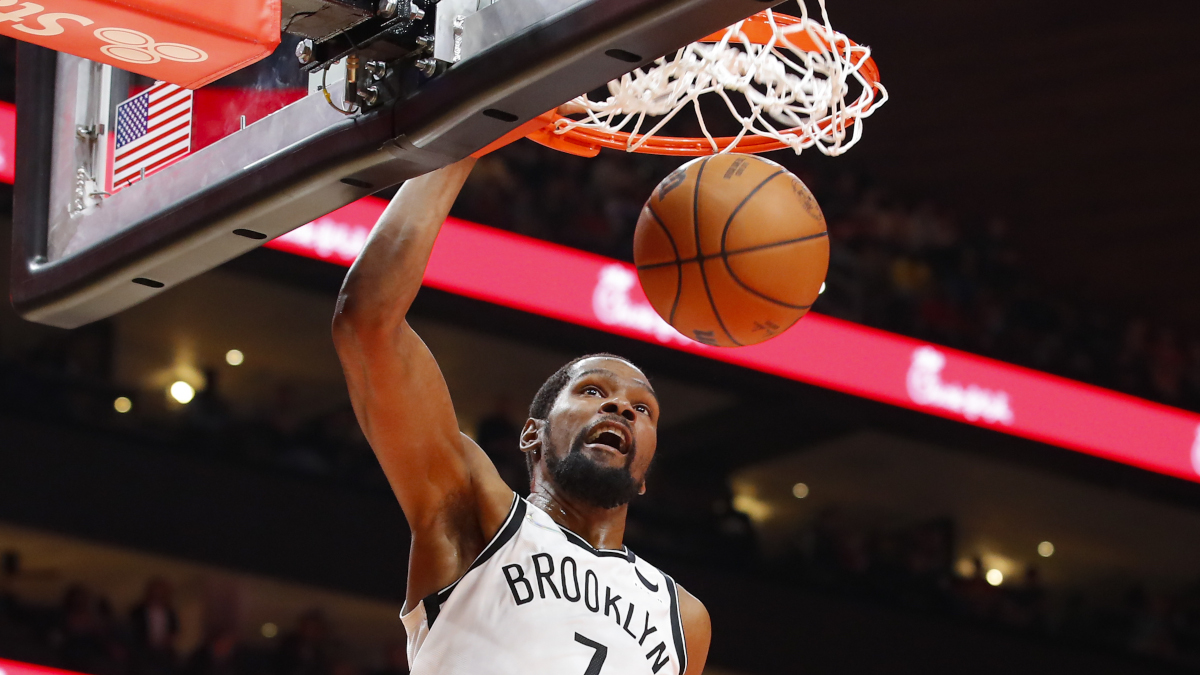 Of the three headliners for the Brooklyn Nets, Kevin Durant is both the oldest and the one coming off the most severe injury. Durant ruptured an Achilles' tendon during the 2019 NBA Finals. At age 30, there were legitimate questions about how well he would come back. There were even murmurs questioning if he'd make it back at all.
Now two-plus years removed from the injury, Durant leads the NBA in scoring, averaging 28.5 points per game. He's a four-time scoring champion. But his last one came in 2013–14.
However, the Brooklyn Nets have needed everything Durant can give them. He's averaging 36.3 minutes per game, his highest workload since 2013–14, and he's shooting 53.0% overall. In an NBA that looks at deep mid-range shots the same way a mouse looks at a hungry cat, Durant is shooting a sizzling 64.7% on attempts from 16 feet out to the 3-point line.
He's also making 52.9% from shorter mid-range, where one-third of his shots come.
Has Durant been vital to the Nets? They're plus-5.9 points per 100 possessions with No. 7 on the court and minus-3.5 when he rests. (It is amusing that the official NBA stats site wants to let us know Brooklyn is plus-3.2 per 100 possessions when Irving doesn't play.)
It would be impressive if it were just offensively where Durant was carrying the Nets. That coach Steve Nash asks for Herculean defensive work from his superstar transcends his performance into other-worldly.
The Brooklyn Nets asked KD to guard Trae Young in crunch-time
In the fourth quarter of the Brooklyn Nets' 113–105 road win over the Atlanta Hawks on Dec. 10, coach Steve Nash decided his best chance of slowing Hawks star Trae Young down the stretch was to have Kevin Durant cover him.
Why not have your 6-foot-11 combo forward match up with a 6-foot-1, lightning-quick point guard? What could go wrong?
As it turns out, nothing did for the Nets. After some pushing and shoving, the two stars tangled once, picking up double-technical fouls. Young scored five points in two possessions to pull Atlanta to within one point of the Nets, with a bit more than three minutes left in the fourth quarter.
Time for Durant to go into lockdown mode. KD forced a Young turnover, blocked a shot, and defended a drive. Brooklyn closed the game on a 10–3 to lock up the win.
As for the face-to-face summit with Young, Durant said it was no big deal, per Brian Windhorst of ESPN.
"I was a little too physical there with that action, and I kind of pushed him a bit," Durant said. "He wanted me to get up out of his space, and I respect that. Just a part of the game. Nothing personal. It's all competition. We're good."
Durant might not win his second MVP award this season. But with a struggling Harden and an absent Irving, he's been everything to the Nets. Scoring, defense, whatever is necessary.  
It might not be a Big Three leading the Brooklyn Nets. But Kevin Durant has been the gigantic one with occasional help from Harden. So far, it's been enough for them to surge to the top of the East.
Statistics courtesy of Basketball Reference and NBA.com.