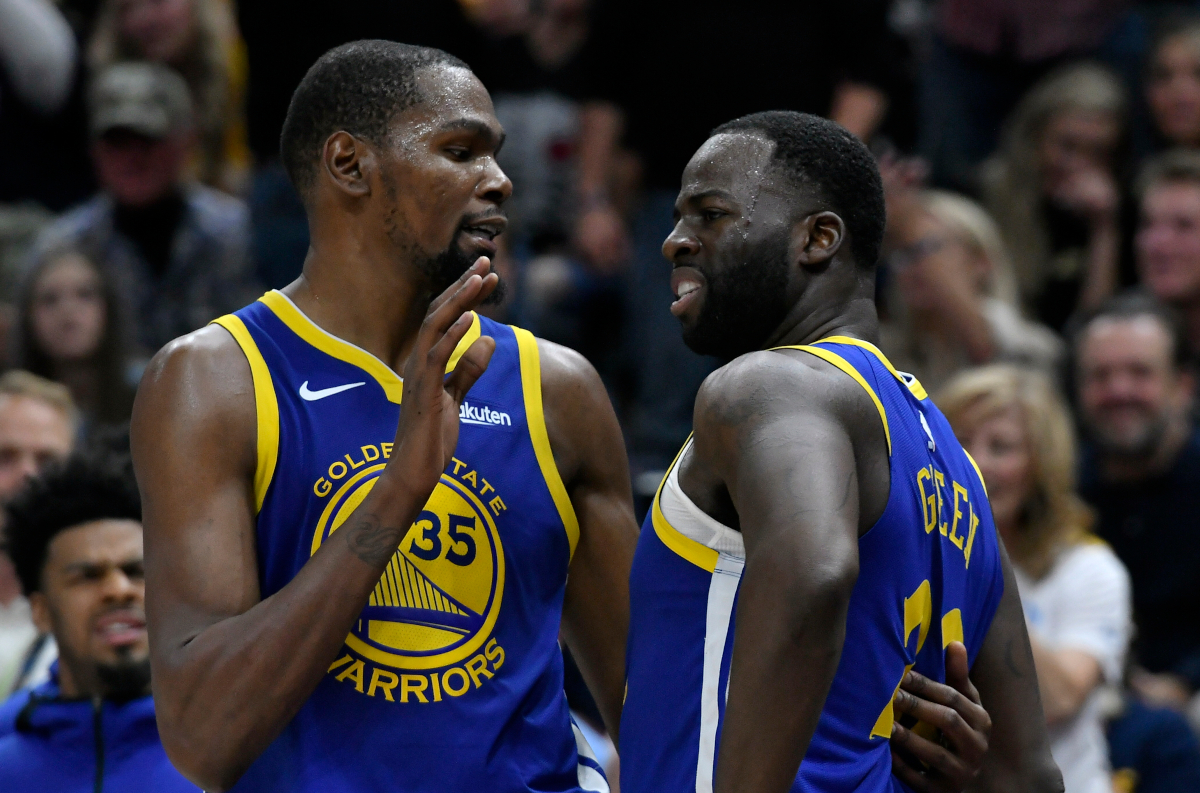 Kevin Durant and Draymond Green Called out by Kendrick Perkins About Warriors Drama: 'They Trippin"
Kevin Durant and Draymond Green made it clear their argument in 2018 was mishandled by coach Steve Kerr and GM Bob Myers. Durant's former Oklahoma City teammate, Kendrick Perkins, isn't hearing any of it.
When Kevin Durant christened Draymond Green's new Chips podcast, the former Golden State Warriors teammates let loose on the team's management. Green asked Durant, point-blank, if their infamous argument in November 2018 was why KD left the Bay Area. Both players followed by taking shots at general manager Bob Myers and coach Steve Kerr.
Kendrick Perkins, the current talking head with ESPN and Durant's former teammate in Oklahoma City, took to social media to put Durant and Green on full blast. It's another chapter in an evolving triangle feud pitting the retired NBA big man and the two current stars.
Kevin Durant has tussled with Perkins before
Perkins doesn't shy away from criticizing Kevin Durant's move to the Warriors in 2016. For his part, Durant is not known to walk away from a social media beef without getting his shots in. He and Perkins had turned the dial to "11" on the pettiness during one notorious exchange.
When Perkins was critical of Team USA before and during the Tokyo Olympics, Draymond Green kept all the receipts. After clinching the gold medal, Green and Durant hammered away at Perkins on their way to the locker room. Green continued the assault with the media and later social media.
For fans of controversy, the chemistry between the three is a beautiful mixture. Perkins is building his media brand through outrageous takes. Durant and Green seldom, if ever, fail to take the bait when criticized. It's as if they are all living rent-free in each other's heads for our benefit (at the very least, for our amusement).
That means the fact Perkins had something critical to say in the wake of the podcast is about as big a surprise as the sun rising in the east.
Perkins is having none of the Draymond Green-KD act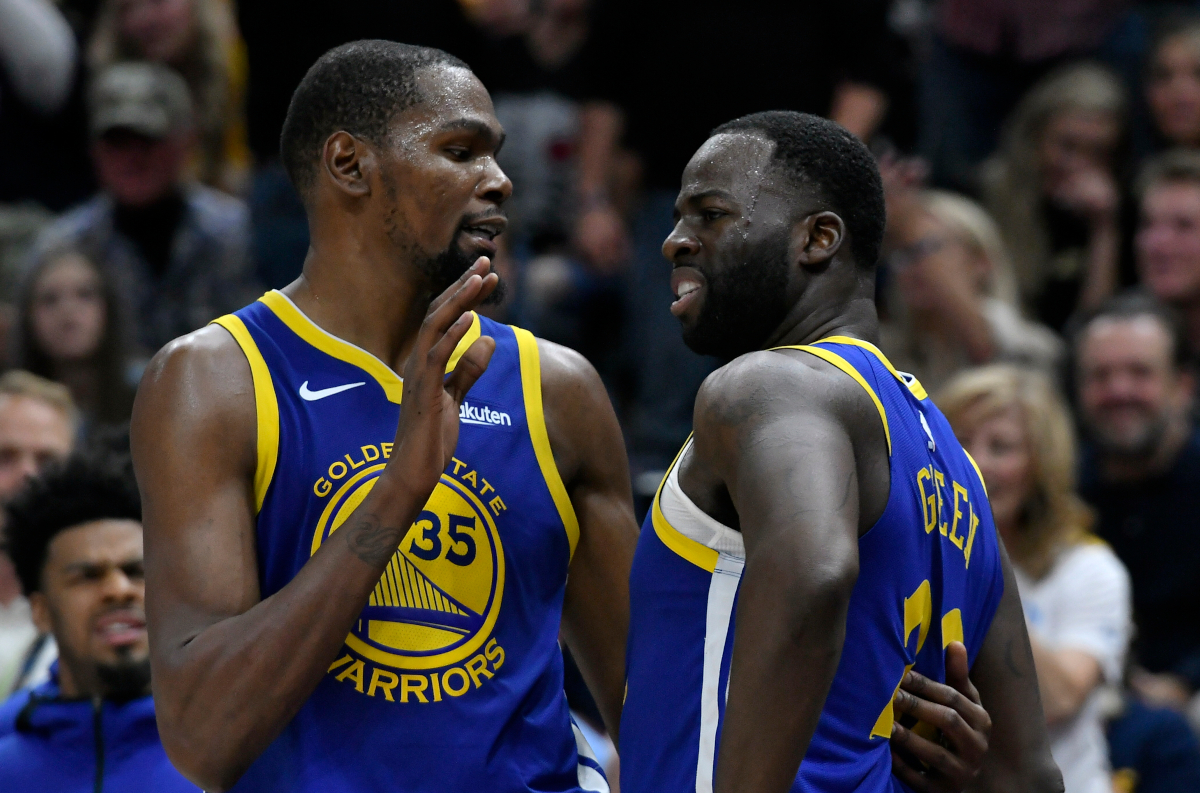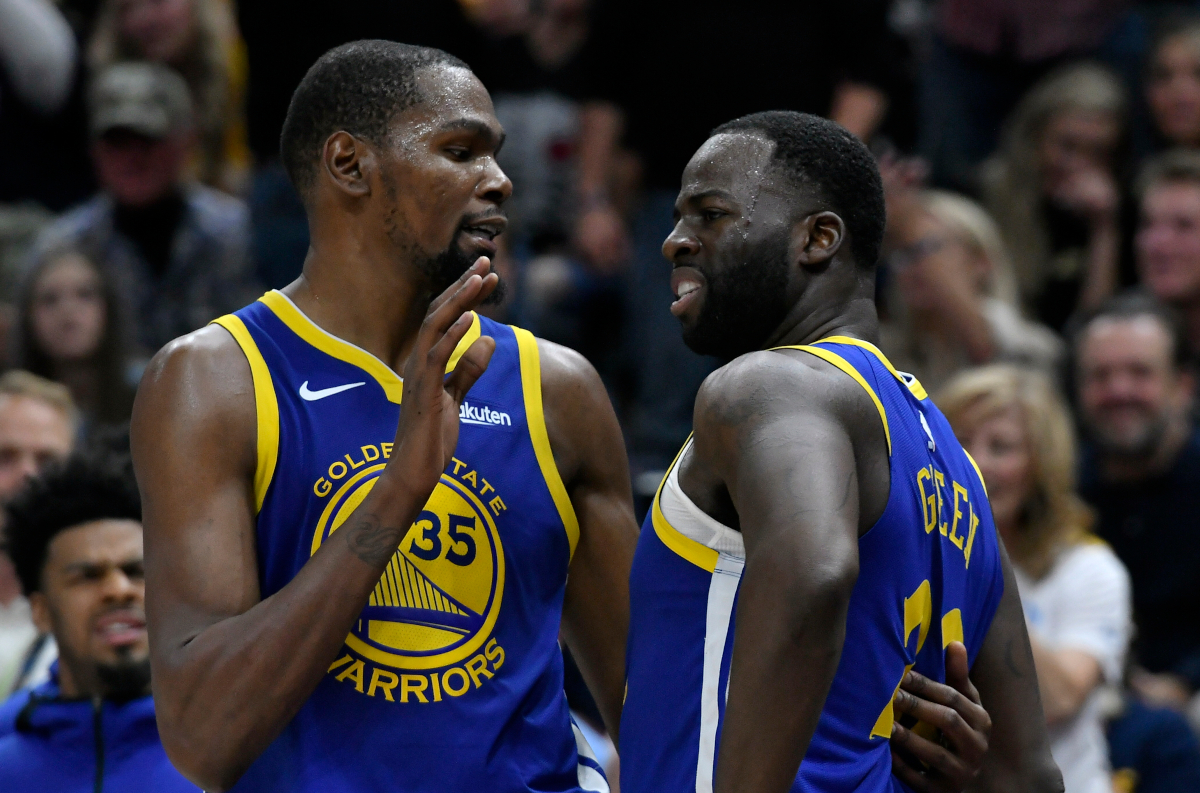 Draymond Green and Kevin Durant picked up the stick while discussing their blowup. Myers and Kerr were the piñatas. Perkins called out both players for not handling their business.
"I been in a lot of locker rooms where guys got into it, where guys actually got into fights. Hell, I think I had two fights. And you talk it out, and you move on. But it's part of it, right?
"You have a group of guys that have been around each other for an extended period of time, and at times, you're gonna get tired of one another. The only thing I didn't like with this whole interview is that KD and Draymond didn't hold themselves accountable."
The pundit was a bit more animated in his social media take, referencing when Michael Jordan punched Kerr.
In any event, Durant left Golden State at the end of that 2018–19 season. Green and the Warriors have missed the playoffs both seasons since. But the volatile partnership did produce two rings, so there's that.
Kevin Durant has a long history of clapping back at critics
Kevin Durant will defend himself when he perceives an attack. That doesn't matter if the criticism is coming from Kerr or Guest6230. People criticizing his decision to sign with Golden State aren't immune. He's blasted reporters he believed misrepresented their relationship. When a Boston fan threw a bottle of water at teammate Kyrie Irving during the first round of the playoffs, Durant was quickly there with an admonishment for fans to grow up. Yes, the irony is thick with that comment.
Draymond Green is a fierce competitor who fought from second-round draft pick to legitimate NBA star. Meanwhile, the social awkwardness with Kevin Durant is not an affectation. For us, what it provides is some occasionally interesting theater. Durant is a superstar who is one of the game's most versatile and effective offensive forces. But he's also someone who would be as happy if his entire life consisted of practice, video games, and games.
Like Sportscasting on Facebook. Follow us on Twitter @sportscasting19.