Kevin Durant Is Friends With Rapper Wiz Khalifa but Didn't Think Twice About Leaving Him High and Dry
NBA superstar Kevin Durant has become almost as big of a celebrity as you can become through his work on the court with the Thunder, Warriors, and Nets. This has led to him becoming friends with other celebrities, too, including rapper Wiz Khalifa. However, Khalifa just (light-heartedly) gave some insight into what the Brooklyn Nets star is like as a friend. His story didn't particularly make Durant look great either.
Kevin Durant has become a superstar with the Thunder, Warriors, and Nets
When you think of the biggest superstars in the NBA, you probably think of LeBron James, Stephen Curry — and Kevin Durant.
Durant was the No. 2 overall pick in the 2007 NBA draft with the Seattle SuperSonics. He immediately became a star, too, as he earned the Rookie of the Year award in his first year before seeing his team become the Oklahoma City Thunder in his second season.
Durant then had some magical years with the Thunder. He led the NBA in scoring in four of five seasons from 2009-10 through 2013-14, won the league MVP award in 2013-14, and led OKC all the way to the NBA Finals in 2011-12.
However, after losing to the Golden State Warriors in the Western Conference Finals in 2015-16, Kevin Durant joined the Warriors in 2016-17. Then, in three seasons with Golden State, Durant and the Warriors became one of the most dominant teams of all-time. They ultimately went to three consecutive NBA Finals, which followed two other consecutive appearances before Durant got there. The Warriors also won two championships with Durant.
After three seasons with the Warriors, though, which sadly ended with Durant getting hurt in the 2019 NBA Finals, he moved to the Brooklyn Nets to team up with Kyrie Irving and eventually James Harden.
Overall in his career, Durant has earned 11 All-Star selections, one MVP award, and two NBA Finals MVP awards. He also averages 27.1 points per game for his career to go with 7.1 rebounds and 4.1 assists.
The NBA superstar once ditched Wiz Khalifa at the club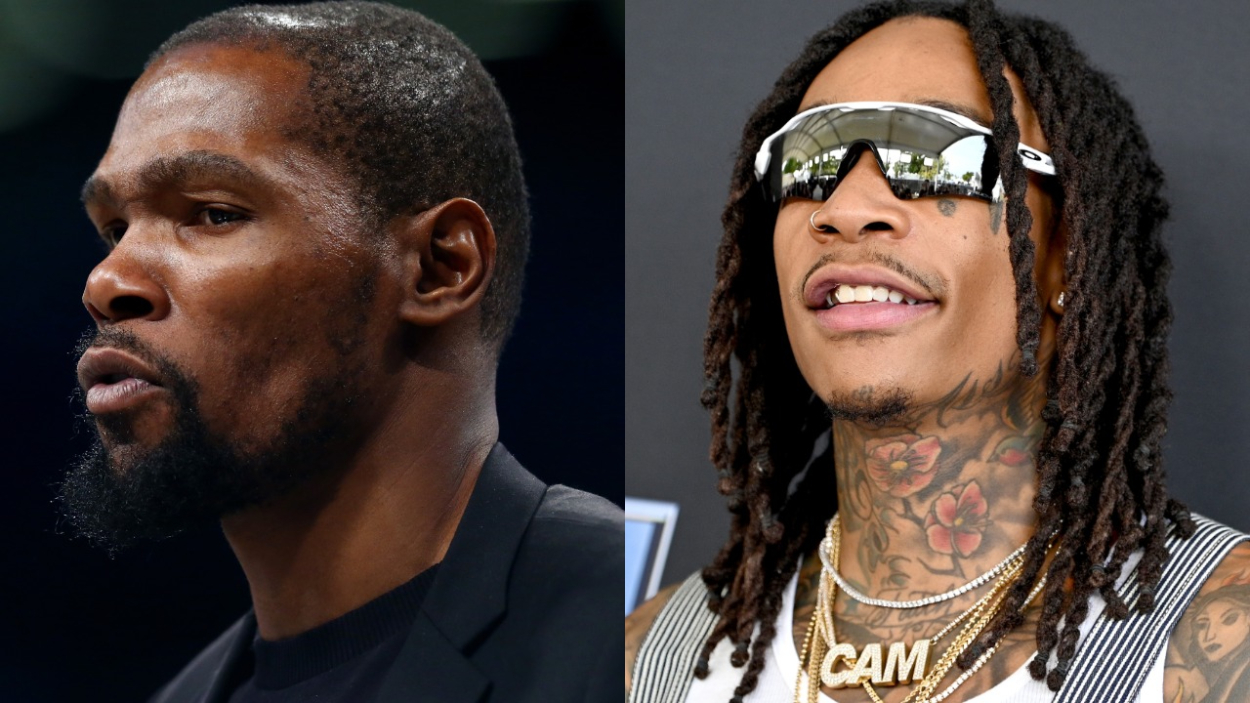 Durant is certainly one of the biggest stars in the NBA, which has made him a massive celebrity. In case money somehow proves someone's celebrity status, Durant has earned an estimated $264.15 million in the NBA, per Spotrac, and Celebrity Net Worth estimates that he has a $170 million net worth. He also has 18.7 million Twitter followers.
Durant's superstardom has led to him becoming friends with other celebrities. This includes rapper Wiz Khalifa. However, Khalifa recently shared a story about Kevin Durant that may have proven that the Nets star potentially isn't the greatest friend.
"Kevin Durant, that's the homie from back in the day. You remember when you left me outside the club?" Khalifa said on Instagram Live, according to Complex. "Yeah, man, he left me outside the club. We was 'bout to get in the club and they looked at him and they (presumably the bouncers) looked at everybody he was with, and they was like, 'Y'all can get in but he can't.' [Durant] was like, 'Bro, I'm going to see you later, yo.'"
Well, that's rude, especially because Khalifa said that he was only there because Durant invited him. Khalifa's night wasn't over, though, as he still found a way into the club.
"But what I did, though … I got back, right? And I came back in the club and I met him in there, you know what I'm saying," he said, according to Complex. "'Cause I'm not no slouch, you feel me? No love lost, playa … It's all good. Don't even trip. It's not your fault."
It appears that it all worked out. The move was certainly a cold one by Durant, though.
Can Kevin Durant win another championship with the Brooklyn Nets?
After missing the 2019-20 season due to the injury he suffered in the 2019 NBA Finals, Kevin Durant has finally played for the Brooklyn Nets in 2020-21, and he has played really well. Through 19 games, Durant is averaging 29 points per game, the most he has scored since his MVP season in 2013-14, to go with 7.3 rebounds and 5.3 assists. He is also shooting 52.4% from the field and a career-high 43.4% from 3-point range.
James Harden joined Durant and Kyrie Irving on the Nets this season, too, and the trio looks like it can become pretty unstoppable. Harden is averaging 24.9 points per game and an NBA-leading 11.1 assists to go with 7.3 rebounds, while Irving is averaging 27.7 points per game. They are certainly one of the most talented big threes in NBA history and have already proven that they are very dangerous together.
It's hard telling, though, if Kevin Durant and the Brooklyn Nets can get past LeBron James and the LA Lakers if the two teams meet in the NBA Finals. They, however, definitely have the talent to do it.
Stats courtesy of Basketball Reference